Droneacharya Aerial Innovations IPO: 5 Things to Know
Dec 7, 2022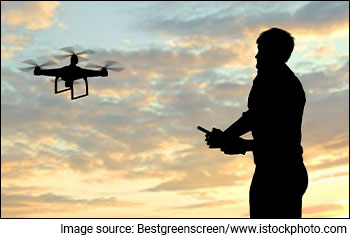 Around two years ago, we wrote to you about how to participate in India's drone revolution. Our co-head of research, Tanushree Banerjee, talked about a great profitable opportunity in India's defence sector.
Here's Tanushree:
"China and Turkey are among the countries who have almost stopped relying on the US, UK, and Russia for arms imports, especially drones.

India should not be far behind.

As we witnessed in the border clashes with China, multi-use drones are a necessity to safeguard our soldiers at high altitudes.

Drones can be immensely helpful even during peacetime for various commercial purposes.

According to Inc42, there are as many as 50 startups in India researching and producing Gen-Next drones for India.

The Indian drone market (currently about US$ 17 million) is a tiny fraction of the global drone market.

The Chinese drone market alone is 14 times that of India.

So, you can only imagine the kind of investments that could come into this space by way of FDI, especially in the private sector."
Since then, we have covered a lot of editorials on drones and why you need to give attention to this megatrend.
We have remained big believers of the drone investing theme and we are now seeing some results. These 4 Indian companies were exploding in the drone market already!
To take advantage of the bullish market sentiment, Droneacharya Aerial Innovation, a pure play drone company, is coming out with its IPO next week.
The drone company's IPO will open for subscription on 13 December 2022.
Please note, this is an SME IPO. Here, the minimum investment required is not as low as the mainboard IPOs need and the segment is comprised with small and medium enterprises which are in their early phase of growth.
The risk involved is higher here.
Here are some key details about the drone company's IPO.
Issue period: 13 December 2022 to 15 December 2022
Issue size: Rs 39.97 crore (about Rs 399.7 million)
Type: Fresh issue
Price band: Rs 52 to Rs 54 per equity share
Bid lot: 2,000 shares and multiples thereof
Application limit: Minimum one lot maximum one lot for retail investors
Face value: Rs 10 per equity share
Grey Market Premium (GMP): Rs 15
Please note, GMP is as of 05 December 2022.
The company has reserved not less than 50% shares of the offer for qualified institutional buyers (QIB). It has reserved not less than 15% for non-institutional buyers (HNI). Hence not more than 35% of shares are available for retail individual investors.
Tentative IPO allotment date: 20 December 2022
Tentative listing date: 23 December 2022
Here are five key details of the IPO.
#1 About the company
Incorporated in 2017, Droneacharya Aerial Innovations Limited provides a high-end ecosystem of drone solutions for multi-sensor drone surveys, data processing of drone data using robust high-configuration workstations, drone pilot training, and specialised GIS training.
The company's offerings can be classified into four broad categories namely,
1. Training (DGCA Certified Drone Pilot, Drone Building, Aerial Cinematography & Aerial Making and Drone data processing).
2. Services (Consultancy services to Govt. & private organizations, reality capture data processing software, anti-drone solution for rogue UAV and UTM air traffic management solution).
3. Surveillance (land surveying and underwater services).
4. Others (Partnering up with SPH Engineering from Latvia, Droneacharya is also able to provide integrated drone solutions for Bathymetry, drone shows, Hydrography, industrial and archaeological surveys, along with Environmental Monitoring).
#2 Financial position
Droneacharya Aerial Innovations was incorporated in 2017. Being a new player, it lacks a stellar track record.
However, within five years, the company has turned profitable. In fact, for the quarter that ended 30 June 2022, the company reported revenues of Rs 30.8 m, which is quite close to last year's full year revenues of Rs 35.8 m.
The profit for the first three months of the financial year 2022-23 is Rs 7.2 m, which is higher than entire past year's profit of 4.1 m.
Along with this, the company's profit margin and return on net worth have also improved over time.
Financial snapshot
| Particulars | 31-Mar-22 | 31-Mar-21 | 31-Mar-20 |
| --- | --- | --- | --- |
| Revenues (Rs m) | 35.8 | 1 | 0 |
| Revenue Growth (%) | 3480% | - | |
| | | | |
| Expenditure Before Tax | 30.3 | 1.6 | 0.2 |
| % of Total Income | 84.6 | 160 | NA |
| | | | |
| Net Profit | 4.1 | -1.5 | -0.2 |
| Net Profit Margin (%) | 11.5 | -150 | NA |
| | | | |
| Net Worth | 144.8 | 10.4 | -0.1 |
| Return on Net Worth (%) | 2.8 | -14.3 | -252.7 |
| | | | |
| Basic Earnings per share (Rs) | 0.4 | -0.1 | -0.03 |
Data Source: Company's Red Herring Prospectus (RHP)
#3 Peer comparison
As per the company's red herring prospectus (RHP), Genesys International Corporation is its listed peer.
Peer Comparison
| Company | Total Income (2022) (Rs m) | Net Profit | EPS (Basic) (Rs) | Return on Net Worth (%) |
| --- | --- | --- | --- | --- |
| Droneacharya Aerial Innovations | 35.8 | 4.1 | 0.4 | 144.8 |
| Genesys International Corporation | 1,240.40 | -398.1 | -27 | 9.7 |
#4 Arguments in favour of the business
It is popular among investors. Its pre-seed funding round closed at a whopping US$ 4.6 m (about Rs 378.9 m) which is the highest for any drone startup across the country. I know, big surprise.
Government has big plans for the drone sector. It announced the PLI scheme for drone manufacturing companies. Hence, the company may be eligible for a government grant in the near future.
The company is well-equipped with all the advanced equipment available in the industry.
Its promoters have significant industry experience and have been instrumental in the consistent growth of the company. The management and team combine expertise and experience to outline plans for the future development of the company.
Droneacharya Aerial Innovations has joined hands with one of Gujarat's most reputed educational organizations, Rashtriya Raksha University (RRU) to establish DGCA certified remote pilot training organisation (RPTO).
The company has worked with a large number of marque clients and served training services including Commandant, Armoured Corps Centre & School, ASC Centre & College, etc.
#5 Risk factors
It operates in a rapidly emerging and changing industry. The company has to be constantly on its toes to match the pace of the industry. If it is unable to upgrade itself, it will lose itself in the face of changing technology and increasing competition.
Since operates in the defence sector, it is heavily regulated. For its training business, it has obtained a directorate general of civil aviation (DGCA) license. Any failure to comply with the conditions in the license may have a material impact on the business.
At present, it has less competition, but with time as new competition with substantially larger and great financial resources enters the market, the company may be put under pressure.
To conclude
The financial performance of the company gives little idea to us at present... It is a new company in an emerging field.
The company operates in a sector that is heavily dependent on rapid technological development. In recent times we saw how new-age IT stocks got hammered and proved to be a nightmare for investors despite mouth-watering growth opportunities.
However, unlike the new-age tech companies, Droneacharya Aerial Innovations has quickly turned profitable. This is a big step.
Investing in a newly emerging field is always exciting but it's also always risky. Hence investors should think carefully about the pros and cons before applying for an IPO.
Hence it seems that in the near future drone companies will turn investors' head. It's important to keep a watch on top Indian drone companies in 2023.
Also, as we mentioned above, this is an SME IPO so the risk involved is higher here. Per lot gains could be huge but so will be the listing losses if things take a turn for the worse.
Around mid-October, two SME IPOs were listed - Swastik Pipe and Vedant Asset.
While Vedanta Asset listed at Rs 65 against issue price of Rs 40 giving a profit of Rs 75,000 per lot, Swastik Pipe listed at 66 against issue price of Rs 100, resulting in a loss of Rs 40,800 per lot.
Be very cautious when it comes to SME IPOs.
Stay tuned to get further updates on this IPO and all upcoming IPOs in the market.
Happy Investing!
Investment in securities market are subject to market risks. Read all the related documents carefully before investing
Want to Grow Your Wealth With Safe Stocks?
If you want a simple, safe, and hassle-free approach to long term wealth building...
Without having to worry about negative news or every little downswing in the market...
And without having to worry whether your investments will actually "deliver"...
You must read our note on Blue Chip Stocks now.
Details of our SEBI Research Analyst registration are mentioned on our website - www.equitymaster.com
Disclaimer: This article is for information purposes only. It is not a stock recommendation and should not be treated as such. Learn more about our recommendation services here...