Apr 12, 2023 - Why Infosys, TCS, HCL Tech and Other IT Stocks are Falling
Why Infosys, TCS, HCL Tech and Other IT Stocks are Falling
Apr 12, 2023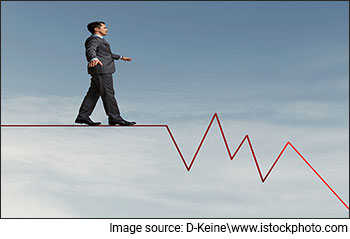 Editor's note: The earnings season is back, and investors are eagerly waiting for IT companies to post their Q4 earnings.
Tata group company TCS will be the first one to announce its results on 12 April 2023.
But the thing is investors are not really gung-ho on IT companies these days...they have been marred by multiple factors - attrition and recession being the primary reasons.
IT stocks have been under pressure over the last few months on the back of a global economic slowdown and rising interest rates.
In December 2022, we wrote about why Infosys, TCS, HCL Tech and other IT stocks are falling, explaining in detail the reason behind their downfall.
A lot has happened since then, but IT stocks continue to remain under pressure owing to those same reasons.
Continue reading this updated article to know more...
Why Indian IT Stocks are Falling Today
Last week, we wrote about the 5 big underperforming sectors of 2022 and what 2023 could have in store for them.
No surprises there as IT sector stocks and tech stocks topped the chart.
Here's an excerpt of what we wrote:
The IT sector, one of the strongest sectors in the country, is now under pressure due to recent global crisis and fears of a recession.

So far this year, the Nasdaq Composite index, which has the big tech stocks like Amazon, Tesla, Google, among others, has slipped by more than 28%.

Indian IT stocks are also facing high attrition as employees are leaving in large numbers for better opportunities.

In the final quarter of financial year 2021-22, most Indian IT companies reported an employee attrition rate of more than 20%.
If you follow the markets closely, or even have friends or colleagues who track the markets, chances are they would tell you how their holdings in IT and tech stocks have collapsed.
Who would have thought that bluechip stocks like Tech Mahindra, Wipro, among others would face a correction ranging 30-50%?
As things stand now, IT stocks are once again on the verge of becoming talk of the town. This time again for similar reasons.
Troubles have started to mount up for the sector and IT stocks have once again started to fall.
Let's understand why IT stocks are falling first.
Why IT Stocks are Falling
#1 Macro concerns are here to stay
In December 2022, India's third largest IT company HCL Technologies said it may clock annual revenue growth at the lower end of its guided range.
This on the back of macro-economic challenges in the demand environment.
The IT major's chief executive was of the view that furloughs and drop in discretionary spend in tech, telecom and other verticals are a little bit more than what the company expected at the beginning of the quarter.
As soon as HCL Tech warned investors of potential growth concerns and pricing pressures, the stock saw a steep correction of 7% on an intraday basis.
According to reports, investors were so worried that around 12.4 million (m) shares exchanged hands on the bourses the very next day compared to an average daily volume of about 2.8 m shares.
#2 Global recession concerns still here
Apart from attrition, the main reason why IT stocks were falling was due to global recession concerns.
IT companies have large exposure to US and European nations. While India has so far managed to buck the trend, economists fear that a recession could occur in 2023, particularly if the Fed's interest rate hikes stifle demand from individuals and businesses, or if its inflation strategy fails.
There's still uncertainty on US Fed's monetary policy tightening.
No wonder 'recession' is perhaps the most widely used term in global financial markets these days.
#3 Brokerages cite valuation concerns
Another reason why IT stocks have continued their downtrend in recent days is because global brokerages have voiced valuation concerns after HCL Tech's sad commentary.
Credit Suisse in a note warned of further correction in valuations in case the US macroeconomic scenario weakens.
Their analysis of six large correction cycles for the Indian IT sector suggest that barring a huge sudden macro event such as the global financial crisis and Covid-19 pandemic, stock correction is driven mainly by valuation and not earnings per share (EPS). They added IT valuations are stretched by every measure, and that will drive a correction in these stocks if the US macro weakens.
Meanwhile, Japanese brokerage house Nomura said that tech budgets are linked to revenue growth of enterprises, indicating further slowdown in demand in the coming quarters.
Adding to this, Morgan Stanley said that the negative macro commentary could possibly become an Indian IT sector-wide issue.
#4 BFSI exposure
Update: The US banking, financial, services and insurance (BFSI) sectors are a key revenue segment for top Indian IT companies.
The recent banking crisis in the US and Europe is expected to hurt the inflows and growth in these firms.
BFSI exposure, excluding insurance, for TCS stands at 29%, Infosys at 26%, Wipro at 27%. While Europe BFSI exposure for Infosys, and Wipro stood at 4.9%, 11.7 % respectively.
These companies are likely to be impacted if the crisis worsens.
Equitymaster's view on IT stocks
We reached out to Tanushree Banerjee, Co-head of Research at Equitymaster, on what she has to say about the current scenario for IT stocks.
Here's Tanushree:
The commentary by HCL Tech's management that the December quarter will see higher-than-expected furloughs was particularly pertaining to near term concerns about the BFSI segment and certain hi-tech areas.

The trend of lower earnings for a few quarters could be expected across the Indian IT sector.

Investors considering the best businesses in the sector should take advantage of value buying opportunities that may arise.
How Indian IT stocks have performed recently
Here's a table showing recent performance of Indian IT stocks.
| Company | Current Price (Rs) | 2023 so far | April so far |
| --- | --- | --- | --- |
| Tata Consultancy Services Ltd. | 3,214.0 | -1.4% | 0.5% |
| Infosys Ltd. | 1,407.0 | -6.7% | -0.3% |
| HCL Technologies Ltd. | 1,087 | 4.6% | -1.0% |
| Wipro Ltd. | 370.0 | -5.7% | 0.7% |
| LTIMindtree Ltd. | 4,769.0 | 9.3% | 0.6% |
| Tech Mahindra Ltd. | 1,098.0 | 8.0% | -0.4% |
| Tata Elxsi Ltd. | 6,377.0 | 1.4% | 6.0% |
| L&T Technology Services Ltd. | 3,543.0 | -3.8% | 3.1% |
| Persistent Systems Ltd. | 4,511.0 | 16.5% | -0.4% |
| Mphasis Ltd. | 1,803.0 | -8.7% | 0.2% |
| Oracle Financial Services Software Ltd. | 3,285.0 | 8.7% | 0.3% |
| Coforge Ltd. | 4,011.0 | 3.2% | 4.2% |
| KPIT Technologies Ltd. | 837.0 | 18.8% | 3.4% |
| Affle (India) Ltd. | 945.0 | -12.6% | -4.6% |
| Sonata Software Ltd. | 896.0 | 59.2% | 4.1% |
Source: Equitymaster
For more details, see how the stocks in the NIFTY IT are performing today and read our IT sector report.
You can also compare the top IT companies with each other using our compare tool:
Investment in securities market are subject to market risks. Read all the related documents carefully before investing
Want to Grow Your Wealth With Safe Stocks?
If you want a simple, safe, and hassle-free approach to long term wealth building...
Without having to worry about negative news or every little downswing in the market...
And without having to worry whether your investments will actually "deliver"...
You must read our note on Blue Chip Stocks now.
Details of our SEBI Research Analyst registration are mentioned on our website - www.equitymaster.com
Disclaimer: This article is for information purposes only. It is not a stock recommendation and should not be treated as such. Learn more about our recommendation services here...
Yash Vora is a financial writer with the Microcap Millionaires team at Equitymaster. He has followed the stock markets right from his early college days. So, Yash has a keen eye for the big market movers. His clear and crisp writeups offer sharp insights on market moving stocks, fund flows, economic data and IPOs. When not looking at stocks, Yash loves a game of table tennis or chess.