Airtel, Vodafone-Idea or RJio - Who Will Win the Telecom Race?
Dec 21, 2018
The giants that ruled a couple of years back went extinction when a new baby was born in this country.
India's richest man Mukesh Ambani's telecom baby, Reliance Jio, was born in September 2016.
With the launch of Jio, India's telecom story was re-written. India's biggest operators, Bharti Airtel, Vodafone India, and Idea Cellular were caught by surprise, and they were yet to gauge what was in store for them in the coming times.
In a matter of just 12 months, the 12 telecom operators in the country, suddenly shrunk to 4.
Small players vanished from the market. Others who survived, started counting days that are left, unless they do something new. They are forced to revisit their strategies, and in most cases, follow the newcomer.
Market Share: Then & Now
The entry of Reliance Jio resulted in a tariff war, which forced even a large corporate house like the Tata Group to exit the industry (In October 2017, Tata group decided to sell its consumer mobile business segment to Bharti Airtel virtually for free).
Following a year-long consolidation, the current stage where the incumbent players, Bharti Airtel, Idea+Vodafone and BSNL+MTNL (Public sector) are hemorrhaging has possibly reached the last lap.
The last lap is running to the pace of RJio.
With the market share divided among several players in 2016, the top 3 players have captured most of the market.
See the chart below.

In terms of subscriber market share, Vodafone Idea has the highest market share of 38%, followed by Bharti Airtel at 29.8%. Reliance Jio stands third with 18.4% market share.
What About the Financials?
Here again, the incumbents have been badly impacted.
In the June 2016 quarter, before new entrant Reliance Jio Infocomm Ltd started steering the ship, Bharti Airtel's India wireless unit boasted annualized revenue of more than Rs 600 billion.
Notably, revenues and profits have fallen almost every quarter since then.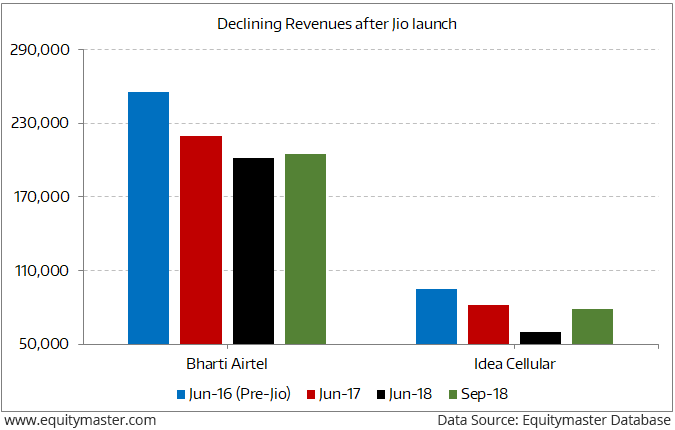 However, in the September 2018 quarter, revenues are showing the signs of growth. Will these players will now go on the path to recovery?
As our research analyst Taha Merchant believes the situation is unlikely to change soon. Here's an excerpt of what he wrote:
"Speaking of difficult businesses, the whole telecom business has been an underwhelming story so far. While the telecom subscriber base has increased from 300 million in 2008 to 1.2 billion in 2017, investors have little to cheer. The BSE Sensex has gone up 3.25 times in nine years, but the BSE Telecom Index has not moved an inch from its levels of 2008.

Telecom companies are straddled with high debt, intense competition, and lack of pricing power. High spectrum costs and regulatory issues have hampered the sector. While consumers have benefited from low costs and new players fighting for their share, investors have suffered."
Subscriber Base Versus Revenues
Among the three leading players, Vodafone Idea has added over 444 million subscribers as on June 2018.
Interestingly, Reliance Jio, which had 215 million subscribers compared with Vodafone Idea's 444 million as of end-September, made a profit of Rs 6.8 billion in the same period.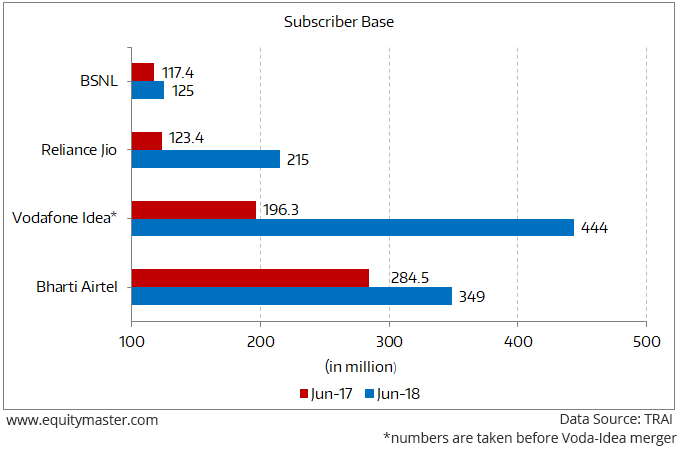 The third player, Bharti Airtel lost around 64 million users between June 2017 to June 2018 whereas Reliance Jio added 92 million during the same period.
Reliance Jio Surpasses Bharti Airtel in Terms of AGR
Reliance Jio has surpassed Bharti Airtel to become the second largest telecom operator in terms of adjusted gross revenue (AGR) in the quarter ended June.
In India, AGR has specifically become important for telecom companies since the payment made to the government is based on the AGR.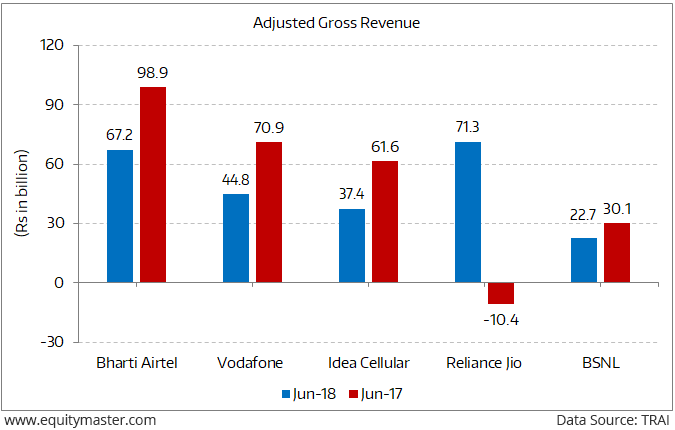 As per the data released by TRAI, Jio recorded an AGR from access services or revenue derived from licensed services of Rs 71.3 billion for the June quarter, while Airtel's AGR stood at Rs 67.2 billion.
The development highlights strong growth of the new entrant and declining strength of the former market leader. RJio had surpassed Vodafone and Idea Cellular individually in the March quarter but lags them now since the two merged to form Vodafone Idea at the end of August.
Rising Debt...
Meanwhile, as Reliance Jio inched closer to Bharti Airtel in terms of revenue market share, Jio's net liabilities have risen at a fast pace.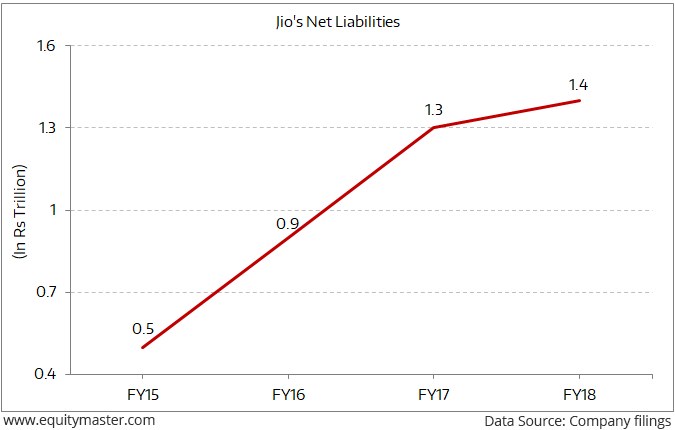 Meanwhile, debt-to-equity ratio of the incumbents have also remained high. This simply shows the considerable cash burn at the two firms because of the cut-throat pricing in the industry.
Hence, leverage for the sector seems to remain elevated on relentless competition, which in turn is hurting the profitability. Cash flow generation is constrained because of continued capital spending.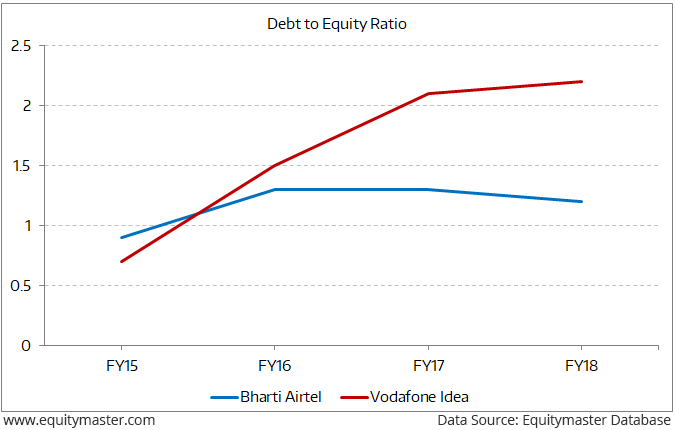 Although the dust in the telecom battleground has settled largely, the sector is at the point wherein no clear market leader emerging on key growth metrics and no distinct industry hierarchy in sight.
In the run-up to 5G, the next stage will mark a qualitative transformation and bring stability to the telecom sector.
But that is still some distance away. In the meantime, incumbents will have to dig in and pour more investment to hold their market share.
Best Regards,
Rini Mehta
Rini Mehta is a keen follower of the stock markets and economy. At Equitymaster, she covers daily stock market moves and broader market trends across Indian and global markets.