5 Hugely Profitable 'Unlisted' Indian Companies to Keep Your Eye On
Dec 21, 2021
As abundant liquidity engulfs the stock market, many companies are exploiting the IPO route to raise money at lofty valuations.
However, a few companies are not doing so. Why?
Well there could be many reasons. Some of these could be the unwillingness of promoters to dilute their stake or the lack of a need to raise funds.
In this article, we take you through 5 such companies.
These are not listed on the stock market. They are also either market leaders in their respective domains or are growing fast.
#1 Zerodha
Zerodha is primarily engaged in the business of providing equity broking services to retail customers.
It also offers other financial assets ranging from mutual funds to government securities (g-secs) to invest in.
The company was established in 2010 by Nithin Kamath, a veteran trader. The startup was bootstrapped with funds Nithin had accumulated from trading for years.
Back then, high brokerage and non-transparency were the problems that traders complained of.
Nithin, a trader himself, understood the pain of traders better than anyone else. He saw this as an opportunity to break into a highly competitive industry. Thus, Zerodha was born.
Zerodha pioneered the discount brokerage model in India and introduced practices such as "flat fee" on trading and "zero brokerage" on equity investment.
Today, these practices have become the industry standard. making Zerodha India's largest broker with an active client base of more than 7.5 m.
Interestingly, the company claims it hasn't spent a penny on advertising and marketing. It has acquired all its customers either through word of mouth marketing or through its popular education initiative Zerodha Varsity.
Also, the company hasn't raised any money since its inception nor does it intend to in the near future.
This indicates that the company is funding its operations through internal accruals which imply that the company is profitable unlike most startups.
Recently, in a series of tweets, Nithin stated that the company has registered a profit of Rs 10 bn in the financial year 2021. This is more than twice the profit it had reported in the financial year 2020.
The following table shows the profit figures of Zerodha for the last three years.
Zerodha Net Profit
| (Rs m) | FY19 | FY20 | FY21 |
| --- | --- | --- | --- |
| Net Profit | 3,500 | 4,423 | 10,010 |
| Net Profit Growth (%) | | 26.4% | 126.3% |
Data Source: Economic Times
Besides Nithin Kamath, Nikhil Kamath, and Seema Patil are the promoters of the company.
#2 Parle Products
Parle Products, the company behind Parle G has come a long way.
The company started with just one biscuit brand in 1928 but today, offers more than a dozen biscuit brands catering to every strata of the society.
Its product portfolio also includes confectionery and snacks.
Parle has a 90 year legacy and is one of the leading companies in the biscuits business. Along with Britannia Industries, it controls over 70% of India's huge biscuit market.
Parle has a strong foothold in rural India. 50% of Parle's sales comes from the rural market where the company's biscuits are widely consumed.
To compete with Britannia, which commands a strong foothold in the urban market, Parle has launched a premium range of biscuit brands under the name of Parle Platina.
For the financial year 2021, Parle reported a net profit of Rs 12.2 bn and the profit figure grew by 121% as compared to previous year's figures.
The following table shows the profit figures of Parle Products for the last three years.
Parle Products Net Profit
| (Rs m) | FY19 | FY20 | FY21 |
| --- | --- | --- | --- |
| Net Profit | 4,091 | 5,528 | 12,240 |
| Net Profit Growth (%) | | 35.1% | 121.4% |
Source: Ace Equity
The Chauhan family continues to lead the company and is the major stakeholder in the company. Parle Products is led by Vijay, Sharad, and Raj Chauhan.
What about the future prospects?
Parle has made inroads in international markets. It has 7 manufacturing plants outside India.
The company has expanded its presence in developed countries such as USA and Australia where it caters to the needs of the large Indian diaspora and in developing countries such as Nigeria and Cameroon.
It expects to taste the same success it experienced in India especially with its signature product Parle-G.
#3 Mondelez India Foods (Cadbury)
Mondelez India Foods is the Indian arm of US based company Mondelez International.
The company was established in 1948 and manufactures chocolates and biscuits under the iconic brand - Cadbury.
India is a land of several festivals and every festival is celebrated with an equal amount of enthusiasm and exuberance.
Each moment of celebration is accompanied by a lot of sweets. Though India is known for its food and has several sweets for every festival, chocolate is a default choice for many occasions. And one brand that is synonymous with "chocolate" in India is Cadbury.
This is why, it comes as no surprise that Mondelez is a leading player in the chocolate segment and commands a market share of more than 65%.
Its signature product, Cadbury Dairy Milk, alone commands a market share of 40%. In the biscuit segment too, the company commands a market share of 8.5% in the cream biscuit segment
The following image shows its product portfolio.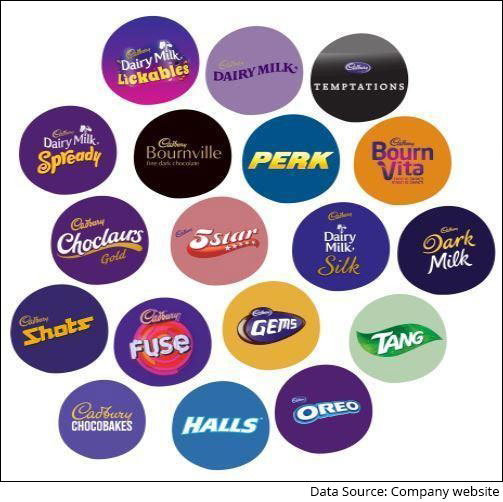 The company is headquartered in Mumbai and has four state of the art manufacturing facilities across the country with a headcount of 3,500 employees.
Mondelez is also known for its relatable marketing campaigns. The advertisements are quick to click with the Indian masses which leads to huge demand generation.
On the supply side, the company has built a strong distribution network and their products can be found in every corner of the country.
As far as the shareholding is concerned, Mondelez International is the largest shareholder in Mondelez Foods India.
The following table shows the financials of the company.
Mondelez India Foods Revenue & Net Profit
| (Rs m) | FY19 | FY20 | FY21 |
| --- | --- | --- | --- |
| Revenue | 67,446 | 72,776 | 80,380 |
| Revenue growth (%) | | 7.9% | 10.4% |
| Net Profit | 4,595 | 2,500 | 10,000 |
| Net Profit Growth (%) | | -45.6% | 300.0% |
Data Source: Ace Equity, Tofler
Despite the pandemic, the revenue of Mondelez India foods grew 10% year on year (YoY) to Rs 80.3 bn. Profits of the company zoomed to Rs 10 bn from Rs 2.5 bn, surging300% on a YoY basis.
#4 Studds Accessories
The number of two wheelers in India has been on rise but so has been the number of road accidents.
It is estimated that about 3% of GDP is spent on preventing road accidents and recovering the damage caused because of it. Therefore, the government has mandated the use of helmets for two-wheeler riders.
The company that has benefitted from this mandate is Studds Accessories.
Studds Accessories is a leading manufacturer of two-wheeler helmets and motorcycle accessories in India. Established in 1973, the company boasts of 4 manufacturing facilities with a total capacity of 14 m helmets per year.
In India, it commands a market share of 25.6% in the two-wheeler helmet segment and is aiming to increase it up to 40% by 2025.
Studds is also the largest manufacturer of helmets in the world and serves customers in more than 50 countries under the SMK brand.
As far as the financials of the company are concerned, it clocked a revenue of Rs 4.8 bn in fiscal 2021, which is 15% higher than its revenue last year. It also registered a net profit of Rs 740 m for the financial year 2021 against a profit of Rs 745 m posted in 2020.
For the last five years the company's revenue and net profit have grown at a CAGR of 9.2% and 25.2%, respectively.
The following table summarizes the financials of Studds Accessories for the last three years.
Studds Accessories Foods Revenue & Net Profit
| (Rs m) | FY19 | FY20 | FY21 |
| --- | --- | --- | --- |
| Revenue | 3,327 | 4,202 | 4,842 |
| Revenue growth (%) | | 26.3% | 15.2% |
| Net Profit | 325 | 746 | 740 |
| Net Profit Growth (%) | | 129.6% | -0.8% |
Data Source: Ace Equity, Annual report
Fixed assets of the company have grown from 1.5 bn to 2.6 bn and yet the debt-to-equity ratio of the company is less than 1 which reflects its robust financials.
Studds Accessories has received a nod from SEBI for its IPO and would launch it soon. The shares of the company are trading at Rs 1,750 apiece in the unofficial market or grey market as it is known.
It has doubled the wealth of its investors in the last 9 months.
Madhu Khurana and Siddharta Khurana are the largest stakeholder and promoters of the company.
#5 Patanjali Ayurveda
Backed by popular yoga guru Baba Ramdev, Patanjali Ayurveda is one of the fastest growing fast moving consumer goods (FMCG) companies in India.
The FMCG giant manufactures cosmetics, ayurvedic medicines and food products at its manufacturing facility located in Haridwar. The location also happens to be the headquarters of the company.
The company boasts a production capacity of Rs 350 bn and is planning to expand it to Rs 600 bn.
Acharya Balkrishna is the largest stakeholder owning 94% of the company's equity.
The following table represents the financial performance of Patanjali Ayurveda for the last three years.
Patanjali Ayurved Foods Revenue & Net Profit
| (Rs m) | FY19 | FY20 | FY21 |
| --- | --- | --- | --- |
| Revenue | 85,512 | 90,889 | 98,719 |
| Revenue growth (%) | | 6.3% | 8.6% |
| Net Profit | 3,590 | 4,247 | 4,846 |
| Net Profit Growth (%) | | 18.3% | 14.1% |
Data Source: Ace Equity
For the financial year 2021, the company clocked a revenue of Rs 98.7bn, registering a growth of 8.2% over the previous year.
It registered a profit of Rs 4.8 bn compared to Rs 4.2 bn in the year ago period, a growth of 14.2% on a YoY basis.
Capacity expansion, change in distribution model, an increase in number of field executives, and ever increasing popularity of Baba Ramdev will keep Patanjali buoyant and may even accelerate its growth in the coming future.
There have been rumours that Patanjali is expected to come out with its IPO soon.
To conclude...
As a retail investor you cannot invest in an unlisted company directly, however you could do so in an indirect way.
There are many listed companies that hold a significant stake in unlisted companies and startups.
So, if you wish to invest in an unlisted company you can invest in these companies instead.
However, do not forget to check the fundamentals of the company before investing in it.
Happy Investing!
To know what's moving the Indian stock markets today, check out the most recent share market updates here.
Disclaimer: This article is for information purposes only. Learn more here...