5 Stocks that may Hit their 52-Week High Soon
Dec 23, 2021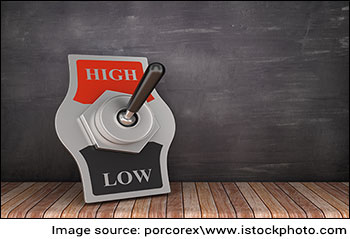 In the investing world, there's often a debate regarding the stock's technical analysis. One such indicator which leads to the debate is the stock's 52-week high and low level.
While some refuse to buy the stock at its 52-week high level, many others consider this to be at the core of momentum investing.
The optimists see this as an opportunity to get in, hoping that the 52-week high resistance will be breached and leading more profits ahead. Pessimists think otherwise.
When a stock's price begins to near its 52-week high, investors start to wonder if they should buy more of the stock given it could continue the momentum rally or sell because the rally may fizzle out.
With the help of Equitymaster's powerful stock screener, we have shortlisted the top stocks which are nearing their 52-week highs today.
This is an important indicator for many traders in making buy and sell decisions.
#1 Pidilite Industries
Pidilite Industries share price has a 52-week high quote of Rs 2,531.90 touched on 19 October 2021. It has a 52-week low quote of Rs 1,646.75, touched last year on 22 December 2020.
Currently, shares of the company trade at Rs 2,433 levels implying that they are just 4% away from their 52-week high level.
Even amid the recent volatility, Pidilite has been able to cushion blows to its share price. Why? Because market leaders tend to perform well even in volatile times.
The company is a leading manufacturer of adhesives and sealants, construction chemicals, craftsmen products, DIY products, and polymer emulsions in India.
The company's top brand name Fevicol has become synonymous with adhesives to millions in India. It's also ranked among the most trusted brands in the country.
Pidilite's market dominance with brands like Fevicol, M Seal, Dr Fixit etc has been due to its near-monopolistic status in the niche categories it operates with around 65% market share.
Recently, the company acquired 19.5% stake in a startup - Pace Robotics, which works on internal plastering, painting, and putty of buildings. The startup is currently working on a prototype for a wall finishing robot.
Over the years, Pidilite has expanded its product portfolio. Pidilite's key acquisitions over past two decades include:
a) Ranipal in 1999
b) M-Seal and Dr. Fixit in 2000
c) Steelgrip in 2002 and
d) Roff in 2005
Over the last one year, shares of the company have gained 41%.
To know more about the company, check out Pidilite Industries financial factsheet and its latest quarterly results.
#2 Schaeffler India
Shares of Schaeffler India currently trade at Rs 8,429. It's 52-week high of Rs 8,588 came on 15 December 2021. The stock is just 2% away from a new 52-week highs.
The journey of Schaeffler India shares has been a good one. A year ago, they were trading close to Rs 4,000 levels. In just one year, the stock has almost doubled.
There are many reasons for this steep surge. One is because auto component makers are riding the rally along with auto makers. Due to a rebound in automobile sales, the outlook for the sector has improved.
Schaeffler India is among the top three suppliers for many leading OEMs in India. When auto companies perform well, the component makers are not very far behind.
Another reason behind the gains can be the company's increased focus on expanding its footprint. Just recently, it announced to set up a new manufacturing facility for which it will invest Rs 3 bn.
The recent gains can be attributed to the company's stock split plans. In October, Schaeffler India announced it will consider sub-division of equity shares.
It's planning to become carbon neutral by 2040 and wants to use 100% renewable energy by 2024.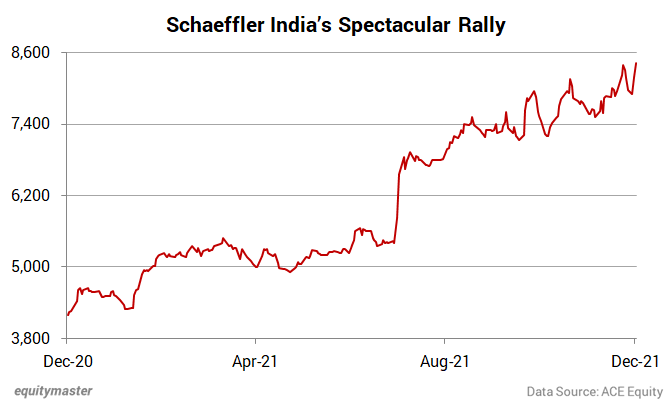 To know more, check out Schaeffler India's financial factsheet.
#3 Tech Mahindra
After rising around 1% yesterday, shares of Tech Mahindra are just 2% away from their 52-week high.
Tech Mahindra had touched a 52-week high of Rs 1,674.90 last week on 17 December. It has a 52-week low quote of Rs 903 touched on 22 December 2020.
The recent gains can be attributed to collaborations it made with a German company and in Vietnam.
The IT major has been working with Telefonica Germany to digitally transform its microwave network with open software defined networking (SDN).
Meanwhile, Tech Mahindra also announced a strategic collaboration with the SOVICO Group, an investment group in Vietnam, to enable its digital transformation.
In a recent interview, Tech Mahindra's CFO, Milind Kulkarni, said clients are accelerating their spending on IT. However hiring costs are on the rise and remain an industry-wide worry.
Over the year gone by, shares of Tech Mahindra are up 75%.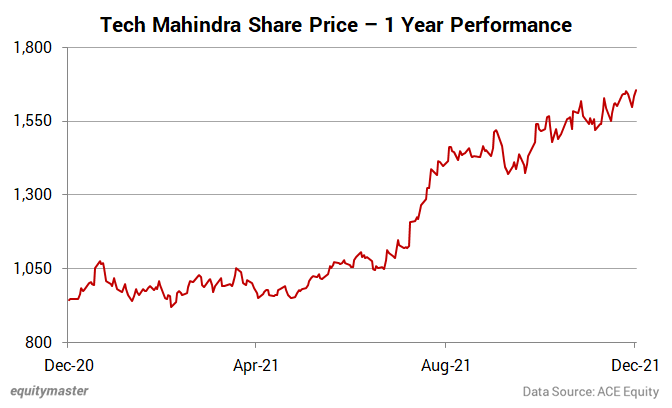 To know more, check out Tech Mahindra's 2020-21 annual report analysis.
#4 Butterfly Gandhimathi
Butterfly Gandhimathi share price was up 3% yesterday at Rs 1,050, inching closer to its 52-week high price of Rs 1,099.9 touched earlier this week on Monday.
It has a 52-week low quote of Rs 391.
Butterfly Gandhimathi is a smallcap company which manufactures LPG stoves, mixer grinders, table top wet grinders, and stainless steel and aluminium pressure cookers, among others.
It's one of the largest kitchen appliances companies in India and a market leader for SS LPG Stoves & Tabletop Wet Grinders.
Shares of the company have seen a spectacular run in the year gone by, gaining around 125%.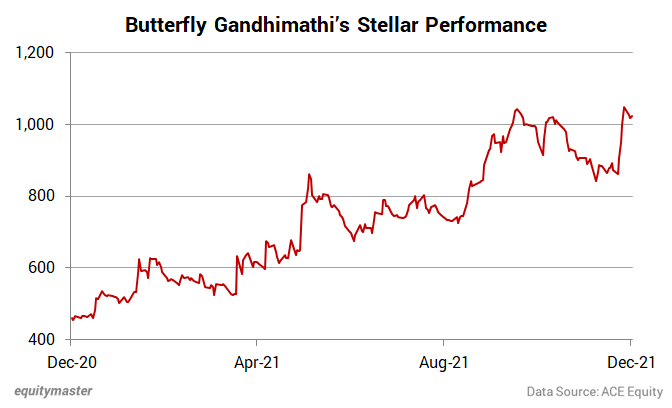 Even this week's volatility did not stop the stock from rallying some more.
Well-known investor Dolly Khanna holds over 1% stake in the company. She holds 212,639 shares as of September 2021.
Even mutual funds are bullish on the stock. They have been increasing their stake for the past three quarters now.
To know more, check out Butterfly Gandhimathi's latest shareholding pattern.
#5 La Opala RG
La Opala RG is a leading manufacturer and marketer of tablewares (opal and glass) in India. The company has around 50% market share in the organised opalware segment.
Yesterday, shares of the company gained 2% to Rs 433.65. La Opala RG has a 52-week high quote of Rs 450 touched earlier this month.
The stock has a 52-week low quote of Rs 201, touched in April this year.
Domestic mutual funds as well as foreign investors continue to remain bullish on the stock. As of September 2021, they held 14.1% and 6.1% stake in the company, respectively.
The stock is up around 95% in the year gone by with most of the gains coming in the past one month.
Why you may ask? Companies making glass, especially supplying vials for Covid-19 vaccines, are reaping benefits from the ongoing worldwide vaccination drive.
Also, the government has imposed anti-dumping duty on Opal glassware imported from United Arab Emirates (UAE) and China, 4% on UAE and 30% on China. As per the notification, this will expire on 8 August 2022.
However, reports suggest that the duty won't get expire and will continue. This is positive for domestic players like La Opala RG.
To know more about the company, check out La Opala RG financial factsheet and latest quarterly results.
Which other stocks are nearing their 52-week high?
Apart from the above, here are other stocks which are trading close to their 52-week highs.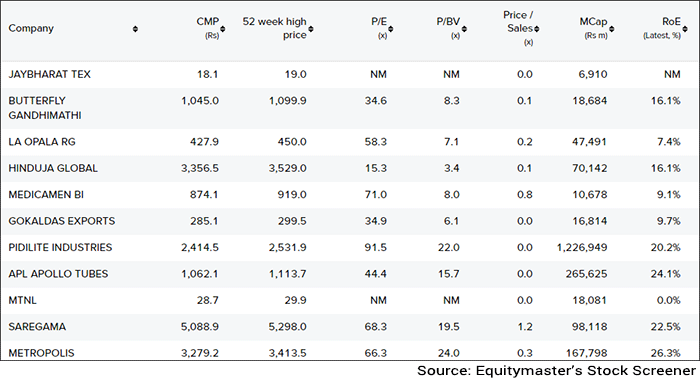 Please note, the criteria mentioned in the screener can be changed according to your selection criteria.
This will help you identify and eliminating stocks that are not meeting your requirements and give emphasis on those stocks that are well inside the metrics.
Why 52-week high is a crucial aspect...
As you saw from the above stocks, the companies which are trading near their 52-week highs have emerged unscathed even when there's a crisis.
These are well-run companies which will have enough fire power to sail through rough weather. They could possibly even do better when the tide turns while the others nurse their wounds.
On the other hand, stocks trading near their 52-week lows are the ones facing multiple problems. For instance defaults, rating downgrades, management issues etc.
If a stock is trading at 52 week lows or highs, there's probably a reason behind it.
An important point to note here is that a 52-week high level is not the only indicator one should look at.
Investing is not as simple as picking stocks at 52-week highs and avoiding the ones at 52-week lows.
However, there's a good chance that the group of stocks trading near their 52-week highs have a better chance of doing well compared to the other.
In conclusion, rather than focusing more on the price action, your ultimate focus should be on the fundamentals and valuations.
Since you're interested in momentum investing, do check out the below video on how to pick momentum stocks.
In the video, Brijesh Bhatia shares his momentum strategy and shows how to shortlist stocks for momentum trading.
To know what's moving the Indian stock markets today, check out the most recent share market updates here.
Disclaimer: This article is for information purposes only. It is not a stock recommendation and should not be treated as such. Learn more about our recommendation services here...