This Cement Stock Spurts After Radhakishan Damani Buys More Stake
Dec 23, 2021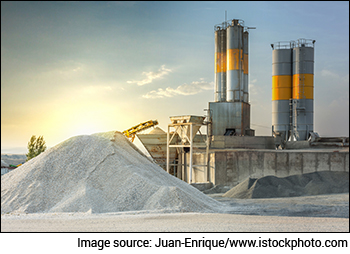 Lately, the Indian cement industry has been expanding in terms of volume.
Among the many listed cement companies, India Cements is one such stock that has recently captured the interest of investors.
In Wednesday's session, India Cements shares rose 9% intraday to Rs 192.4 on the BSE.
However, despite the rally, the stock has underperformed the market by sliding 4% in the last month, compared to a 3.1% drop in the BSE Sensex. It fell 5% in the past six months, compared to an 8% growth in the benchmark index.
But what really provoked such a significant increase in the shares of this cement company?
According to a regulatory filing on 21 December 2021, billionaire investor and promoter of Avenue Supermarts, Radhakishan Damani, Gopikishan Shivkishan, Damani & family increased their stake in India Cements to 22.76%.
They have purchased an additional 6.30 m equity shares, or 2.03% interest in India Cements, through open market transactions since 30 March 2020, the company said.
Before March 2020 quarter, he held 19.89% shares in the company.
Moreover, Damani raised his shareholding to 21.14% in January of this year, and it remained at that level for the following 11 months.
This shows RK Damani has been gradually expanding his shareholding in the cement company since last year.
To know more, check out India Cements' latest shareholding pattern.
A word about Radhakishan Damani
Radhakishan Damani is a Mumbai-based entrepreneur, businessman, and billionaire investor who founded India's mega-retail chain D-Mart.
Born on 15 March 1954 to an Indian Marwari family, born and brought up in Bikaner, Rajasthan, RK Damani is one of the few self-made billionaires in the country.
According to Forbes, Radhakishan Damani is the 63rd richest man in the world with a net worth of US$24.6 bn.
Mr. Damani is considered to be one of the Big Bulls in the Indian stock market. He manages his portfolio through his investment firm, Bright Star Investments.
Over the years, the veteran investor has invested in cement, technology, and retail sectors.
He is considered India's retail king after the March 2017 IPO of his supermarket chain Avenue Supermarts.
Why did Damani invest in India Cements despite its poor share price performance?
Frankly, the reason is unknown. However, there are some points we can assume and try to interpret this move based on available facts.
The Indian cement space is poised for massive growth in the coming years.
In the last few months, cement demand has increased as a result of the lockdown due to the pandemic.
According to the credit rating agency ICRA, the all-India cement production in the fiscal 2022 is expected to go up by 12% at 332 million tons from last year supported by pent-up demand, rural housing requirement and pickup in infrastructure activity.
Also, several government initiatives related to infrastructure projects and affordable housing schemes such as the Pradhan Mantri Awas Yojana (PMAY) shows 'bright' prospect for the sector to grow.
Overall, these factors aid well for India Cements as it has the potential to meet the increasing demand, says a report.
For July-September quarter, India Cements posted a 57% dip in net profit to Rs 300 m from Rs 690 during the same period last year.
A sharp increase in input costs during the September 2022 quarter weighed on the company's overall performance.
However, its revenue from operations were up 13% to Rs 12.4 bn during the period under review, from Rs 10.9 bn compared to the previous fiscal.
Apart from that, the company's production during the quarter improved by 8% and by 21% to 4.1 million tonnes for the half year.
Its extended marketing zones during this period helped improve dispatches with an overall sale of 2.4 million tonnes for the quarter, against 2.1 million tonnes during the previous year, up 12%.
Which other stocks does RK Damani hold in his portfolio?
These are the shares held by RK Damani as per the information available by the exchanges.
Data Source: ACE Equity
How the stock markets reacted to India Cements
Yesterday, shares of India Cements opened the day at Rs 184.9 on the BSE and Rs 182.1 on the NSE.
Its share price closed at Rs 186.7 (up 5.7%) on the BSE and Rs 186.5 (up 5.6%) on the NSE.
At its current price, it's trading at a P/E of 29.9.
The share touched its 52-week high of Rs 232.1 and 52-week low of Rs 134.1 on 9 November 2021 and 21 December 2020, respectively.
Over the last 30 days, the India Cements share price is down 4.8%. Over the last one year, the company's share price is up 33.9%.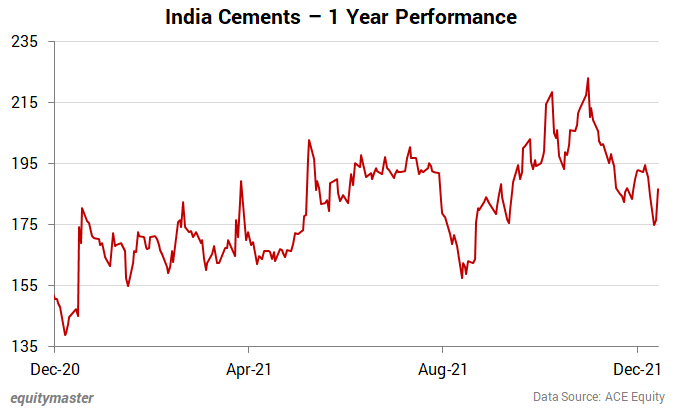 About India Cements
India Cements is a cement manufacturing company in India. The company is headed by former International Cricket Council Chairman N. Srinivasan.
It was established in 1946 by SNN Sankaralinga Iyer and the first plant was set up at Thalaiyuthu in Tamil Nadu in 1949.
It has 7 integrated cement plants in Tamil Nadu, Telangana and Andhra Pradesh, one in Rajasthan (through its subsidiary, Trinetra Cement) and two grinding units, one each in Tamil Nadu and Maharashtra with a capacity of 15.5 million tonnes per annum.
Sankar Cement, Coramandel Cement and Raasi Gold are the brands owned by India Cements.
India Cements also owned the Indian Premier League franchise Chennai Super Kings from 2008 to 2014.
It was transferred to a separate entity named Chennai Super Kings Cricket, after the supreme court of India struck down the controversial amendment to the BCCI constitution's clause 6.2.4 that allowed board officials to have a commercial interest in the IPL and the Champions League T20 on 22 January 2015.
India Cements is also alleged to have made controversial investments in Jagati Publications and Bharati Cements owned by Y.S. Jaganmohan Reddy.
For more details about the company, you can have a look at India Cements' factsheet and quarterly results on our website.
You can also compare India Cements with its peers.
India Cements vs Ambuja Cement
India Cements vs JK Lakshmi Cement
India Cements vs Ultratech Cement
To know what's moving the Indian stock markets today, check out the most recent share market updates here.
Disclaimer: This article is for information purposes only. It is not a stock recommendation and should not be treated as such. Learn more about our recommendation services here...