This Defence Sector IPO has Impressed Investors. Lists at 47% Premium
Dec 24, 2021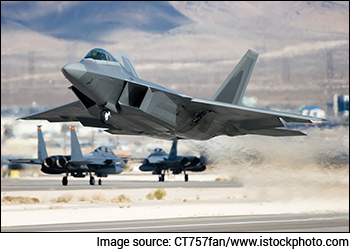 Today, Chennai-based Data Patterns had a great start on the stock exchanges. It listed at a premium of nearly 47% to its initial public offering (IPO) price of Rs 585.
On the BSE, Data Patterns listed at 864, up 47.7% from its IPO price. It went public at Rs 856.1 on the NSE, 46.3% over its issue price.
Data Patterns' listing gains outperformed analysts and investors' expectations.
This was the 62nd listing on the bourses in 2021. The company fetched Rs 5.9 bn through its public issue. The price band for the offer, which was opened for bidding last week, was Rs 555-585 per equity share.
Data Patterns is among the few vertically integrated defence and aerospace electronics solutions providers. It's art of the indigenous defence products industry.
The company's offerings cater to the entire spectrum of defence and aerospace platforms like space, air, land, and sea.
Data Patterns' received stellar response from investors
The company's Rs 5.9 bn IPO was massively oversubscribed earlier this month. The public issue was subscribed a total of 119.62 times.
The demand from non-institutional investors (NII) was higher than others as they bought shares 254 times their reserved portion.
Qualified institutional investors (QII) portion was booked 191 times, while the part set aside for retail investors was subscribed 23.14 times.
The huge response by investors was due to the company's healthy financials, solid orderbook, and enormous potential in the context of the Make in India initiative.
Motive behind the public offer
The company intends to utilise the net proceeds from the fresh issue for debt repayment, funding its working capital, and the up-gradation and expansion of its existing facilities, besides general corporate purposes.
A quick view at company financials
In the last 3 years, the company has shown strong growth in revenue. It grew at a compound annual growth rate (CAGR) of 19% from Rs 1.3 bn to Rs 2.3 bn over the period of the financial year 2019 to 2021.
During the same period profit has grown at a CAGR of 97% from Rs 77 m in the fiscal 2019 to Rs 546 m in 2021.
Data Patterns increased its net profits about 158% between the 2020 and 2021.
Key Parameters
| (Rs m) | FY19 | FY20 | FY21 |
| --- | --- | --- | --- |
| Total Income | 1,325 | 1,601.9 | 2,265.5 |
| Growth (%) | | 21% | 41% |
| Expenses | 1,221.5 | 1,317.6 | 1,520.2 |
| Net Profit\Loss | 77.0 | 210.5 | 555.7 |
Data Source: Company's RHP
The company's total order book amount for fiscal 2019, 2020, and 2021 are Rs 1.8 bn, Rs 5.9 bn and Rs 5 bn, respectively.
Commenting on its order book in RHP, the company said,
Pursuant to increase in our order book, we intend to expand this facility.

The board by its resolution dated 3 September 2021 set out its proposal to enhance our offerings in the aerospace and defence electronics space, especially in complex technology-based products which will require the expansion of our current facility.

We are also in the process of upgrading and expanding our facility, with a proposed doubling of available floor area and manufacturing capacity, as well as addition of capability of handling large and heavy equipment, integration of large radars and mobile electronic warfare systems, satellite integration facility.
The company had an orderbook of Rs 5.8 bn as of September 2021, with orders from several marquee customers, including the Defence Ministry, DRDO, ISRO, Hindustan aeronautics (HAL), Bharat Electronics (BEL), and a Defence PSU in the missile space.
About Data Patterns
Incorporated in 1985, Data Patterns is a defence and aerospace electronics solutions provider catering to the indigenously developed defence products industry.
The company offers products to the entire spectrum of defence and aerospace platforms - space, air, land, and sea.
It's core competencies include electronic hardware design and development, software design and development, firmware design and development, mechanical design and development, product prototype design and development, functional testing and validation, environment testing and verification, and engineering services opportunities.
The company's manufacturing facility consists of a 1 lakh square feet factory built on 5.75 acres of land in Chennai, which has facilities for design, manufacturing, qualification, and life cycle support of high-reliability electronic systems used in defence and aerospace applications.
The company is also planning to acquire an additional 2.81 acres of adjacent land for further expansion. As of 31 July 2021, Data Patterns had 760 employees with more than 450 qualified engineers.
To know what's moving the Indian stock markets today, check out the most recent share market updates here.
Disclaimer: This article is for information purposes only. It is not a stock recommendation and should not be treated as such. Learn more here...