Jun 7, 2022 - 5 Penny Stocks that Should be on Your Watchlist for 2022
5 Penny Stocks that Should be on Your Watchlist for 2022
Jun 7, 2022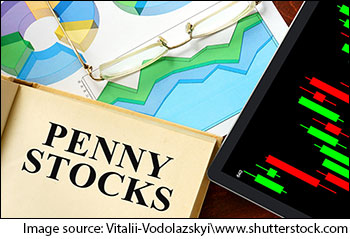 Editor's note: Well, what do you know. Penny stocks are back on retail investors' radar.
For a couple of weeks there, it seemed like penny stocks were losing their sheen and attraction as broader markets and markets across the globe started to correct.
But with equity markets recovering, retail investors have started their search for fundamentally strong penny stocks.
Before you start your search, we recommend you check out the multibagger penny stocks for 2025 to get a head start in the world of penny stock investing.
Continue reading...
Let's face it.
So far, 2022 hasn't been a particularly good year for penny stocks.
While there are some fastest growing companies which have turned multibaggers, a larger part of fundamentally strong stocks, heck even bluechips, have been taken to the cleaners. So you can image what the fate of penny stocks has been.
The years 2020 and 2021 were spectacular ones for the equity market where excess liquidity drove even the boring stocks higher.
Anyways, the years 2020 and 2021 are water under the bridge now.
Let's shift our focus to the current year. How will 2022 unfold?
Will the added volatility keep investors away from penny stocks? Or is there going to be a significant reversal from here on for several penny stocks?
Whatever happens, if you have a perfect strategy to filter out the fundamentally strong penny stocks, you'll have a good night's sleep.
Penny stocks, by their very nature, tend to be more volatile. They go up faster and have an equally sharp decline.
Which is why you should take extra precaution. For instance, if you think the markets are expensive, reduce your exposure to penny stocks. Likewise, if you think the markets are undervalued and there's a strong chance of a rebound, load up on the best penny stocks.
Recently, we wrote about the 5 penny stocks that should be on your watchlist for 2022.
Top Penny Stocks for Your 2022 Watchlist
Source: Equitymaster
This list is still extremely relevant today.
Read on to know more about these five penny stocks...
In November 2021, we wrote to you about 5 penny stocks to watch out for in 2022. The list included names such as Ircon International, Manaksia, among others.
In the article, we discuss how simply chasing the safest bluechips will only offer low returns and where penny stocks fit in your portfolio.
People often get lured into investing in a penny stock as they offer quick and big bucks in no time.
That's not always the case though. Even though penny stocks offer potentially higher rewards, they come with higher risks.
That is why, you must separate the men from the boys and look for penny stocks which have a decent balance sheet, low or zero debt and a track record for paying dividend.
These stocks fare much better against their peers and deserve to be a part of your watchlist.
In this article, we take a look at 5 such stocks that should be on your watchlist for 2022.
#1 Veritas (India)
Veritas (India) is a commercial distribution and trading company which stocks, trades in, and distributes bulk chemicals, rubber, and metals.
The company has three overseas subsidiaries namely Veritas International FZE, Hazel International FZE, and Veritas America Trading Inc.
It has big clients such as Reliance Industries, Indian Oil Corporation, Asian Paints, Kansai Nerolac, and IOL Chemicals among others.
Note that at one point, the company shed its penny stock status and rose to levels of Rs 187 in July 2021. However, it did not sustain at those levels and dipped below Rs 100 in the months ahead.
Currently, the stock trades at Rs 92. Even after 50% fall from its 52-week high, shares of the company are up around 85% in the past one year.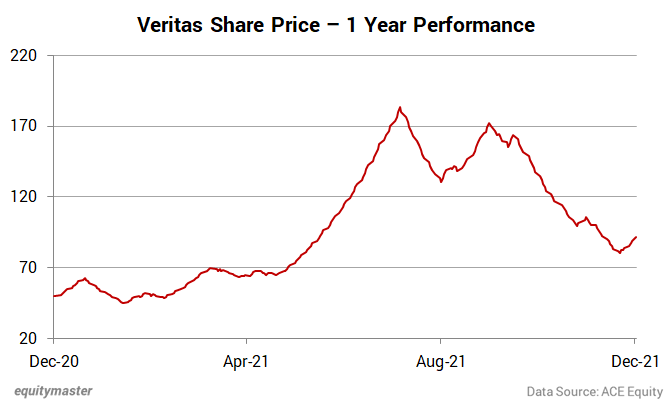 So what makes the company worthy of your watchlist?
An important aspect we look for in stocks is if the company is able to maintain its debt levels and pay consistent dividends. Veritas has a checkmark against both these points.
For the past eleven years, the company's debt levels have stayed under control. It has maintained the debt to equity ratio below 1 in all instances. Veritas' latest debt to equity (D/E) ratio stands at a low 0.2.
Coming to dividends, the company has declared consistent dividends of 5% on its face value (Rs 1) starting from the year 2013 (barring fiscal 2021).
The company has performed even better in terms of financials. It has steadily increased its revenues and profits over the years.
Financial Snapshot
| (Rs m, Consolidated) | FY16 | FY17 | FY18 | FY19 | FY20 | FY21 |
| --- | --- | --- | --- | --- | --- | --- |
| Net sales | 14,558 | 16,485 | 16,793 | 18,757 | 20,368 | 18,760 |
| Sales growth (%) | -3% | 13% | 2% | 12% | 9% | -8% |
| Operating profit | 682 | 833 | 791 | 1,219 | 1,873 | 1,630 |
| Operating profit margin (%) | 5% | 5% | 5% | 6% | 9% | 9% |
| Net profit | 602 | 715 | 678 | 435 | 1,223 | 1,090 |
| Net profit margin (%) | 4% | 4% | 4% | 2% | 6% | 6% |
Data Source: Ace Equity
Veritas promoters have extensive experience in managing the commodity trading and distribution business. This is reflected in the significant scaling up of its operations.
As of September 2021, FIIs hold 9.7% stake in the company. To know who holds the largest chunk of shares, check out the latest shareholding pattern of Veritas (India).
Update: Since we last wrote to you, shares of Veritas India have gained around 40%. This is due to a big-bang acquisition where Mr Market thinks Veritas will benefit.
Swan Energy, a textile company, has acquired 55% stake in Veritas India for Rs 1.7 bn. The company will further acquire an additional 26% stake from existing public shareholders via mandatory open offer.
#2 Sicagen India
Sicagen India is another company involved in the commercial distribution and trading business.
It's involved in trading of building materials, sales & servicing, power & controls systems, manufacturing of MS barrels, and manufacture of water treatment chemicals.
Starting from 2007, the company has maintained its debt levels under control (D/E ratio below 0.3 in every instance). Its current D/E ratio stands at 0.16.
Sicagen has consistently paid dividends over the past ten years. Its average dividend yield for the past five years comes to over 3%, which is better for a penny stock.
While the company has good qualities of better dividend yields and lower debt to equity ratio, it has little to show on the financials front.
While sales have more or less remained in the same range over the years, profitability has declined. The company has posted a loss of Rs 32 m for financial year ending March 2021.
During 2021, the company's total income declined to Rs 5.5 bn as against Rs 7 bn in fiscal 2020, majorly due to fluctuation in steel prices during the year and Covid-19 impact.
Despite all this, the company's capital structure seems decent with net worth of almost Rs 4 bn and low leverage levels.
Also, Sicagen India is a single point of contact for supplying building materials and has a network of 26 sales offices cum warehouses across India. This gives the company an upper hand as its presence at multiple locations provides diversification in terms of geography.
Over the past one year, shares of the company have gained 40% and remained volatile throughout the year.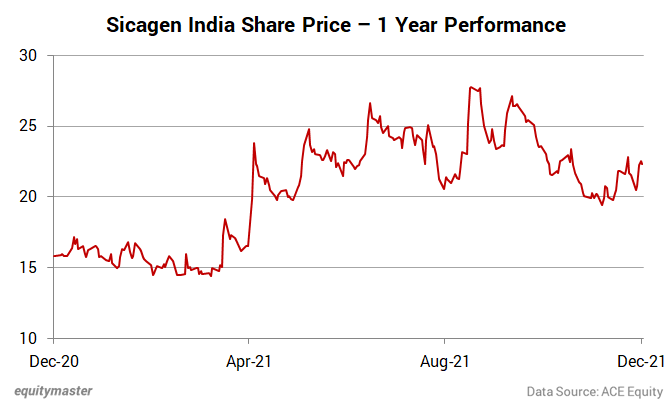 To know more about the company, check out Sicagen's financial factsheet and its latest quarterly results.
#3 Gujarat Industries Power
Gujarat Industries Power (GIPCL) is a Vadodara-based company engaged in the business of power generation. It was incorporated in 1985 and is promoted by three leading Gujarat PSUs viz. GUVNL, Gujarat Alkalies, and Gujarat State Fertilisers.
What makes the company worthy of your watchlist? Here are some factors...
Attaining normative plant parameters is difficult in lignite-based power plants compared to coal-based power plants.
This is on account of challenges involved in handling of lignite. With its healthy operating efficiency, the company has been able to achieve normative plant parameters historically.
Coming to the company's leverage position, it has maintained debt to equity ratio below 0.5 over the years. Its current debt to equity stands at 0.22.
On the dividends front, Gujarat Industries has consistently rewarded shareholders since 2004. It has paid dividends of around 20% on its face value (Rs 10 per share) since 2004.
In the past six years, the dividends have increased to 27% showing that the company is a dividend growth stock. At its current price, it offers a dividend yield of over 3.5%.
| Year End | Dividend % | Dividend per Share(Rs) |
| --- | --- | --- |
| 31-Mar-2021 | 27.00 | 2.70 |
| 31-Mar-2020 | 29.00 | 2.90 |
| 31-Mar-2019 | 29.00 | 2.90 |
| 31-Mar-2018 | 27.00 | 2.70 |
| 31-Mar-2017 | 27.00 | 2.70 |
| 31-Mar-2016 | 27.00 | 2.70 |
| 31-Mar-2015 | 25.00 | 2.50 |
| 31-Mar-2014 | 25.00 | 2.50 |
| 31-Mar-2013 | 25.00 | 2.50 |
| 31-Mar-2012 | 25.00 | 2.50 |
| 31-Mar-2011 | 25.00 | 2.50 |
| 31-Mar-2010 | 25.00 | 2.50 |
| 31-Mar-2009 | 22.00 | 2.20 |
| 31-Mar-2008 | 25.00 | 2.50 |
| 31-Mar-2007 | 20.00 | 2.00 |
| 31-Mar-2006 | 12.50 | 1.25 |
| 31-Mar-2005 | 12.50 | 1.25 |
| 31-Mar-2004 | 10.00 | 1.00 |
| 31-Mar-2000 | 20.00 | 2.00 |
| 31-Mar-1999 | 20.00 | 2.00 |
| 31-Mar-1998 | 18.00 | 1.80 |
| 31-Mar-1997 | 18.00 | 1.80 |
Data Source: Ace Equity
Coming to financials, have a look at the table below which shows the company's financials over the years.
Financial Snapshot
| (Rs m, Standalone) | FY17 | FY18 | FY19 | FY20 | FY21 |
| --- | --- | --- | --- | --- | --- |
| Net sales | 13,106 | 13,538 | 14,074 | 13,788 | 13,353 |
| Sales growth (%) | -3.10% | 3.30% | 4.00% | -2.00% | -3.20% |
| Operating profit | 5,000 | 5,320 | 6,651 | 5,469 | 4,760 |
| Operating profit margin (%) | 38.20% | 39.30% | 47.30% | 39.70% | 35.60% |
| Net profit | 2,292 | 2,445 | 1,764 | 2,480 | 1,833 |
| Net profit margin (%) | 17.50% | 18.10% | 12.50% | 18.00% | 13.70% |
Data Source: Ace Equity
Despite all this, shares of the company have underperformed peers and even the benchmark index. That too, in a bull market.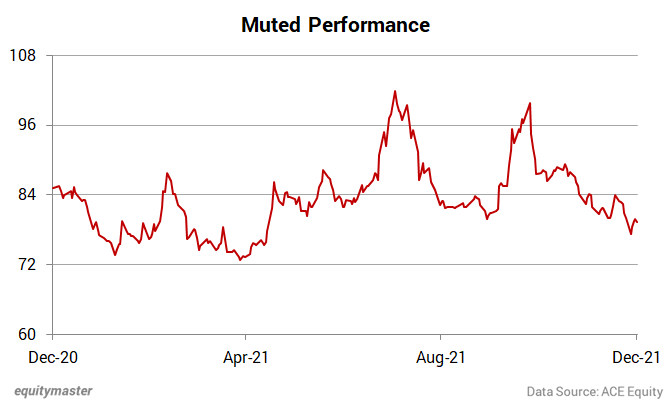 The company has ambitious targets as it expects a profit of over Rs 3 bn in fiscal 2022. The company's CFO said in an interview that it's expecting this profit because all machines are working well along with solar and wind divisions.
The company's key 125-Megawatt (MW) lignite-based generation unit in Surat was shut down in December 2020 owing to a technical snag.
It remains to be seen how the company performs in fiscal 2022.
#4 Karur Vyasa Bank
Karur Vyasa Bank is one such private lender which is underperforming its peers by a big margin. That too despite the bank reporting decent performance one quarter after the other.
Over the year gone by, shares of the company have gained a mere 2%.
For the most recent quarter, the bank improved its credit offtake in retail and business segments. Its bad loans also fell. This resulted in a 43.5% growth in its net profit to Rs 1.7 bn.
This was also its highest net profit in the last seventeen quarters.
Even though asset quality improved, the interest income remained flat at Rs 14 bn.
The bank also has a strong track record of paying big dividends. In years 2004 to 2016, it paid dividends amounting to over 100% on its face value of Rs 10.
The bank did not declare any dividend in fiscal 2020 as banks were mandated to reserve the amount for strengthening its balance sheet. For fiscal 2021, it declared dividend of Rs 0.50 per share.
In an interview last month, the bank's MD and CEO B Ramesh Babu said they have invested a lot in digital in the last four years. The bank has even partnered with fintechs and NBFCs for co-lending partnerships.
To improve its branch-presence (as the number of branches has come down), Karur Vyas Bank is planning to open 15 branches.
Note that foreign investors, domestic institutions including mutual funds, financial institutions and insurance companies all have some exposure to the bank. (Check out Karur Vyasa Bank's latest shareholding pattern.)
Here's something interesting...
Did you know that Karur Vyasa Bank is a 100-year-old bank? Completing 100 years is by no means easy to survive for most businesses. Very few businesses have achieved this rare feat.
Karur Vysya Bank is one of them.
To know more about the company, check out Karur Vyasa Bank's financial factsheet.
Update: The March 2022 quarter turned out to be a good one for Karur Vyasa Bank where the lender's bottonline surged over two-fold.
Operating profit rose 118% on the back of strong performance across all verticals.
What's more, the asset quality also saw an improvement with net NPAs coming down from 3.41% in March 2021 to 2.28% in March 2022.
To know more, check out Karur Vyasa Bank's latest quarterly results.
#5 Om Infra
Om Infra is the flagship company of the Om Kothari Group, which is engaged in diversified activities including turnkey solution for hydro mechanical equipment for hydro power & irrigation projects, real estate development, and civil construction.
The company has also forayed into construction of dams/reservoirs on EPC basis along with fabrication and installation of hydro-mechanical equipment.
Om Infra is one of the leading players in the industry and has been around for over four decades.
The company has maintained its debt at either zero or negligible levels on its balance sheet.
Om Infra also has a consistent track record of paying dividends. For fiscal 2021, it declared a dividend of Rs 0.40 per share.
Although the company has posted steady profits starting from the year 2005, the profit has declined for the past three years.
Over the past one year, shares of the company have gained 70%.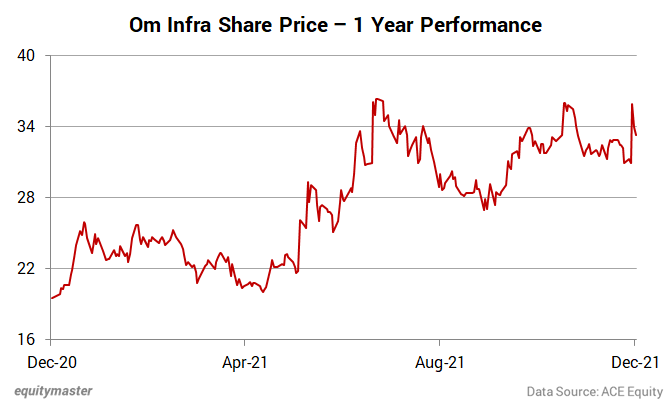 To know more, check out Om Infra's latest quarterly results.
What is the right penny stocks strategy?
Since all investing comes with risk, diversifying your portfolio with penny stocks is a good strategy.
But here's the crux.
There are around 1,000 penny stocks that are vying your attention. And if you don't know how to say no to more than 90% of them, you will end up with a lot of junk.
That is why, you need a strong framework. This framework should not only zero in on the right penny stock at the right price but also helps you avoid big losers.
Back in July 2020, Co-head of Research at Equitymaster, Rahul Shah shared a very effective technique that zeroes in on the right penny stocks.
Recently, Rahul also did an interview discussing how to invest and make money with penny stocks.
If you've not read the interview yet, you're in for a treat.
Investment in securities market are subject to market risks. Read all the related documents carefully before investing
Want to Grow Your Wealth With Safe Stocks?
If you want a simple, safe, and hassle-free approach to long term wealth building...
Without having to worry about negative news or every little downswing in the market...
And without having to worry whether your investments will actually "deliver"...
You must read our note on Blue Chip Stocks now.
Details of our SEBI Research Analyst registration are mentioned on our website - www.equitymaster.com
Disclaimer: This article is for information purposes only. It is not a stock recommendation and should not be treated as such. Learn more about our recommendation services here...
Yash Vora is a financial writer with the Microcap Millionaires team at Equitymaster. He has followed the stock markets right from his early college days. So, Yash has a keen eye for the big market movers. His clear and crisp writeups offer sharp insights on market moving stocks, fund flows, economic data and IPOs. When not looking at stocks, Yash loves a game of table tennis or chess.