What to Expect from India's Top Renewable Energy Stocks in 2022
Jun 10, 2022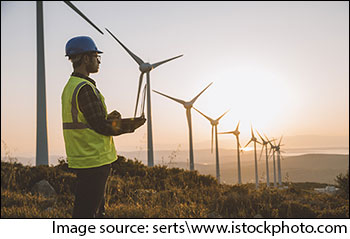 Editor's note: Whether it's harnessed from the sun or wind, renewable energy is becoming the power of choice as countries across the globe strive to tackle climate change.
The world is witnessing a disruptive shift in the energy landscape given the market's newfound love for all things 'green'.
We are in the middle of a boom in the renewable energy space.
Non-fossil fuel-based energy generation is the big megatrend of our time.
No wonder investors are falling head over heels whenever they're hearing the term 'renewable energy' or 'green energy'.
If you're still not convinced about the prospects of renewable energy and are wondering that traditional energy sources like coal and gasoline are here to stay, think again.
Perhaps you'll change your stance after knowing that investing legend Charlie Munger is also bullish on renewable energy.
At a conference last year, Munger was heard speaking high praise on the newfound renewable energy.
Munger loves the fact that countries are rapidly reducing the burning of coal and the burning of gasoline and diesel.
Here's Munger in his own words:
I would be in favour of using a lot more renewable energy from wind and solar, even if there were no global warming problem.

I think saving the hydrocarbons for future generations instead of blowing them all in one big blast, would be a very smart thing to do even if there were no global warming.
But how does India stand to benefit from this shift?
Well, India's investments in renewable energy have accelerated in recent years.
Building a thermal power plant used to take more than 5 years. On the contrary, India is now setting up solar and wind farms in 2 years or less.
While the impact is slow, traditional energy sources like hydrocarbon-based energy are slowly being replaced by green energy like solar, wind, and green hydrogen.
Recently, we wrote to you about the top renewable energy stocks in India and what to expect from them in 2022.
India's Top Renewable Energy Stocks
Source: Equitymaster
The above list is still extremely relevant.
As you can see from the table above, almost all companies involved in the renewable energy sector have posted stellar returns if we chart out their long term gains.
That is why we believe a disruption is just around the corner. There will be substantial gains for the taking if you invest in the right stock.
Bear in mind that despite the significant shift towards clean energy, the high growth renewable energy sector is highly competitive and can be volatile.
Investors hoping to profit from India's renewable growth should look into the financials, management, business strategy, and all other fundamental factors of the companies before investing in them.
India's Top Renewable Energy Stocks to Watch Out For...
According to a report from IQAir, a Swiss organization, 22 out of the 30 most polluted cities of the world are in India.
As a consequence, 120,000 people lost their lives in 2020 alone translating to an economic loss of Rs 2,000 bn. Clearly, air pollution has become a menace.
To reduce the effect of air pollution and limit the loss of human capital, the Indian government announced it will increase the country's renewable generation capacity to 500 GW by 2030.
India's rapid adoption of renewable means of energy is a testament of its commitment.
India had a renewable energy generation capacity of just 10 GW in 2005. Today that number has reached 100 GW, growing at a phenomenal CAGR of 16.6%. Many companies have aided the government to realise this remarkable feat.
Some companies involved in this space emerged as leaders. The ones listed on the Indian stock markets experienced monumental gains in their stock prices in the last one year.
It's expected that these companies will continue to maintain their leadership position as they bag more projects.
In this article, let's take a look at India's top renewable energy companies and what their future plans are.
#1 Tata Power
Tata Power is leading the renewable pack from the front.
It's primarily engaged in the business of power generation and distribution. The company has also diversified its business. It now offers ancillary power products and solutions like solar pumps, solar modules, and cells, electric vehicle (EV) charging infra solutions, etc.
It also undertakes large scale solar projects for both retail customers and large institutional clients.
Tata Power's total generation capacity stands at around 12.8 GW. Out of this, 31% is renewable capacity which turns out to be approximately 4GW.
The company aspires to increase this renewable capacity to 15 GW by 2025 and would do so by adding 2GW of solar capacity on an annual basis.
Based on this, we could definitely expect 2GW of solar capacity being commissioned and added to the company's renewable capacity by the end 2022.
This is a conservative estimate from the company's management and it may exceed the annual target largely due its strong and efficient execution capability.
Tata Power solar (TPSSL), a wholly owned subsidiary of Tata Power, undertakes large scale solar engineering, procurement, and construction (EPC) projects for utility companies like NTPC, GSECL (State electricity corporation in Gujarat), etc. At the end of July-September quarter of 2021, Tata Power Solar had an order book of Rs 9.3 bn.
The following image shows the orderbook of Tata Power Solar. Keeping in mind the fact that the company is extremely efficient in its execution, many of these projects could be commissioned by the end of 2022.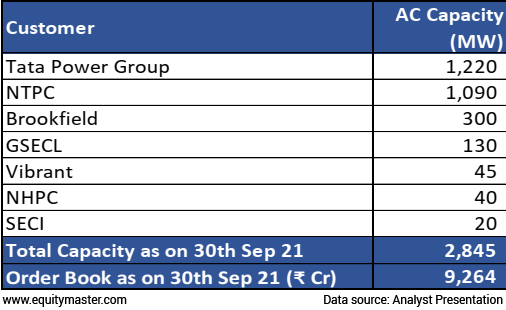 In rural areas, where power is unreliable and power cuts are common, solar energy is a blessing.
Inhabitants are dumping their traditional source of power in favour of solar energy generated through modules installed on rooftops. Until now, Tata power has bagged 416 MW of rooftop orders worth Rs 11.8 bn.
The company may continue to bag a large number of orders from retail customers primarily due to a proven record of high quality products and services along with the brand loyalty it enjoys.
The importance of electricity pumps in agriculture cannot be undermined. Given the size of the market, Tata Power has launched its branded solar pump- "Kshitij". A total of 53,000 pumps have been installed across the nation.
This segment has recorded phenomenal growth. Revenues grew 300% on a YoY basis. The company aims to be a market leader in this space and is aggressively marketing the product. This segment could grow exponentially in 2022.
In 2021, Tata Power forayed into battery storage systems business which is a natural extension of its core business. It won India's first ever large scale 50 MWh battery energy storage system project to be installed at Leh, Ladakh. This could lead to more orders in 2022.
In the last one year, the stock of Tata Power had a great run on the stock exchanges as investors jumped to buy the stock.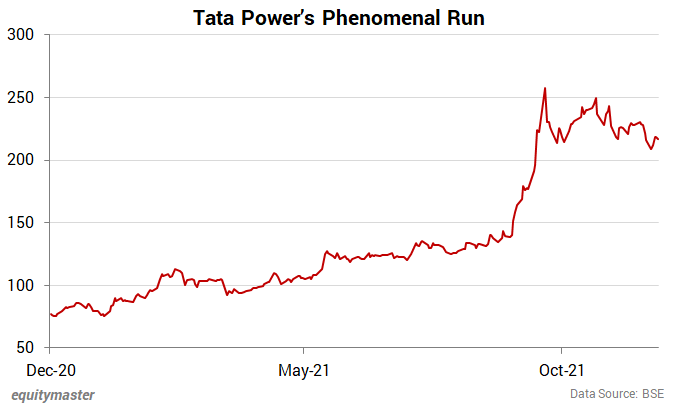 Update: Tata Power has sought support under the solar product linked incentive (PLI) scheme.
If all goes accordingly, the company's ambitious plan to set up 4.5 GW each of cell and module manufacturing capacity will be completed by fiscal 2024.
#2 Sterling and Wilson Solar
Sterling and Wilson is a leading engineering, procurement and construction (EPC) services provider.
It undertakes large scale solar projects and manages all aspects of a project from design to construction to maintenance. It's a one stop solution provider for solar projects.
The company is a part of Shapoorji Pallonji group and provides services in 24 countries. To date, the company has worked on 256 projects out of which 216 projects have been commissioned. The rest of the projects are under construction.
It boasts a portfolio of 11.4 Giga Watt peak (GWp) EPC portfolio. It also has operation & maintenance contracts of 8.1 GWp which also includes projects built by third party companies.
Current EPC order book of the company stands at Rs 79.3 bn. Two large EPC projects with a total capacity of 400 MW are being constructed in the US and will be commissioned by the end of 2022.
Given its leadership position in the global EPC business, the orderbook is expected to swell in the next fiscal as more and more investments make their way into the sector.
Also, the company has bid for projects of 15 GWp and it could bag some of these orders in 2022. However, it may experience some delay due to an unprecedented increase in costs of modules, commodities, and freight.
Operation and maintenance (O&M) of solar projects is a US$4 bn business and is expected to reach to US$9 bn by 2024. The company continues to maintain its focus on this segment and expects the positive growth momentum to continue in 2022 as well.
Apart from solar, it has forayed into waste to energy projects and won its first ever project worth Rs 15 bn. The company has won this project from a European client who is a leading developer of energy assets in the region. This increases the credibility of the company and it expects to bag more orders in the next fiscal year.
The company is also focusing on developing its capabilities in providing battery energy storage solutions (BESS). BESS is a natural extension of the company's core business and would generate an additional income for the company.
Last but not least, in 2021, Reliance New Energy, a wholly owned subsidiary of Reliance Industries, acquired a 40% stake in Sterling and Wilson. With strong backing from Reliance, the company is well placed to compete with giants like Tata Power in 2022 and beyond.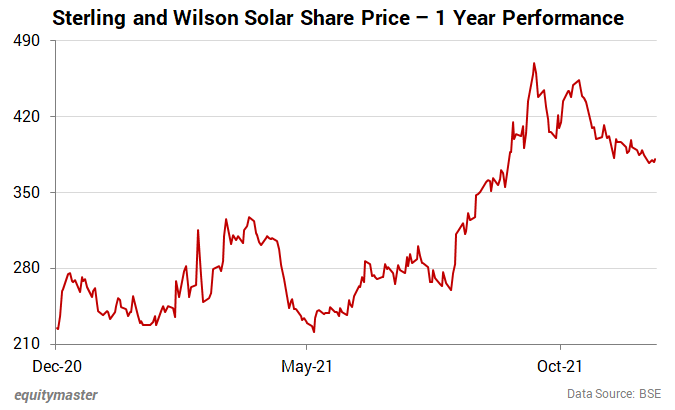 #3 Websol Energy Systems
Websol Energy System is a leading manufacturer of solar PV cells and modules. The company has one of the largest integrated cell and module manufacturing facilities (250 MW) in India.
The management is aware of the existing competition in the space. To maintain its competitive edge over its peers, they have laid out a plan accordingly.
In 2022, the company will augment its solar cell manufacturing capacity by 500 MW. To add more value and go up the value chain, the company will commission its solar module line augmenting its module manufacturing capacity as well.
Consequently, Websol is eligible for incentives under the production linked incentive (PLI) scheme of the Indian government to encourage the domestic production of solar cells and modules.
Efficient technology can be a game changer for manufacturers of solar cells and modules as it helps a company increase its profitability while maintaining its competitive edge.
Websol relies on multi crystalline technology to manufacture solar cells and modules. However, the company has announced plans to transition over to Passivated Emitter and Rear Cell (PERC) mono technology which is an advanced form of technology.
Solar cells manufactured using this technology are 5% more efficient than those developed using multi crystalline technology. In fact, global demand for mono PERC module production increased significantly from less than 1 GW in 2014 to 64 GW in 2018. It's expected to reach 168 GW by 2022. The company expects to realise higher profits as costs reduce drastically due to efficient technology.
The stock price of Websol Energy System has appreciated 160% over the last one year which can be attributed to its stellar set of results.
In the financial year 2021, the company reported a growth of 1,550% in its profits on a YoY basis primarily due to government's incentives for adoption of renewable energy along with declining power prices.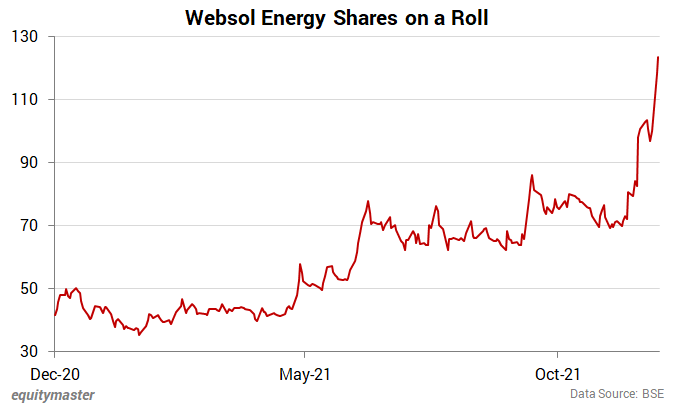 The future of renewable energy companies
Governments across the world have committed to build a sustainable future. Climate oriented policies are being framed and renewable energy is an integral part of these policies.
As a result, the renewable energy sector continues to receive high ticket investments and is expected to grow exponentially in the coming future.
It's inevitable for companies in this sector to grow as the overall sector grows. However, for a company to emerge as a leader in this sector, the way a company charts out its future would be key.
Future plans of a company are a great insight into its long-term vision and the steps it would take to achieve the same.
Therefore, an investor must definitely pay heed to these future plans of a company and should conclude whether a company has enough firepower to achieve the goals it has set.
However, an important thing to note is that you should see these plans in conjunction with the fundamentals of a company.
Disclaimer: This article is for information purposes only. It is not a stock recommendation and should not be treated as such. Learn more about our recommendation services here...