Why Bharti Airtel Share Price is Falling
Jul 12, 2022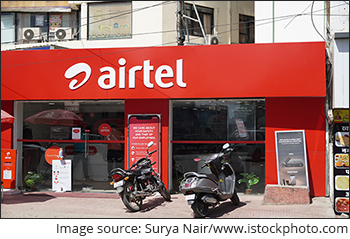 Editor's note: Remember how cement stocks were falling last month post UltraTech Cement's huge capex plan announcement?
Back then, analysts were of the view that in times of weak demand and high fuel costs, any significant capacity announcement is a negative for other companies.
A similar situation is unfolding in the telecom sector right now with most of the telecom stocks facing the heat.
Why?
Because of one prime reason...the Adani group's foray into the telecom sector.
Seems like high growth sectors were not enough for Gautam Adani and he entered the telecom space considering the disruptive 5G theme.
Last month, we covered an editorial on why Bharti Airtel share price was falling. A lot has happened since then and new developments are putting pressure on the company lately.
Continue reading to know more...
Why Bharti Airtel Share Price is Falling
Shares of Bharti Airtel have been under pressure after the company's increased its holding in Indus Tower by 4.7%.
The stock is down more than 2% in the last month.
Indus Tower Acquisition to Put Pressure on Balance Sheet
You see, the acquisition of Indus Tower further increases the company's interest capitalisation. It already has to pay dues to the government with respect to AGR (Adjusted Growth Revenue).
Moreover, the company's debt to equity ratio stands at 2.6x, leaving limited space for the company to deleverage itself.
As a result, international rating agencies have downgraded the company's rating, changing the outlook from positive to stable.
This has caused a negative impact on the share price.
Data Traffic Per Subscriber 50% Lower Than Jio
Bharti Airtel reported a 22% YoY increase in revenue for the March 2022 quarter at Rs 315 bn.
The company's average revenue per unit (ARPU) also increased to Rs 178 in the March 2022 quarter from Rs 145 in the March 2021 quarter.
Overall, the company's net profit grew 164% YoY.
However, this was mainly driven by the growth in the other income and not due to the core business of the company.
Despite rigorous data traffic of 12 GB per user and 19 GB per subscriber, data traffic per subscriber was roughly 50% lower than Reliance Jio, indicating scope for improvement.
The company is also lagging in the broadband base station deployment.
The board of directors announced a dividend of Rs 3 per share.
Adani's Foray into Telecom Sector
Update: In July 2022, Gautam Adani led Adani group confirmed its entry into the telecom space by applying for the 5G telecom spectrum auction.
The group clarified that their intention is not to be in the consumer mobility space and that it won't be selling sim cards in the sim card market.
Rather, the Adani group will participate in the 5G spectrum auction to provide private network solutions along with enhanced cyber security in the airport, ports & logistics, power generation, transmission, distribution, and various manufacturing operations.
It appears that without getting to know all details, investors were worried and dumped their holding in Bharti Airtel and Vodafone Idea.
But their cautiousness is justified.
The telecom sector's performance has been underwhelming over the years with intense competition resulting in low return on equity (RoE).
So a big player like Adani can always go for the merger and acquisition (M&A) route in the coming years...who knows. All things are speculative as of now.
Analysts are already predicting that Adani group may consider a full foray into the telecom sector in the future by solving the Vodafone Idea crisis or signing a deal with the telco perhaps...
How shares of Bharti Airtel have performed recently
The stock has been a target of panic selling due to its falling price. It has traded at peak volumes in the last 1 month.
Shares of the company are down 2.78% in the last month and 4.61% in the last 6 months.
The stock touched its 52-week high of Rs 781. 9 on 24 November 2021 and a 52-week low of Rs 509.4 on 18 June 2021.
It currently trades at a PBV (Price to Book Value) of 5.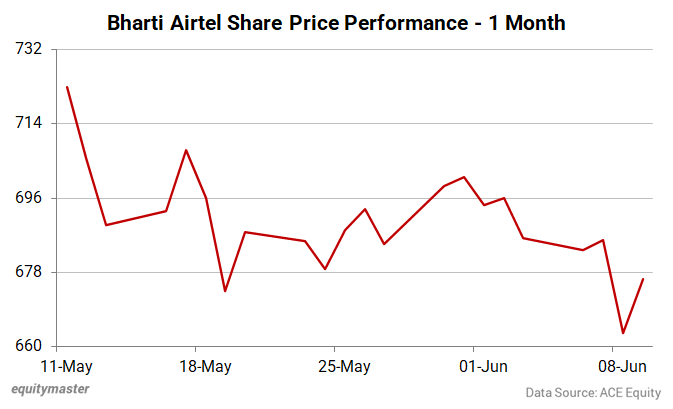 Update: Over the weekend, the Adani group announced its plans for 5G. The very next trading day, shares of telecom companies were under intense pressure.
Bharti Airtel was no exception.
It fell over 5% earlier this week on Monday, from Rs 695 to Rs 660.
However, the company's performance in 2022 has been decent. At a time when most of the bluechip stocks have taken a hit and trading at big discounts, Bharti Airtel has fallen less compared to peers.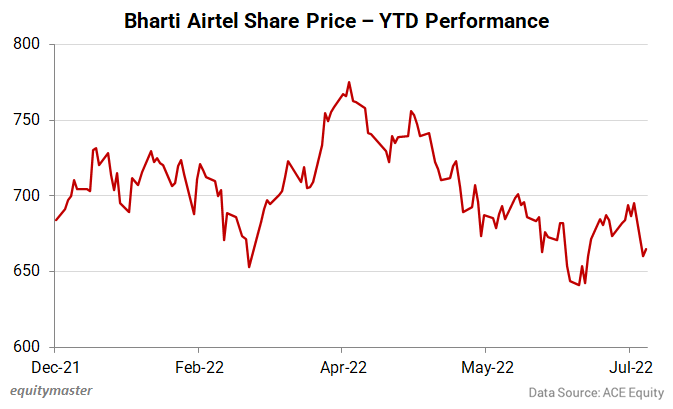 On the financial end, the company has a highly leveraged balance sheet. But while the debt levels are high, the company has renewed its focus on deleveraging the balance sheet.
And with the change in the competitive landscape and stronger growth prospects, there is a good chance they might repay their debt sooner than expected. Bharti Airtel seems well-poised to grow briskly in the near term.
About Bharti Airtel
Bharti Airtel Limited, is an Indian multinational telecommunications services corporation. It is India's second-largest network operator.
It has operations in 18 South Asian and African nations, as well as the Channel Islands.
In India, Airtel offers 2G, 4G LTE, and 4G+ mobile services, as well as fixed-line broadband and telephony services.
For more details about the company, you can have a look at Bharti Airtel's factsheet and quarterly result.
You can also compare Bharti Airtel with its peers.
Bharti Airtel vs Vodafone Idea
To know what's moving the Indian stock markets today, check out the most recent share market updates here.
Disclaimer: This article is for information purposes only. It is not a stock recommendation and should not be treated as such. Learn more about our recommendation services here...