5G is Here! 3 Ways You can Play It...
Sep 28, 2021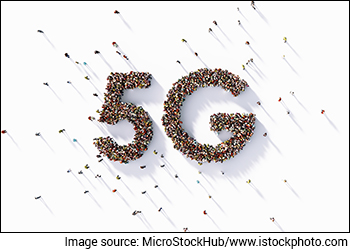 5G technology is just around the corner!
An exciting era of innovation beckons the telecom industry. It isn't just a new generation of mobile network. It will transform the world as we know it.
But how it is different from the last generation or 4G?
Things have changed a lot since the first generation of mobile technology.
5G is the fifth generation of cellular networks after 1G, 2G, 3G, and 4G. It's up to 100 times faster than 4G.
5G will create never-before-seen opportunities for people and businesses.
The upcoming rise of 5G is expected to enable new technologies from e-classrooms in educational sector, IoT (Internet of Things) in industrial applications, telemedicine, remote monitoring, remote working, drone-based agriculture monitoring, AR (augmented reality) and VR (virtual reality) applications, and many others.
India's 5G dreams may have been delayed amid the pandemic but this has not been able to detract the players involved in developing the 5G technology.
The much-anticipated 5G trials have begun. The Department of Telecommunications (DoT) granted permission to Bharti Airtel, Reliance Jio, and Vodafone Idea on 27 May 2021 for conducting 5G technology trials with a validity period of six months.
5G technology will benefit the general public at large and if you are an investor in 5G stocks, you too can profit from this opportunity.
Here are three ways to play the 5G opportunity in India.
#1. Watching out for telecom infrastructure companies
In the past decade, India has emerged as one of the fastest growing digital economies and one of the largest consumer of data.
The telecom tower industry has been a pivotal force in steering the connectivity revolution.
Today, with the imminent launch of 5G taking centre stage, the decade holds exciting new prospects for telecom infrastructure companies.
When it comes to 5G infrastructure, one company we can think about is Indus Towers.
Indus Towers is an independently managed company offering passive infrastructure services to all telecom operators and other wireless services providers such as broadband service providers.
It's the largest mobile tower maker in India with a tower market share of 31%. It makes mobile towers for the Indian telecom trio - Airtel, Reliance Jio, and Vodafone Idea.
Recently, a joint venture was announced between Indus Towers and Dixon Technologies for making telecom and network products.
#2. Watching out for telecom equipment companies
Despite the disruptions caused by pandemic, equipment manufacturers have continued to invest in manufacturing and network development.
Further, both domestic and global companies are set to benefit from the non-participation of Chinese majors Huawei and ZTE in the 5G trials.
Ericsson and other global equipment giants aren't the only ones in the game. Even domestic players have risen to the challenge and are now actively pursuing partnerships while also enhancing their technical skills.
Here are the top companies involved in this segment.
Tech Mahindra
Tejas Networks
The latest announcement of Tata Sons' subsidiary Panatone Finvest acquiring controlling stake in telecom equipment maker Tejas Networks would toughen the competition among players.
In June, telecom giant Reliance's Jio partnered with US chipset maker Qualcomm to manufacture critical equipment for the 5G ecosystem in India.
Jio has also indigenously developed 5G Radio integrated with Jio's 5G core network and is in its development of in-house Massive MIMO and indoor 5G small cells is in advanced stages.
Tech Mahindra is also has robust plans for 5G technology. Due to the government's plan for an India-made 5G rollout, the company is expected to gain a significant portion of that '5G tech' pie.
#3. Watching out for telecom service operators
In May this year, the government gave a go-ahead to the telecom operators including Jio, Airtel, and Vodafone Idea to commence the much-anticipated trial test of the 5G technology with the equipment companies such as Ericsson, Nokia, and Samsung.
The trials come at a time when India is already witnessing a boom in the internet segment due to the pandemic, with users not only using the internet for remote work and learning, but also adopting the digital payments method increasingly and turning to online consultations from doctors.
Around 26% of the mobile subscriptions in India by 2026-end would be via 5G, as per an Ericsson Mobility report.
The report also suggested that the country could witness an increase in the smartphone subscriptions at a compound annual growth rate (CAGR) of 7%, from 810 m in 2020 to more than 1.2 bn by the end of 2026.
This indicates that two Indian major telecom providers Bharti Airtel and Reliance Jio will benefit from the increase in smartphone users in the country.
As several partnerships in the telecom space have been announced, last month Bharti Airtel and Tata Consultancy Services (TCS) announced partnership for the implementation of 5G solutions, starting a pilot from January 2022.
TCS will implement the 5G solutions it has developed for Airtel. Tata Group has developed 5G solutions using Open-Radio Access Network (O-RAN), a part of telecommunication architecture.
Earlier this year, Bharti Airtel announced that it has become the first telecom service provider in the country to successfully demonstrate and orchestrate live 5G service. The demonstration took place in Hyderabad.
Last year, Bharti Airtel extended its multi-year contract with Ericsson for deploying 5G-ready radio network, strengthening their long-standing partnership.
PLI scheme for telecom sector
The Rs 122 bn production linked incentive (PLI) scheme aims to boost local production of telecom equipment, reduce dependency on imports and make India a global manufacturing hub by incentivising companies making in India.
It will provide incentives for manufacturing of network equipment, routers, broadband transmission equipment, 5G equipment, consumer premise devices, electronic items required for providing optical fibre-based connections, among others.
This whole target of domestic manufacturing gained traction last year amid the border standoff with China.
Amid the standoff and concerns over security, the government decided to keep Chinese players, some of which are giants in this very segment, out of the 5G trials in India.
Is investing in 5G stocks a good idea?
5G is becoming a common household word, making its way around the world. The popularity and the possibilities make it an attractive market but, are 5G stocks a good investment?
Though the buzz around 5G is spreading, it has not yet reached its peak and will not for some time. As a long-term investment it could be a solid choice, that is, if you can deal with the fluctuations.
Many 5G companies are in the early stages of development, preparing for the future before some of the most cutting-edge and innovative technology is widely available. Now is the time to keep a close eye on these businesses to see how they manage their profits and whether they are making the best decisions possible.
When it comes to investing, the stock must be credible. Investors should put their money into a solid company with a track record of successful operations. If there isn't enough confidence in the stock, it can make the initial investment weak and deplete it before it has a chance to grow.
Happy Investing!
Disclaimer: This article is for information purposes only. It is not a stock recommendation and should not be treated as such. Learn more about our recommendation services here...