How to Start the New Year with a Bang
Jan 4, 2017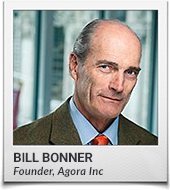 BALTIMORE - In southern Italy, on New Year's Eve, people used to throw things they no longer needed out of the window.
This allowed them to start afresh, without the impedimenti of the past getting in the way.
In Germany and Austria, the Feast of Saint Sylvester on December 31 is marked by bonfires, dancing, and drinking.
We decided to combine these observances into one this New Year's Eve.
Debt Bubble
Where you are, of course, depends on where you've come from and how you got there.
The present always owes the past for that journey.
But just as it's hard to set out on a new love affair or a new bar tab until you've settled up on the last one, so it is hard to begin a new year with last year's bills still unpaid.
The world now has $225 trillion of debt, including $60 trillion of government debt. And overall, global debt has grown by about $60 trillion over the last seven years.
In the US alone, investment-grade corporate debt has now reached $6 trillion - up $2 trillion since the financial crisis hit. And household debt is back up to an average of nearly $100,000 - close to the level it last reached in 2007.
Someday, much of this debt will go up in smoke. But that is the public world we left behind ten days ago - the world of guesswork, myth, statistics, and headlines.
And if you don't mind...we're going to edge our way back into that world slowly.
Today, we'll stay in our private world.
Advertisement
The Fight For Equality:
Are We Losing?
If you go by what Section 13A of the Income Tax Act 1961 says, then you know political parties in India are special...They get privileges that ordinary mortals like you and I can't ever expect.

Like for instance, during the notebandi drive, political parties were free to deposit Rs 500 and Rs 1,000 notes in their bank accounts...no questions asked! (As long as the amount per donor was less than Rs 20,000).

But you and Ihad to furnish an identity proof while depositing our hard earned demonetised money.

Well, there is no denying that we are losing the fight for equality...But all is not lost yet.

Join over 14,000+ citizens who have signed a petition to set this right...

Read and sign the petition today... (Petition closes 6 January)
Solid Ground
On Christmas Eve, we packed up our laptop (it got its longest rest in many years; we turned away completely from the world of email, Twitter, and the news cycle), loaded up the truck, and headed off to the country...back to where we came from.
That is where our feet stand on solid ground. No more wondering what Donald Trump will do or how the stock market will react. No more worrying about the effect of a stronger dollar on US exports...or how a higher oil price will impact consumer price inflation.
Instead, we have other things to worry about.
Here at the Diary, we advise readers to obey the law in all of its asinine majesty. We obey it, too, unless we can get away with something. And thus begins our tale...
Down on the old farm in southern Maryland, we are in our element. We set to work on Christmas Day: A pasture was tidied up...trees were pruned...a roof was fixed.
But not without risk. We mashed a finger moving lumber...a hand was burnt in a fire (more on that in a minute)...a foot was caught among the pedals as we fell off the tractor.
(A daughter remarked, cruelly: 'Dad, people get thrown from horses all the time, but you're the only one I ever heard of who got thrown from a tractor.')
We finished renovating the guest house - an odd, earth-sheltered, solar-heated 'Hobbit house' - in time to receive the grandchildren. Then, our attention turned to cleaning out the old barn in preparation for another repair.
Clean-Out
You never know what you will need or when you will need it.
A scrap of plywood. A crooked bolt. An electrical cord with a missing plug. As soon as you throw it away, you will find a use for it.
So instead of throwing them away, the farm implementa of decades past were deposited into the barn.
Our plan is to rebuild the foundation, supplementing the large telephone poles upon which the structure rests with concrete footings and 8-inch cinder blocks.
But to do so, we need room to work; we cannot ring in the new without first wringing out the old.
First to go were the remains of a chicken house close to the barn. Wet and slippery with slime and decay, it was knocked down and pushed into a pile.
Then scraps of wood - though they had been kept like heirlooms for many years - were heartlessly cast on top.
The county permits outside fires of no more than a cubic yard; we were already way over the limit. Still, like a man cheerfully headed into sin, we chucked more and more combustibles on the heap - an old set of stairs...a pile of half-rotted two-by-fours...boxes...doors...
'Might as well be hung for a sheep as for a lamb,' he says to himself.
Out with the errors and miscalculations of the past, the detritus of many years of building projects - broken fence boards... nail-encrusted posts...
And what's this? A pile of reclaimed framing lumber from our old garage in Baltimore; we didn't want it to go to waste!
Everest of Trash
Little by little, day after day, the barn grew emptier and the pyre grew fuller.
Then, an idea: We would take advantage of the many young hands back for the holidays to make light work of pruning the apple orchard. But what to do with the hacked-off limbs and clipped-off suckers?
Onto the pile, of course...
By now, the mountain had grown so tall, we had to load it up using the bucket of the tractor. And by New Year's Eve, we had an Everest of trash...and a box of matches in our hands.
Your editor dumped a quart of gasoline on the sodden timbers near the base of the pyramid. He struck a match, intending to touch it to a piece of newspaper. An improvised 'paper trail' would lead to the gasoline-soaked wood, giving him time to make his getaway before the conflagration began in earnest.
Bad idea. He did not know it, but the gas fumes seemed to have collected in the very cavern which he had chosen for his paper and his match.
Ka-boom!
The gasoline exploded, knocking your editor back and sending a flash of flame out in all directions. His hand singed, he nevertheless had the presence of mind to remove the gasoline can from the proximate area and to remove himself to a distance at which the fire could be admired without risk.
And what a fire it was - flames shot up 30 feet in the air. If any feds charged with suppressing illicit bonfires had been cruising the airspace of southern Maryland, they certainly would have spotted it.
Heck, in the clear, blue night sky, this was a fire that could be seen from the Moon, if an observer had been on lookout there.
But it was a holiday. San Silvestro's day. No polizia appeared. The past was tossed onto the flames. The future lay ahead.
Happy New Year!
Regards,


Bill
Bill Bonner is the President & Founder of Agora Inc, an international publisher of financial and special interest books and newsletters.
Disclaimer:
The views mentioned above are of the author only. Data and charts, if used, in the article have been sourced from available information and have not been authenticated by any statutory authority. The author and Equitymaster do not claim it to be accurate nor accept any responsibility for the same. The views constitute only the opinions and do not constitute any guidelines or recommendation on any course of action to be followed by the reader. Please read the detailed
Terms of Use
of the web site.
Recent Articles