The Dow Jones is Masking the Glaring Problems in the US Economy
Jan 31, 2017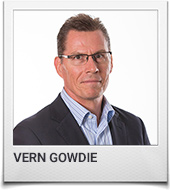 'Success has many fathers, but failure is an orphan.'
The anchors at Fox News in New York are (now) unabashed Trump fans.
High-fiving each other over the new president's whirlwind week of executive orders and tweets. Nothing like a little bit of success and shaking up the establishment to attract a fickle fan base.
The Donald certainly has had a busy week.
Canning the Trans-Pacific Partnership; telling Mexico he expects it to foot the bill for building the border wall by imposing a 20% import tax; repealing Obama's healthcare legacy (by the way, talking to people on the ground here in the US, it becomes all too obvious that Obamacare has been an abject failure); getting tough on immigration to rid the US of 'sneaky, dirty rats'; clamping down on funding 'sanctuary cities' (counties housing illegal immigrants); giving the thumbs up to the construction of the Keystone XL and Dakota Access oil pipelines; talking the US dollar down; announcing a public sector hiring freeze; and revealing that torture is OK.
Did I mention that he called the Chinese 'currency manipulators'?
Oh, he also rattled the Europeans by saying NATO is obsolete. Which, by the way, is true. NATO was originally formed to ward off a Russian invasion of Europe. That ain't going to happen anytime soon, so Europe has been effectively freeloading off the American military machine.
This flurry of activity in Washington has played well to the home crowd. At last, someone who speaks his or her mind.
However, at a guess, I expect he has peed off the Mexicans, Chinese, Europeans and, probably, the Aussies too. Is there anyone left?
Trump's supporters in the media are now coming out of the closet...they are loud and proud. Go you good thing.
One question: Where were they before the election? Hiding. Too afraid.
Anyway, back to Donald's decrees, sabre-rattling and general musings.
Executive orders can be challenged in the courts, in Congress, and by the next president.
So we'll see whether all this headline-grabbing activity gets ground down into inactivity.
Whether his tough talk on trade, Europe's need to up the ante on military spending and wall building is part of his negotiating style remains to be seen.
Advertisement
The Fight Against BLACK MONEY
Here's What It Means For YOU And YOUR Money...
Modi's move to scrap the Rs 500 and Rs 1,000 note could impact YOU more significantly than you think.

We are talking impact on...

YOUR Investments. YOUR Property. Effectively, YOUR Wealth

It's absolutely critical for you to understand completely, and accurately, how this impacts you.

And that's why, we are releasing this special report, which you can claim for FREE. No strings attached.

Go ahead, grab your copy now...And be among the first to know what Modi's fight against black money really means for you...



Download This Special Report Now. It's Free.


As soon as you sign up, You will start recieving Vivek Kaul's Diary,
a Free-for-life newsletter from Equitymaster


NO-SPAM PLEDGE - We will NEVER rent, sell, or give away your e-mail address to anyone for any reason. You can unsubscribe from Vivek Kaul's Diary with a few clicks. Please read our Privacy Policy & Terms Of Use.
The Donald is a refreshing change to the cardboard cut-out politicians who, every time they open their mouths, are programmed to say all the right things, and yet say nothing at all.
12 months and three days ago, on 27 January 2016, my Daily Reckoning article was titled 'Clinton versus Trump...Who Gets Your Vote?'
Here's an extract:
'Donald's platform is straightforward - more guns, close the borders, stop all imports, wipe out the Middle East, have Mexico build a 10 foot wall (Mexico may just do that to stop Mexicans returning to Mexico) and most importantly, to have more big breasted blondes on the White House payroll.

'Well I may be stretching the truth with a couple of things on Donald's to-do list - except the last one - but you get my drift. Donald is politically incorrect - personally I like that. We've become way too serious and sensitive. We need to lighten up and take the "mickey" every now and then.

'It's for this reason I would vote for Donald. The world needs a laugh and to laugh at itself. We need someone who can't be taken seriously. You want to see those cringe worthy moments when he greets the Queen with "Hello Liz, that Kate's pretty easy on the eye" OR rings up Arnie and Sylvester to ask for their advice on how best to invade some country or any country for that matter, that ends with "stan".'
Well, Donald hasn't yet called (or at least we don't think so) The Expendables for strategic military advice, but he's pretty much accomplished everything else in the first week.
However, there's a serious side to this. As I wrote on 27 January 2016:
'All jokes aside, whether it is Hillary, Donald or Mickey Mouse sitting in the Oval Office, the US is not going to change course. The die is cast.'
The US share market appears to have suspended - or, more accurately, continues to suspend - any connection with reality.
Going to cash
A couple of weeks ago I had the privilege of chatting with internationally-renowned economist Nouriel Roubini. In a nutshell, he said Trump would enjoy a honeymoon period, and then...watch out for the shocks. His advice (and these were his exact words): 'Go to cash.'
To date, Nouriel's forecast has been on the money. The Trump rally has definitely stirred the animal spirits.
The US market has breached the 20,000-point level, and very few are prepared to buck the momentum behind the trend. We could well see the Dow Jones add a few thousand points before reality sets in.
What's that reality?
Consumption drives the US economy. People in jobs, spending money - earned and/or borrowed - is what greases the wheels of commerce in the good ol' US of A (and every other country for that matter).
Take a look at the following chart compiled by JP Morgan for its third quarter '2016 Market Insight' report on the US economy: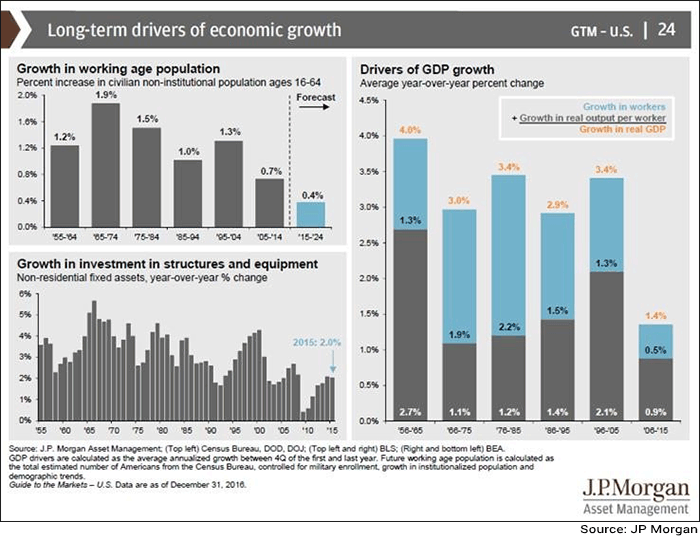 The forecast growth in the working-age population is the lowest in 60 years...unless of course the Donald does an immediate about-face on immigration.
Fewer people in the workforce earning stagnating incomes and more retirees earning 3/5ths of 5/8ths on their capital is hardly the equation necessary for a consumption boom.
Which is probably why retailers are closing their doors faster than donors are running from the Clinton Foundation.
Did you see the news that the US retailing icon Sears is closing another 150 stores? Did you know that, in 2011, Sears had 3,500 stores? Care to guess how many will still be open in April 2017? Try 1,500.
Then there was this in The Wall Street Journal:
'Macy's Inc. said it will slash more than 10,000 jobs and detailed plans to close dozens of stores after another holiday season of weak sales, providing more evidence that department stores have lost their once-central place in American retailing.'
The good news on jobs is that Amazon - the online slayer of bricks and mortar retailers - is looking to hire 100,000 people for warehouse positions. How well-paid do you think these jobs are? Better than working on a retail floor? Probably not.
With forecast economic growth - due to debt and demographics - being a fraction of what it was in glory days, the Donald is pushing the proverbial uphill. The die is cast.
Wait, what's that? The credit-card growth in recent years is evidence of a resurgent US consumer.
Perhaps. But don't bet on it.
According to a 14 January 2017 report from Alhambra Investment Partners: '...the huge increase in consumer credit that mirrors almost (too) perfectly the broad slump in labor utilization (hours worked).'
And here are the charts to prove the point: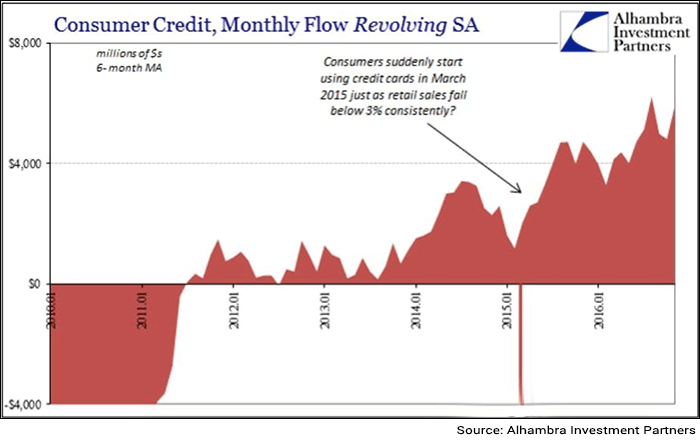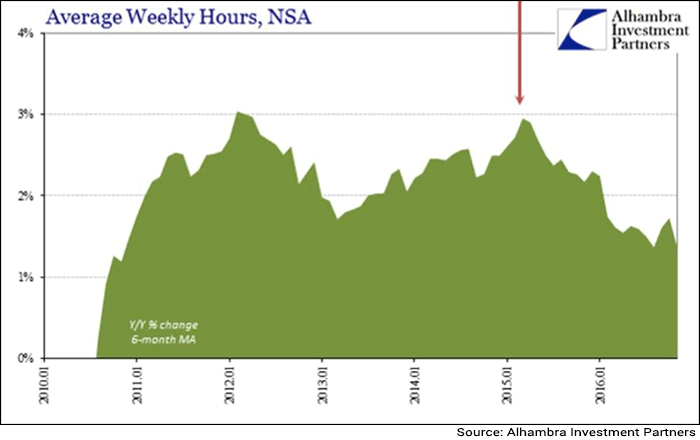 Why are people working fewer hours?
Globalisation. The very thing that Trump is trying to push back to 'make America great again'.
Will he succeed? No.
Trump is saying all the right things, but talk is cheap.
Do you really think Europe, China, Japan and the rest of Southeast Asia are going to sit idly by and let him dictate terms?
They, too, are facing debt, demographic and political problems of their own.
The die is cast. This is not the 1950s, and it is most certainly not the 1980s, when Reagan came to power.
Boomers are 30-odd years older. The world is drowning in debt and welfare promises. And automation is chewing up and spitting out millions of jobs.
No longer can the next generation look forward to earning more than what their parents did. Heck, they'll be flat out holding a job for as long as their parents did.
The Donald is one hell of an entertainer, but this is destined to go pear-shaped.
As I said 368 days ago:
'As the US (and the rest of us) continues down the path of never-ending debt and deficits with our final destination being economic and social upheaval, let's at least have a few laughs along the way.'
And when it does, Donald's fair-weather friends will treat him as a leper.
Please note: This article was first published in The Daily Reckoning Australia on January 30, 2017.
Vern Gowdie is a contributing editor to Money Morning - Australia's biggest circulation daily financial email. Vern has been involved in financial planning since 1986. In 1999, Personal Investor magazine ranked Vern as one of Australia's Top 50 financial planners. His previous firm, Gowdie Financial Planning, was recognized in 2004, 2005, 2006 & 2007, by Independent Financial Adviser (IFA) magazine as one of the top 5 financial planning firms in Australia. Vern has been writing his 'Big Picture' column for regional newspapers since 2005 and has been a commentator on financial matters for Prime Radio talkback. His contrarian views often place him at odds with the financial planning profession.
Disclaimer:
The views mentioned above are of the author only. Data and charts, if used, in the article have been sourced from available information and have not been authenticated by any statutory authority. The author and Equitymaster do not claim it to be accurate nor accept any responsibility for the same. The views constitute only the opinions and do not constitute any guidelines or recommendation on any course of action to be followed by the reader. Please read the detailed
Terms of Use
of the web site.
Recent Articles