A Drive through the Baltimore Ghetto
Feb 19, 2016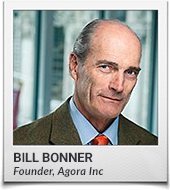 BALTIMORE - We left the fantasy island of modern finance today. We had to take our pick-up truck in for repairs.
The dealers all seem to be in East Baltimore...or east of Baltimore...so we drove out of Mulberry Street to Pulaski Highway and finally over to Merritt Boulevard.
A Different World
Just three blocks east of our office, in the Mt Vernon district, a different world begins.
The first indication of it is the old stone prison at the bottom of the hill, first commissioned in 1801.
For more than 200 years, Baltimore's jail has been a disgrace to the city and its correctional efforts. Overcrowded. Filthy. Degenerate.
The critical reports go back almost to the day it was built. Back then, as many as half the prisoners were there for failing to pay their debts. (Today, a similar percentage is there for drug crimes. How times have changed! Now, you can stiff your creditors all you want. But watch out. Don't take drugs. IT'S THE LAW.)
But the most recent scandal must top them all...
Advertisement
Missed The Conference?
Let The Conference Come To You...
The Equitymaster Conference 2016 was a grand success!

This year, we had some of most valued members join us from more than 20 cities across India and from international destinations like United Kingdom, UAE, Singapore, and Saudi Arabia too.

However, if due to any reason you missed out on joining us at The Taj...

Allow us to bring The Complete Equitymaster Conference 2016 to you!

Yes, here's your opportunity to get online-access to the complete Equitymaster Conference 2016 - The Modi-fied India Story.

Right from the welcome address to the concluding remarks...and everything in between.

Watch Ajit Dayal and Bill Bonner deliver their keynote addresses...Vivek Kaul reveal the true Modi-fied India Story...Asad & Apurva reveal the future of trading...Rahul Shah & Tanushree decode the Indian Consumption Story... and more.

All from the comfort of your home!

Click here to reserve your online access...
In the 1970s, Baltimore began employing women to police the men in the prison. Then, in 2013, the US Attorney's Office indicted 44 people, including 27 employees of the prison...and some inmates, too...on charges including racketeering, conspiracy, drugs, and money laundering. But the creme de la creme of the indictment concerned Mr Tavon White, prisoner and ringleader of the Black Guerrilla Family.
First, he earned, while a prisoner, as much as $16,000 a month from drugs and contraband. Second, it turns out that, since 2009, he had also fathered five children with four of the female guards - two of whom had his name tattooed on their bodies.
Mr White was convicted and sentenced to another 15 years in the can.
We will continue with a description of our drive across Baltimore in a moment. First, a bit of news.
A Curious Issuance
Yesterday, investors drove the Dow 258 points - more than 1.5%. But the most interesting financial news concerned tech darling Apple.
The company said it will not cooperate with the feds' effort to break into an iPhone.
Apple's new smartphone came equipped with a certain level of security, Apple executives argued. Giving the feds a passkey would be undermining the privacy its customers paid for. Several Republican candidates have already sided with the feds. 'Who do they think they are?' asked Donald Trump.
Also, the company announced a $12 billion bond sale. [When a company issues bonds, it is borrowing money from investors.]
It's not hard to see why Apple management would want to borrow.
It doesn't need the money; it has plenty of cash on its books already. It doesn't even say what it will do with it, describing the use as 'general corporate purposes...including repurchasing of our common stock...and paying dividends...'
In effect, management is borrowing money from one set investors and giving it to another set of investors. The company gets a loan from bond buyers to give a bonus to equity buyers. Both sides of the trade think they are coming out ahead; most likely, neither will.
Apple is regarded as a good credit risk, so it can borrow inexpensively. And interest rates are at historic lows. Borrowing may be a good deal for the company.
What puzzles us is why anyone would lend. There are two questions to ask yourself before you make a loan: How much will you get back? And will you get your money back at all? (The return on your investment and the return of your investment.)
The bonds Apple is peddling carry various terms, some as much as 30 years. But 30 years is a long time to lend to a tech company.
New technology is always replaced by newer technology. By the time the last coupon is ready to be clipped, Apple's products could be as out-of-date as an eight-track tape, and debt payments might have long ago ceased.
Not that we're predicting anything of the sort. But Apple is one of the world's richest and most successful corporations - ever. That is such a remarkable achievement; it seems like we're asking too much if we expect it to be still healthy and prosperous in 2046.
But back to our drive through Charm City...
Boarded Up
Once past the prison, we found blocks of public housing - three-story brick buildings with air conditioners sticking out of windows and trash blowing down the alleys.
A boarded-up brick house. A boarded-up stucco house. A boarded-up slipform-stone house. The Pillar of Truth Apostolic Church. Ray's Liquors. Jane's Liquors. Pam's Wine and Spirits. Johns Hopkins Hospital. Bail Bonds 24 Hours. More boarded-up houses. Convenience Mart. Sister Beth's Palm Reading....
...Heating Repairs. Mufflers. A Moslem community centre. More boarded-up houses. Sally's Show Bar. Everyday Painting Company (in a house that badly needed painting). Blacks. Hispanics. Burger King. McDonald's. Kentucky Fried Chicken. Dot's Sandwiches and Subs. Kae Won Fu Asia Carry Out. Used cars...no credit...bad credit...no problem; $795 Down and You Have a Ride.
Whiskey River, apparently closed. Discount Shades and Blinds. Sudsville, 24-hour laundry. Pompeiian Olive Oil. Tombstones and monuments. 'Pray for Baltimore', said a billboard. 'Vote for Catherine Pugh', said a large sign. 'Where will your next meal come from? Call 211...' More boarded-up row houses, these with porches.
We took the road toward Dundalk. More auto dealers. Rundown bars. White men in pick-up trucks. The Poplar Restaurant. Central Masonry Supplies. A liquor store with a purple door. Subs. A huge lot full of white delivery vans. Trucking companies. Strip malls. Auto painting. Bay Concrete. Plumbing Distributor. Chesapeake Pets. Dundalk Liquors.
Now the brick-and-form stone disappeared. There were individual houses, wood frame with siding or shingles. White. Boxy. Built in the 1940 or 1950s. Thousands of them. The cars in the driveways are recent, but the houses are the same as when they were built. Cheap. Simple. Small.
These suburbs were built when Baltimore's industries were running hot. The GM assembly plant. Beth Steel's Sparrow's Point furnace. Domino Sugar. McCormick Spice. Ordinary working stiffs earned decent wages and lived well.
But here we are a half a century later...and ordinary working stiffs are in the same houses...earning the same wages (roughly) as they did in the 1970s.
Judging from the polls and presidential primary results, they're not too happy about it.
Bill Bonner is the President & Founder of Agora Inc, an international publisher of financial and special interest books and newsletters.
Disclaimer:
The views mentioned above are of the author only. Data and charts, if used, in the article have been sourced from available information and have not been authenticated by any statutory authority. The author and Equitymaster do not claim it to be accurate nor accept any responsibility for the same. The views constitute only the opinions and do not constitute any guidelines or recommendation on any course of action to be followed by the reader. Please read the detailed
Terms of Use
of the web site.
Recent Articles