Always Watched, Always Monitored, Always Recorded
Mar 2, 2016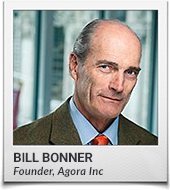 BALTIMORE - When we left you yesterday, we were discussing the War on Cash - the push by governments to abolish physical currency.
It is a fraud. The idea is not to fight crime or boost the economy, as its proponents claim. It is part of a bigger campaign by the Deep State to take more control over your money...and your life.
We'll return to our theme in a moment. But first...an update on the markets and the economy.
Trade Slump
It came out last week that world trade did indeed fall in 2015. It was the first time this had happened since 2009.
Starting at the end of last year, we began following the trains, trucks, ships, and sales of 'yellow machines' - backhoes, loaders, bulldozers, etc. - and watching them all slow down.
Advertisement
Modi 2016: An Agenda For Revival

The landslide victory of 2014 handed Modi more than just a clear mandate...It handed him immense responsibility of a nation dreaming of great progress.

From the euphoria of Achche Din the mood in India has swung to cautious disappointment and now we are in 2016...

Who will answer the question how Modi can turn this ship around and get India back on track?

Vivek Kaul has the answer and he has put it all down, along with his deepest thoughts on the challenges India faces, in our latest special report titled - Modi 2016 - An Agenda For Revival.

And the best part is that he wants to give you this special report for free!

So, don't delay...Click here to download this special report right away!
Sure enough, they were telling us something important. Reports the Financial Times:
The value of goods that crossed international borders last year fell 14% in dollar terms.
Most notably, a decline in world trade means China is not exporting as much merchandise as before. This, we guessed, would mean a greater outflow of foreign exchange reserves from China's central bank...and make it more difficult for it to prop up the exchange value of the renminbi.
(A country accumulates foreign exchange reserves when it exports more than it imports. In the case of China, dollars, euro, etc... flow into the country in exchange for Chinese-made goods. This foreign currency builds up as reserves at the central bank. It can then dip into this stash to buy its own currency and prop up its value.)
The Chinese government denied it. And it warned billionaire speculator George Soros not to short the renminbi. But as in the old Soviet days, no rumour is confirmed until it is officially denied.
And sure enough, yesterday's Financial Times brought news that the renminbi was slipping:
This morning, the People's Bank of China [China's central bank] set the reference rate for the renminbi, around which the currency is allowed to trade, weaker by 0.17% and lower for a fifth straight session.
It was both the equal-largest depreciation and longest streak since the first week of January, when the currency's movements spurred heightened volatility in global financial markets.
The renminbi's weakness comes despite comments from Zhou Xiaochuan, the PBoC's governor, at the start of the G20 finance ministers and central bankers meeting last Friday that there is 'no basis for persistent renminbi deterioration.'
Cruisin' for a Bruisin'
Back in the US, the Dow fell 123 points yesterday. But judging from the prices they pay, investors are still wildly optimistic.
You may recall that it was the price-to-earnings-to-growth ratio - or PEG ratio - that made a young portfolio manager at the Fidelity Magellan mutual fund named Peter Lynch so successful. (His fund went on to outperform the market by a whopping 13.4% a year annualised.)
The PEG ratio looks at the relationship between a stock's price-to-earnings (P/E) ratio and the consensus forecast for earnings-per-share growth.
According to Lynch, when a stock's PE ratio is equal to its growth rate - a PEG ratio of 1 - it's fairly priced. When the ratio is high, investors are willing to pay a lot for future earnings growth.
Similarly, when the PEG ratio is low, it means investors are paying little for growth. And when it is at an all-time high - as it is now - it means investors are cruisin' for a bruisin'.
Not that we care; we hold plenty of cash and gold in case of an emergency.
Cameras, Microphones, Sensors
So, let's turn back to the War on Cash.
There is a battle going on between tech darling Apple and the FBI.
To fill you in...the FBI wants Apple to unlock data on an iPhone used by one of the attackers involved in the San Bernardino shootings last December.
Apple says that supplying the FBI with the information needed to unlock the data will leave all iPhone users vulnerable to hackers.
The fight concerns much more than whether the feds will be able to hack your smartphone. They will soon have access to your whole life. The New York Times explains:
Today's smartphones hold a lot of personal data - your correspondence, your photos, your location, your dignity. But tomorrow's devices, many of which are already around in rudimentary forms, will hold a lot more.
Consider all the technologies we think we want - not just better and more useful phones but cars that drive themselves, smart assistants you control through voice or household appliances that you can monitor and manage from afar.
Many will have cameras, microphones, and sensors gathering more data and an even more sophisticated mining effort to make sense of it all. Everyday devices will be recording and analyzing your every utterance and action.
Rats in a Cage
What would the feds do with that kind of information?
Here are the Chinese, also in yesterday's Financial Times, giving us a heads up:
Beijing's internet watchdog has silenced an outspoken property tycoon known as The Cannon by shutting his popular social media account...
A push of a button. And no more 'illegal information that had caused a bad impact', said the regulators.
Isn't the Internet wonderful?
In the old days, you'd have to break into a newspaper office and smash the printing press... or get a court order to padlock the premises. Now, we have 'Internet watchdogs' who just push a button.
And wouldn't it be nice for the Deep State if all your financial information...and the control of your money...were all online too?
In Margaret Atwood's dystopian novel, The Handmaid's Tale, a future US has turned into a police state. The authorities control people with electronic money cards. Like rats in a cage, they get their rations...until the watchdogs cut them off.
If the government gets its ways, this could be the real future, not just fiction. Removing cash from the system is just one big step along the way.
But there is more to the story...much more...
Tune in tomorrow.
Bill Bonner is the President & Founder of Agora Inc, an international publisher of financial and special interest books and newsletters.
Disclaimer:
The views mentioned above are of the author only. Data and charts, if used, in the article have been sourced from available information and have not been authenticated by any statutory authority. The author and Equitymaster do not claim it to be accurate nor accept any responsibility for the same. The views constitute only the opinions and do not constitute any guidelines or recommendation on any course of action to be followed by the reader. Please read the detailed
Terms of Use
of the web site.
Recent Articles