Why India Inc. Needs to Read Arthashastra
Mar 5, 2019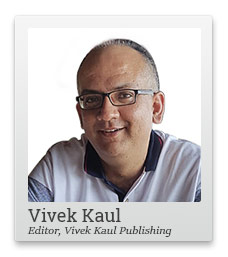 India Inc., or as the business press refers to the corporates in India, constantly keeps demanding lower interest rates from the banking system in general and public sector banks in particular.
The question is how feasible is it? Let's try and understand the issue pointwise.
1) Take a look at Figure 1. This basically plots the year on year growth in bank lending to industry, over the last two years.
As can be seen from Figure 1, the bank lending outstanding to industry has gradually picked up over the last two months. In January 2019, it grew by 5.14% in comparison to January 2018. This is the fastest growth in two years. While a 5% growth is not enough, it is better than it was in the past.
Figure 1: Growth in Bank Loans to Industry (in %)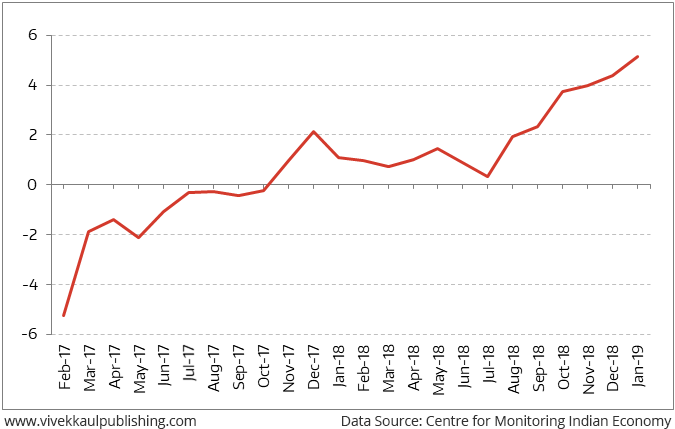 2) India Inc., would like us to believe that bank lending to industry has been slow primarily because interest rates have been high. The question that they don't answer is why interest rates are high in the first place.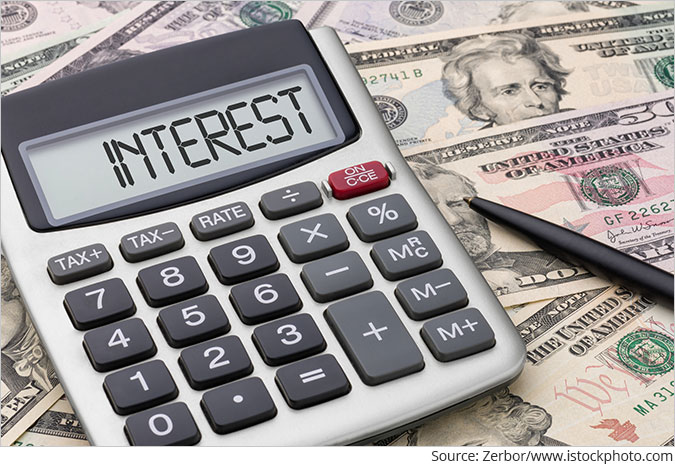 As on December 31, 2018, the total bad loans of public sector banks in India stood at Rs 8,64,433 crore or 14.8% of the total loans given by these banks. Bad loan are loans which haven't been repaid for a period of 90 days or more.
The interesting thing is that other than accumulating a massive amount of bad loans, public sector banks wrote-off quite a lot of loans, Rs 34,409 crore, Rs 49,018 crore, Rs 57,585 crore, Rs 81,683 crore and Rs 1,28,229 crore during financial years 2013-14, 2014-15, 2015-16, 2016-17 and 2017-18, respectively. A loan that a bank deems to be unrecoverable is written-off, and is no longer a part of the balance sheet of the bank.
A bulk of the bad loans and loans written off have been on account of public sector bank lending to industry. In short, public sector banks have been in trouble on account of lending to industry. Close to one-fourth of the loans given by public sector banks to industry have gone bad.
3) In a recent answer to a question asked in the Rajya Sabha, the government said that the spurt in bad loans has been primarily on account of "aggressive lending practices, wilful default / loan frauds / corruption in some cases, and economic slowdown." All this is true, but what the government forgot to mention is that all these reasons came along with lending to industry.
So, aggressive lending practices were followed by banks in lending to industry and not in lending to the retail sector, for example. Loan frauds and corruption occurred in lending to industry. And finally, economic slowdown primarily led to bad loans from defaults on loans given to industry.
4) In fact, cases have been filed under the Insolvency and Bankruptcy Code before the National Company Law Tribunal. Cases have been filed against 41 borrowers, "12 of which had cumulative outstanding amount of Rs 1,97,769 crore as on 31.3.2017 and the remaining 29 had outstanding amount of Rs 1,35,846 crore as on 30.6.2017". These borrowers were all industrial borrowers.
5) The point being that lending to industry for public sector banks over the years, due to their own mistakes and otherwise, has turned out to be an excessive risky proposition.
6) Now let's just deviate a little from the topic at hand, before coming back to it. In his wonderful new book, The Third Pillar-How Markets and the State Leave the Community Behind, Raghuram Rajan, writes about the Arthashastra, which was written around 300 BCE.
As Rajan writes: "[The book] has detailed prescriptions on the maximum rate of interest that can be charged for different kinds of loans. The ceiling was 1 1/4 per cent per month or 15 per cent per year for ordinary loans to people, intended to finance consumption or emergency needs.1 It went up to 5 per cent per month for ordinary commercial loans, 10 per cent per month for riskier commercial transactions that involved travel through forests, and 20 per cent per month for trade by sea."
He further writes: "Thus, ancient India recognised a distinction between consumption loans and loans taken to fund profitable commerce, with lower ceilings on interest charged on the former. It also saw the need for the lender to receive a higher interest rate when the commercial enterprise was riskier [emphasis added]."
7) The point Rajan is making that in ancient India, both lenders and borrowers, realised that the lender had to charge a higher rate of interest, if the money was being lent for a risky enterprise. Hence, higher the risk, the higher the rate of interest charged by the lender.
As Rajan writes: "The lender... takes the risk the borrower may not repay, or may repay only partially, despite all the safeguards built into debt. So she also needs compensation for the risk of default. Finally, the lender's use for money, as well as her ability to buy goods with it when she gets repaid, may be very different from today. This is another risk she bears." In this scenario, "the economically defensible interest rate therefore includes the time value for money plus transactions costs for making the loan plus the compensation to the lender for the risks she takes."
8) All this was understood in India in 300BCE at the time the Arthashastra was written. But Indian industrialists and their lobbies, towards the end of the second decade of the twenty first century, tend to ignore this most basic point.
Given the fact that they have defaulted on a huge amount of loans over the years, it is but natural that lending to industry is seen as risky. Hence, banks charge a higher rate of interest on it.
9) The best thing that industry wallahs can do is to ensure that they keep repaying the new set of loans that they are taking on (given that bank lending to industry is back to growing again). There should be pressure from industry associations on companies to keep repaying loans and not make a mess of it, all over again. Of course, the banks need to do their bit as well by ensuring that they don't give out any loans to spurious companies who do not have the ability to repay.
To conclude, it might be a bit too much expecting industrialists to read the Arthashastra, but they can at least try reading Rajan's The Third Pillar. That in itself would be a good start.
Regards,



Vivek Kaul
Editor, Vivek Kaul Publishing
PS: Now you can follow Vivek Kaul on Social Media and get Vivek's updates on the critical issues affecting the economy and your wallet... as they happen. Follow Vivek on Facebook, Twitter, and Google+.
Vivek Kaul is the Editor of the Diary. He is the author of the Easy Money trilogy. The books were bestsellers on Amazon. His latest book is India's Big Government - The Intrusive State and How It is Hurting Us.
Disclaimer:
The views mentioned above are of the author only. Data and charts, if used, in the article have been sourced from available information and have not been authenticated by any statutory authority. The author and Equitymaster do not claim it to be accurate nor accept any responsibility for the same. The views constitute only the opinions and do not constitute any guidelines or recommendation on any course of action to be followed by the reader. Please read the detailed
Terms of Use
of the web site.
Recent Articles