Stormy for President
Apr 3, 2018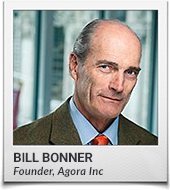 GUALFIN, ARGENTINA - Two big surprises yesterday, both concerning the White House.
First, President Trump announced his long-awaited shake-up of his staff.
In a 7 a.m. tweet, the president said:
Time for Big staff changes. I need complete LOYALTY AND COMPETENCE to Make America Great Again!! This morning I gave out 3 major "You're Fired" notices.
No details were provided as to who was let go. Reporters said they saw the Gray Nonentity, Mike Pence, packing up over at the vice presidential mansion. But it could not be confirmed that Mr. Pence had been removed from the team.
Brilliant Tactical Move
Further speculation has Mr. Trump tapping Oprah for his VP in a move that political experts have already hailed as a "brilliant tactical move" by the president.
Oprah as vice president would effectively eliminate the popular entertainer as a challenger in the 2020 race and help shore up the president's support among blacks, women with a weight problem, and TV watchers in general.
It seems that it would be a great move for Oprah, too, since she would be a shoo-in for the top job after Mr. Trump's two terms are up.
White House observers also speculated that Wilbur Ross' head would be on the chopping block, too, as punishment for his role in the administration's tariff program.
Tariffs on steel, aluminum, and Chinese imports were responsible, they say, for a 2,000-point drop in the Dow since mid-February. Mr. Trump was overheard telling his staff, "It can't be my fault, so it must be someone else's fault."
Speculation also centered on White House Press Secretary, Sarah Huckabee Sanders.
It is believed that she will be replaced by Trump's media pal David Pecker, owner of the National Enquirer.
Whether this is a payoff for his burying stories unfavorable to Mr. Trump or simply a way of getting someone on the job who is more skilled at manipulating fake news, we don't know.
--- Advertisement ---


Our Latest Special Report That Could Keep You Safe from This Market Crash

Have you claimed your virtually free copy of our latest Special Report: The Top 5 Safe Stocks in This Market Crash, yet?

This report talks about 5 stocks that have caught research analyst Tanushree Banerjee's eye…

And have the potential to not only keep you afloat…but also profit from this market crash!

So, if you haven't claimed your copy yet…

Don't waste another second.

Click here to grab a copy…
------------------------------
The Real Bombshell
But the real bombshell announcement came late in the day on Easter Sunday from a completely unexpected direction.
Stephanie Clifford, otherwise known as Stormy Daniels, announced that she would seek the U.S. presidential nomination running as an independent.
"Everyone is talking about it in Washington," said political analyst Karl Rove. "My phone has been ringing nonstop. Everybody wants to know if it's a joke... or what? But it's no joke."
It's no joke because Ms. Daniels has a surprisingly good chance of unseating Trump in the next election.
Ms. Daniels has better name recognition than almost any other candidate. Having starred in some 270 movies, she's very well-known to a mostly male audience, with a reputation for transparency that no other presidential candidate can claim.
She also seems likely to gain favor with large segments of the female population for having created her own successful business and having had the gumption to stand up to Mr. Trump.
Her fame - or notoriety - began with her claim that she had an affair with the then-reality TV star, Trump. But it escalated as Mr. Trump denied the allegation and news surfaced of a clandestine payment intended to gag Ms. Daniels.
"Gag me? Trump? Haha..." responded the porn star.
Screwing People Honestly
Ms. Daniels is not a complete neophyte to politics, either. She ran for the Senate from her native state of Louisiana. Her campaign slogan:
"Screwing People Honestly."
Whether the Stormy versus Trump campaign now teased by the media is just idle foreplay... or the run-up to the real presidential campaign of 2020... is still to be seen.
Here at the Diary, we don't know what to think. We've accused Republicans and Democrats of colluding to abuse the American people.
But as far as we know, it will be the first time the opposing candidates really have "gotten in bed" with each other. That alone is a milestone of sorts.
The Donald was a new thing in politics - a performance artist with no real convictions, but a gift for down-market media.
Stormy will be a new thing, too. As she says, she screws people honestly.
That will be a first.
We can't wait to get a bumper sticker.
Regards,


Bill
Editor's Note: In case it wasn't obvious, Bill wishes all dear readers a happy belated April Fool's Day.
PS: Sensex 100,000 will have lots of winning stocks. Some may already be in your portfolio. Some may be on your watchlist. And this service will help you figure out the rest. Read on to find out more...
Bill Bonner is the President & Founder of Agora Inc, an international publisher of financial and special interest books and newsletters.
Disclaimer:
The views mentioned above are of the author only. Data and charts, if used, in the article have been sourced from available information and have not been authenticated by any statutory authority. The author and Equitymaster do not claim it to be accurate nor accept any responsibility for the same. The views constitute only the opinions and do not constitute any guidelines or recommendation on any course of action to be followed by the reader. Please read the detailed
Terms of Use
of the web site.
Recent Articles