Dear Mr Urjit Patel, Have You Ever Heard of Wasim Barelvi?
Apr 10, 2017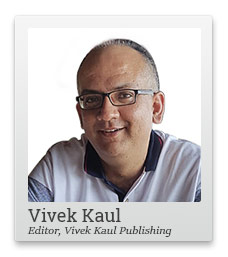 For a man who rarely and barely speaks, the Reserve Bank of India governor Urjit Patel spoke quite a lot in the press conference that happened after the first monetary policy of this financial year was presented on April 6, 2017.
In response to the question, "What do you think are the implications of the farm loan waiver schemes and is it a cause of concern for the RBI?", Patel had this to say: "There are several conceptual issues, if one were to put one's hat as an economist on. I think it undermines an honest credit culture, it impacts credit discipline, it blunts incentives for future borrowers to repay, in other words, waivers engender moral hazard. It also entails at the end of the day transfer from tax payers to borrowers. If on account of this, overall Government borrowing goes up, yields on Government bonds also are impacted. Thereafter it can also lead to the crowding out of private borrowers as higher government borrowing can lead to an increase in cost of borrowing for others. I think we need to create a consensus such that loan waiver promises are eschewed, otherwise sub-sovereign fiscal challenges in this context could eventually affect the national balance sheet."
Basically in one paragraph, Patel summarised all that is wrong about waiving off farmer loans or in fact, any loan. I had discussed most of these issues in my Diary dated April 5, 2017, last week.
The first issue that a waive-off of bank loans creates is that of a moral hazard. The economist Alan Blinder in his book After the Music Stopped writes that the "central idea behind moral hazard is that people who are well insured against some risk are less likely to take pains (and incur costs) to avoid it."
This basically means that once the farmer sees a loan being waived off today, he will wait for elections in the future for the newer loans he takes on to be waived off as well. Essentially, he will see little incentive in repaying loans that he takes on in the future. Or as Patel put it: "it impacts credit discipline, it blunts incentives for future borrowers to repay".
The second issue that a waive-off of bank loans creates is that it can lead to the crowding out of private borrowers. The state government waiving off the bank loans needs to compensate banks which had given these loans. In case of the Uttar Pradesh government which recently wrote off the loans, this amounts to Rs 36,359 crore. The government will have to borrow this amount in order to pay the banks simply because its earnings are lesser than its expenditure.
--- Advertisement ---
Express Delivery: Reserve Your Copy Today...

Right now you can get a personal hardbound copy of my new book, India's Big Government (Worth Rs 2,950) Absolutely free!

All you have to pay is Rs 499 to cover postage and handling, and we'll dispatch your book tomorrow itself. So, it could actually reach your doorstep, anywhere in India, in a matter of days.

But we can do that, ONLY if you reserve your copy today.

So, don't delay...Click here for details.
------------------------------
When a government borrows more, it leaves a lesser amount of money for others to borrow. This can push up interest rates and as Patel aptly puts it, "higher government borrowing can lead to an increase in cost of borrowing for others". What also needs to be taken into account here is the fact that the Uttar Pradesh government waive-off might inspire other state governments to waive-off farmer loans as well. This will mean greater government borrowing and a higher crowding out effect.
It will also lead to the overall fiscal deficit of the nation (i.e. fiscal deficits of state governments plus that of the central government) going up. Fiscal deficit is the difference between what a government earns and what it spends during the course of a year. The difference between the earning and the spending is met through borrowing.
If several state governments waive-off bank loans and borrow more, it will lead to the national fiscal deficit going up. As Patel puts it: "sub-sovereign fiscal challenges in this context could eventually affect the national balance sheet."
So far so good. It is nice to see the RBI governor speak out against what is essentially bad economics and can screw up the economic and financial situation of the nation. Nevertheless, the question is where has all this forthrightness been when it comes to the issue of corporate defaults and loan write-offs?
As is well known, corporates have defaulted on several lakhs of crore of bank loans over the years. These defaulters have been treated with kid gloves. Over the years, a huge amount of corporate loans have been written off. It needs to be mentioned here that loans written off are different from loans being waived off, at least theoretically.
This is something I discuss in detail in my new book India's Big Government-The Intrusive State and How It is Hurting Us. The loans written off are no longer be a part of the balance sheet of the bank, even though they can be recovered in the future. There is no chance of recovery in case of a loan that is waived off. Hence, theoretically there is a difference between a write-off and a waive-off.
Let's try and understand this issue in a little more detail. Let's first take the case of the State Bank of India. As of April 1, 2015, the bank had Rs 56,725 crore of bad loans, or gross NPAs. During the course of the year, Rs 4,389 crore of bad loans was recovered. At the same time, the bank wrote off Rs 15,763 crore of bad loans. The loans written off would no longer be a part of the balance sheet of the bank, even though they could be recovered in the future.
As we can see in case of the State Bank of India, the total amount of the loans written off during the year was more than three times the total amount of the loans recovered. That tells us the sad state of the loan recovery process. There were also fresh bad loans that were added to the balance sheet of the bank during the course of the year, and by March 31, 2016, the total bad loans of the bank had slipped to Rs. 98,173 crore.
Or take a look at Table 1 which shows the overall scenario comparing write-offs and recoveries.
Table 1: Write-offs versus recoveries of public sector banks
Year
Writes-Offs
(in Rs. Crore)
Recoveries
(in Rs. Crore)
2015-2016
59,547
39,534
2014-2015
52,542
41,236
2013-2014
34,409
33,698
2012-2013
27,231
19,832
Source: Reserve Bank of India
As is clear from Table 1, write-offs of public sector banks have been greater than their recoveries. And the absolute difference between the two has only gone up over the years. A bulk of these loans are corporate loans. Hence, it is safe to say on the basis of this data that a large portion of corporate loans which are written-off are over the years, are practically waived-off because banks are really not able to recover these loans.
Hence, if the issue of moral hazard comes up with farmer loan waive-offs, it also comes up with corporate loan write-offs. And given that a large portion of what is technically a write-off is actually a waive-off, the case for moral hazard in this case is really very strong. The RBI governor Patel could have talked about this as well, given that he has been in office for more than seven months now.
Over and above this, corporate loan write-offs have led to the situation of diminishing bank capital. This has led to the central government having to recapitalise the public sector banks over the years. Between 2009 and now, the amount of money put in has been greater than Rs 1,30,000 crore. This money is ultimately borrowed by the government and leads to crowding out, higher interest rates and a weaker national balance sheet. All these issues pointed out by Patel in case of farm loan waive-offs apply to corporate write-offs as well.
But a word hasn't been spoken against them.
In the Diary dated March 22, 2017, I had quoted the British author George Orwell. In his book Animal Farm, Orwell writes: "All animals are equal, but some animals are more equal than others." The point being, if there is a moral hazard for the farmer, there is also one for corporates. And if the RBI governor has pointed out one, he should have pointed out the other as well.
Over the weekend, I came across a very interesting couplet which makes the same point has George Orwell did in the Animal Farm, but rather more forcefully.
As Wasim Barelvi, probably the greatest Urdu poet alive today, writes:
"Garib lehron par pehren bithaye jaate hain
samundaron ki talashi koi nahi leta".
(I couldn't come across a good translation of this couplet. Hence, I am leaving it untranslated. But its basic meaning is the same as the line from Orwell's Animal Farm, quoted earlier).
Vivek Kaul is the Editor of the Diary and The Vivek Kaul Letter. Vivek is a writer who has worked at senior positions with the Daily News and Analysis (DNA) and The Economic Times, in the past. He is the author of the Easy Money trilogy. The latest book in the trilogy Easy Money: The Greatest Ponzi Scheme Ever and How It Is Set to Destroy the Global Financial System was published in March 2015. The books were bestsellers on Amazon. His writing has also appeared in The Times of India, The Hindu, The Hindu Business Line, Business World, Business Today, India Today, Business Standard, Forbes India, Deccan Chronicle, The Asian Age, Mutual Fund Insight, Wealth Insight, Swarajya, Bangalore Mirror among others.
Disclaimer:
The views mentioned above are of the author only. Data and charts, if used, in the article have been sourced from available information and have not been authenticated by any statutory authority. The author and Equitymaster do not claim it to be accurate nor accept any responsibility for the same. The views constitute only the opinions and do not constitute any guidelines or recommendation on any course of action to be followed by the reader. Please read the detailed
Terms of Use
of the web site.
Recent Articles