Treasury Bond Yield Crosses 3%. What Happens Next?
Apr 25, 2018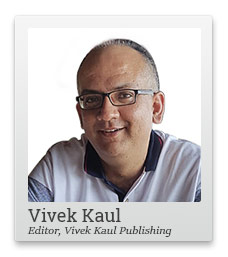 Regular readers of the Diary and the now defunct Letter will know that we have been writing about the era of easy money that the world has seen in the aftermath of the financial crisis which started in September 2008, finally coming to an end.
In line with this forecast, yesterday the yield on the 10-year United States (US) treasury bond touched 3%, for the first time since end 2013 and early 2014. In fact, take a look at Figure 1, which plots, the 10-year treasury bond yield over the last one year.
Figure 1: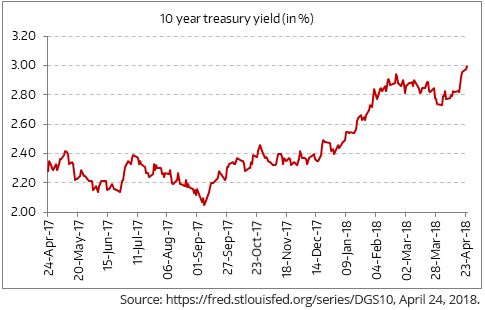 Treasury bonds are bonds issued by the US government in order to finance its fiscal deficit or the difference between what it earns and what it spends. The yield on the treasury bond is the per-year return that an investor can expect from the bond, if he were to buy it at any point of time, and hold it till maturity.
--- Advertisement ---


Unknown to Millions…

In our view, investing in small cap stocks is one of the best ways for regular investors to retire rich.

But we think this strategy is still unknown to millions.

We bet… you haven't heard about small cap stocks from the mainstream media.

And we believe… even your friends don't know about them.

But there are some who are using this proven strategy to retire early and wealthy.

And now it's your turn…

Today, we are going to show you a way to access a carefully selected list of small cap stocks that could guide you to potentially big returns.

And there's more good news for you…

Until 27th April, you also have a unique opportunity to claim one-year Access to our extremely successful small cap stock recommendation service…Virtually Free!

Click here for full details…
------------------------------
This yield, as can be seen from Figure 1, has been going up since September 2017. Before we go about explaining why this is happening, some historical context is necessary here. In mid-September 2008, Lehman Brothers, the fourth largest investment bank in the United States, went bust. Many other financial institutions which were precariously placed, were rescued by the taxpayers of US and Europe.
The Federal Reserve of the United States, the American central bank, decided to launch an easy money policy in the aftermath of the financial crisis, that broke out. So did other Western central banks.
The idea in case of the Fed was to print money and pump it into the financial system by buying treasury bonds as well as mortgage backed securities. The mortgage backed securities are essentially securitised financial securities created out of mortgages or home loans.
The printing and pumping of money would flood the financial system with money and help keep interest rates low. At lower interest rates Americans would borrow and spend more, and this would mean more business for the companies. It would also lead to faster economic growth, which had slowed down in the aftermath of the financial crisis. The hope also was that American companies would borrow at low interest rates and expand.
This is what was supposed to happen in theory. While, the average American did borrow and spend but not at the same rate as he had in the past. What happened instead was that the companies borrowed money in order to buyback their shares and drive up their earnings. The buybacks have had a large part to play in the rally in the American stock market. But buybacks do not create jobs (which is one reason why Donald Trump won).
Over and above this, large financial institutions saw this as an opportunity to borrow at low interest rates and invest that money in financial markets all over the world. Now getting back to why interest rates have been rising since September 2017. As mentioned earlier, the Federal Reserve pumped money into the financial system by printing money and buying bonds.
In mid-June 2017, the Federal Reserve announced that it planned to start shrinking its balance sheet i.e. pull out all the money that it had pumped into the financial system by buying bonds.
Between October and December 2017, it planned to sell treasury bonds and mortgage backed securities worth $10 billion per month. Between January and March 2018, this would go up to $20 billion a month. Between April and June 2018, this will go up to $30 billion a month. Between July and September 2018, the Federal Reserve plans to sell bonds worth $40 billion a month. After that the amount will rise to $50 billion a month.
By doing this, the Federal Reserve wants to gradually take out the money that it has pumped into the financial system. With lesser money expected to around in the financial system, the bond yields started to go up.
Now let's see whether Federal Reserve has actually been buying back bonds? Between October 25, 2017, and February 28, 2018, Federal Reserve's holdings of treasury bonds fell by $54 billion. Its holdings of mortgage backed securities fell by $11 billion. In total, the holdings of treasury bonds and mortgage backed securities fell by $65 billion. Given that, month to month data is not available, so direct comparisons are not possible.
Between November 2017 and February 2018, the Federal Reserve balance sheet should have shrunk by $60 billion ($ 20 billion in November and December and $40 billion in January and February). Basically, the Federal Reserve seems to be on target, when it comes to sucking out all the money that it has printed and pumped into the financial system. What will be the impact of this? The return on the 10-year treasury bonds acts as a benchmark for all other kinds of interest rates, from auto loans to student loans to home loans. Hence, borrowing in the US will become more expensive as a higher return on 10-year treasury bond will push up interest rates in the US.
It will also push up inflation. Over and above this, the American government has a huge borrowing programme lined up this year and over the next two years. This will set up the Federal Reserve in line with a confrontation with the Donald Trump government. It remains to be seen who will back off.
Also, higher interest rates are going to hurt the highly consumerist American society. It remains to be seen how long the Federal Reserve will continue sucking out the money it has put into the financial system.
How is it likely to impact India? As mentioned earlier, a lot of easy money has found its way into the Indian stock market. As interest rates go up, it will no longer be viable to continue with this trade. This will lead to foreign investors either going slow on India or exiting it all together.
In fact, some evidence is already available on that front. In 2016-2017, foreign investors invested Rs 55,703 crore, in Indian stocks. In 2017-2018, this was down by more than half to Rs 25,635 crore.
Also, buybacks will become difficult for American companies, as borrowing money for buybacks will cost more. This will mean that the readymade formula for driving up earnings per share may not work as smoothly as it was worked over the last few years.
The Dow Jones Industrial Average, one of America's premier stock market indices, was adjusting to this possibility and it fell by 1.74% yesterday to 24,024 points. The Indian stock market and the Dow share a very high correlation. Hence, if yields on 10 year treasury bonds keep going up, the Indian stock market is definitely going to come under some pressure in the days and months to come.
Stay tuned and watch this space!
Regards,


Vivek Kaul
Managing Editor, Vivek Kaul's Diary
PS: The Hidden Treasure team is celebrating ten-years of small cap success. Richa's 'boots on the ground approach' has been critical to Hidden Treasure's success ratio of 67% and an internal rate of return (IRR) of 32.1% as per the latest audited numbers. You can now get a one year off on Richa's signature small cap recommendation service. This is a special offer that will close within the week. Full details here...
Vivek Kaul is the Editor of the Diary. He is the author of the Easy Money trilogy. The books were bestsellers on Amazon. His latest book is India's Big Government - The Intrusive State and How It is Hurting Us.
Disclaimer:
The views mentioned above are of the author only. Data and charts, if used, in the article have been sourced from available information and have not been authenticated by any statutory authority. The author and Equitymaster do not claim it to be accurate nor accept any responsibility for the same. The views constitute only the opinions and do not constitute any guidelines or recommendation on any course of action to be followed by the reader. Please read the detailed
Terms of Use
of the web site.
Recent Articles