An Amazingly Simple Investing Strategy
May 11, 2017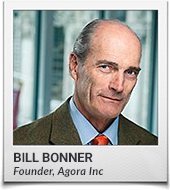 GUALFIN, ARGENTINA - As longtime Diary sufferers know, we don't do real stock analysis.
We just look for Really Simple Patterns (RSPs).
The simplest we've discovered so far: If a market is cheap now, it will probably be less cheap before you get around to investing in it. If it is very expensive, it will probably be less expensive before you get out.
Simple Strategy
This RSP came to mind when Bonner & Partners analyst Chris Mayer, who advises us on our family portfolio, reminded us how much money we made on his latest recommendation.
For our family account, we keep one portfolio made up of country stock market ETFs. We select the countries based on this RSP: We look for the cheapest ones.
As recently as March 30, Chris advised us to put money into five cheap country stock market ETFs. And yesterday, imagining our delight, he sent us the following email update:
Amazing, it's such a simple a strategy and yet works so well...

So far (since March 30), you are up almost 10% in Turkey, almost 9% in Spain, 8% in Italy, and 5% in South Korea. The only downer is China, down 1%.

Overall, you're up over 6%...since March.
The only trouble is...we never got ourselves together to make the investment. And on April 15, we suddenly needed the money we had set aside for it to pay the IRS.
--- Advertisement ---
Trump is Terrible News...As Far as this Indian Crisis is Concerned

Donald Trump is no fan of outsourcing tech work...And that's terrible news for India.

Note, we said India. And not the "IT Sector".

You see, India is battling a crisis on mammoth proportions. The jobs crisis.

And if the IT sector, which was one of the big generators of jobs was to slow down, it would have a devastating impact on the overall situation.

Now, how big is this jobs crisis?

Well, there are 33,000 Indians joining the workforce every day.

About 1 million per month.

And 12 million per year.

So, we need to generate 12 million jobs a year to stop the additions to what is already a sea of unemployed people.

Unfortunately, we are nowhere close to that. By some estimates, there were hardly any meaningful jobs being created over the last few years.

And if you add the "IT Sector" crisis to this huge existing imbalance, things start to look very grim.

In fact, we believe if the situation does not change very quickly, we could be staring at a massive crisis.

And it could have massive implications for you and your family.

Go ahead and read my detailed report on this crisis and find out what it could mean for you...
------------------------------
Trade of the Decade
But let's look at another trade, our Trade of the Decade.
This had nothing to do with careful analysis, study, or insight. Just another RSP: Markets that go down for a long time have a good chance of going back up over the next ten years.
At the debut of the 21st century, we had no trouble identifying a promising setup. Gold had been going down, more or less, for nearly two decades. US stocks had been going up.
So our Trade of the Decade was simple: Sell stocks, buy gold.
It turned out that both sides went our way. Between 2000 and 2010, gold rose about 143%, making it the best-performing major asset class of the decade. And the S&P 500 fell about 25%.
Our next Trade of the Decade was not so simple.
By 2010, gold was no longer a bargain. And US stocks had been beaten down by the 2008 crisis. There was little to be gained by squeezing that orange any further, we reasoned.
What then?
Goofy Program
By the second decade of the 21st century, Japanese stock prices had been falling for twenty years.
Japanese government bond prices, on the other hand, had gone nowhere but up. Why not bet on a reversal?
And so we did in our new Trade of the Decade: Sell Japanese bonds, buy Japanese stocks.
This was based on two other RSPs: (1) Markets that go down a lot tend to go up a lot later, and (2) over time, governments will always destroy the value of their paper currencies.
How has it done so far?
Well, before we get to that, we would like to thank the Japanese government - or, more specifically, the Bank of Japan (BoJ) - for this result.
The Japanese feds have worked tirelessly to boost prices on their stock exchange and send investors fleeing from their bond market.
Why?
It's just part of their goofy program that is supposed to improve the economy. If they can get the rate of inflation up, they will devalue the yen and make Japanese exports more competitive.
This, in turn, will improve exporters' sales...leading them to buy more, hire more, and stay in line behind the ruling party.
Claptrap Policies
Accordingly, the familiar claptrap policies were brought on stage.
Shinzo Abe, the country's prime minister, explained how more 'stimulus' - both fiscal and monetary - would surely light a fire under the economy.
It did not. Instead of falling, the yen rose, leaving the Japanese economy soggier than ever.
It must have been then that Mr Abe and the BoJ decided to go full retard.
They wouldn't wait for Japanese companies to sell more products and earn more profits. They would simply buy stocks themselves.
Financial blog Zero Hedge:
A year ago, we noted that The Bank of Japan (BoJ) was a Top 10 holder in 90% of Japanese stocks. In December, we showed that BoJ was the biggest buyer of Japanese stocks in 2016. And now, as The FT [the Financial Times] reports, the real "whale" of the Japanese markets is stepping up its buying (up over 70% YoY [year over year]), entering the market on down days more than half the time in the last four years.

Since the end of 2010, The FT notes that the BoJ has been buying exchange traded funds (ETFs) as part of its quantitative and qualitative easing programme. The biggest action began last July, when its annual acquisition target was doubled to ¥6 tn [$8.7 billion].

Since then, the whale designation has seemed pretty obvious: the central bank swallows a minimum of ¥1.2 bn [$10.5 million] of ETFs every single trading day (tailored to support stocks that further "Abenomics" policies), and lumbers in with buying bursts of ¥72 bn [$632.5 million] roughly once every three sessions.
Since the Bank of Japan began this program, investment bank Nomura estimates that it has boosted the Nikkei 225 Index - Japan's equivalent of the S&P 500 - some 1,400 points.
Thank you very much.
So how are we doing?
Since the start of 2010, the Japanese stock market is up about 33% in US dollar terms...and about three times as much for yen-based investors. As for Japanese government bonds, they have not cooperated.
Try as he may, Shinzo Abe has still not been able to destroy his nation's currency or degrade its credit.
But we will not despair. The Trade of the Decade still has three years to run. And Mr Abe is still trying!
Regards,


Bill
Bill Bonner is the President & Founder of Agora Inc, an international publisher of financial and special interest books and newsletters.
Disclaimer:
The views mentioned above are of the author only. Data and charts, if used, in the article have been sourced from available information and have not been authenticated by any statutory authority. The author and Equitymaster do not claim it to be accurate nor accept any responsibility for the same. The views constitute only the opinions and do not constitute any guidelines or recommendation on any course of action to be followed by the reader. Please read the detailed
Terms of Use
of the web site.
Recent Articles