Has the Indian Home Buyer Become Smarter?
May 17, 2018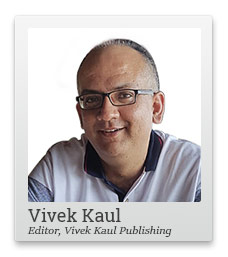 We have been in Delhi for the past two weeks, which is some sort of a record, given that the maximum that we can survive in the city which thinks that it makes all the decisions in this nation, is ten days.
And this has been a more social visit than our previous visits to Delhi. After the many conversations that we have had over coffee, green tea, glasses of water, squalls and polluted air, in the last two weeks, we can finally feel some change in the air.
Delhites, who, in the past, would rather passionately defend investing in real estate, have now mellowed down. Guess, they have seen, that those who did not invest in real estate over the last few years, are in a rather better position right now, in comparison to those who did. Moral of the story being, the passage of time teaches the most basic things. It's just that it takes time sometimes to realise the most basic things.
Having said that, this is what we could call an anecdotal phenomenon (for the lack of a better phrase), given that it is based on our conversations and we really do not have any data to back it up with.
--- Advertisement ---


What Warren Buffet and This Housewife from Chennai Have In Common…

Warren Buffet was one of the biggest advocates of this secret early on in his investing career (though you won't catch him talking of it now).

Closer home, a Mrs Khanna from Chennai has been using the very same secret for the last few years…with inspiring results. You can read her story here (We think you'll find it pretty interesting).

If you'd like to learn about this secret, and how you can use it — go here to read what Rahul has to say.
------------------------------
The idea of owning a home (or investing in one for that matter) has taken a clear beating in the last few years. In fact, according to property consultant Anarock, home sales in seven major cities in India, were down by 40% in 2017, in comparison to average sales in 2013 and 2014. 2,02,800 homes were sold in 2017. In comparison, an average of 3.3 lakh units per year were sold during 2013 and 2014.
The funny thing is that while the home sales have fallen over the years, home loan growth continues to remain strong. Given that we are talking home sales in cities, it is best to take a look at non-priority sector home loans offered by banks.
The Reserve Bank of India defines a priority sector home loan as: "Loans to individuals up to Rs 28 lakh in metropolitan centres (with population of ten lakh and above) and loans up to Rs 20 lakh in other centres for purchase/construction of a dwelling unit per family, are eligible to be considered as priority sector provided the overall cost of the dwelling unit in the metropolitan centre and at other centres does not exceed Rs 35 lakh and Rs 25 lakh, respectively."
Hence, any home loan of greater than Rs 28 lakh, for a home with a market value higher than Rs 35 lakh, in a city with a population ten lakh and above, is categorised as a non-priority home loan. In a city with a population of less than ten lakh, any home loan greater than Rs 20 lakh, for a home with a market value higher than Rs 25 lakh, is categorised as a non-priority sector home loan.
Let's look at the total amount of non-priority home loans given out by banks in a given year, over the years. Take a look at Figure 1.
Figure 1: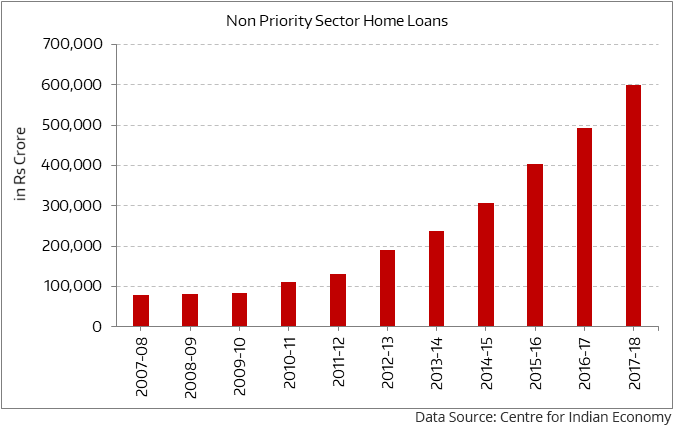 What does Figure 1 tell us? It tell us that the non-priority sector home loans given out during a year, have constantly been growing over the years. This is hardly surprising given that the real estate was doing well. Hence, as people living in cities bought more homes, the total amount of non-priority home loans went up.
(Other than banks, home finance companies also give out home loans. The latest data isn't available in their case. But given that banks give a greater amount of home loans than housing finance companies, there is no reason to believe that the trend with the housing finance companies would be any different.)
Now, getting back to what we were discussing. Non-priority home loans given by banks going up over the years is hardly surprising, as the real estate sector was doing well. So, people in cities took loans and bought homes.
But that as we saw earlier isn't happening now. The number of homes being bought in cities has dropped dramatically, over the last few years. But non-priority home loans are still growing. Take a look at Figure 2, which basically plots the year on year growth of these loans.
Figure 2: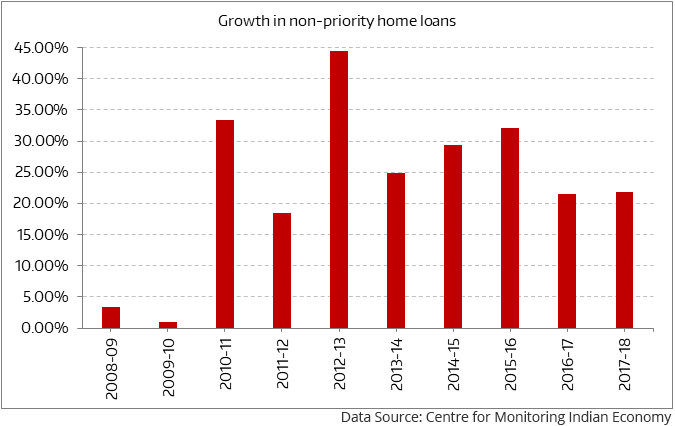 As we can see from Figure 2, the growth in non-priority home loans given out by banks over the years, has come down. Nevertheless, it still remains strong on the whole. In 2017-2018, the growth was close to 22%.
This, during a period, when home sales have slowed down in comparison to the past, new home launches have more or less dried down and home prices haven't really gone anywhere. So, what is really happening? Why are non-priority home loans still going up, despite all the adverse factors working against it.
A good explanation for this lies in the fact that people are buying ready to move in property, directly from other people who had invested in a home in the past. The homes are in societies where people are already living in.
People do not want to buy under-construction homes. They are also uncomfortable buying homes which are built, but are in buildings, where people are yet to move in. If there are a suffice ent number of people living in a society or a building, it is taken as a sign that the chances of legal trouble are lower. The assumption is that somebody must have done the due =-diligence.
Such behaviour comes from the fact that people do not trust most builders anymore, given all that has happened over the last few years (This is not to say that earlier the trust was fabulous). Hence, the preference to buy ready to move in property, which is perhaps all in the clear.
The trust is broken. How do we repair it?
Regards,


Vivek Kaul
Editor, Vivek Kaul's Diary
PS: Research analyst, Tanushree Banerjee, has made a big prediction: Sensex 100,000. If she's right, there will be many winning stocks. But these winners will come with a lot of unnecessary risks. Consider safe stocks instead. Tanushree recommends them in her premium service, StockSelect. This service has established a success rate of 74% over the last 15 years. Let her guide you safely, to the best stocks in the market. Get full access to StockSelect here...
Vivek Kaul is the Editor of the Diary. He is the author of the Easy Money trilogy. The books were bestsellers on Amazon. His latest book is India's Big Government - The Intrusive State and How It is Hurting Us.
Disclaimer:
The views mentioned above are of the author only. Data and charts, if used, in the article have been sourced from available information and have not been authenticated by any statutory authority. The author and Equitymaster do not claim it to be accurate nor accept any responsibility for the same. The views constitute only the opinions and do not constitute any guidelines or recommendation on any course of action to be followed by the reader. Please read the detailed
Terms of Use
of the web site.
Recent Articles