Demonetisation and the Johnny Joker Syndrome
Jun 20, 2018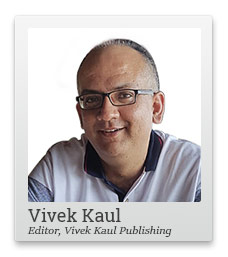 Since yesterday evening we have been listening to a 25 year old pop song, Johnny Joker, sung by Shweta Shetty. And at the risk of embarrassing ourselves we need to confess that more than the song we like listening to the part where a male singer raps (from what we remember his name was Raj Bahadur).
Listening to the song has brought back old memories, but more than that it has made us wonder, where did Shweta Shetty (not to be confused with Shilpa Shetty of Baazigar and Big Boss fame) disappear? Or where do all the people who achieve moderate success in life, disappear, once their success fades?
A Wikipedia entry tells us that Shetty married a German, Christian Brandt. Did they live happily ever after?
We have no way of finding out.
In honour of Shweta Shetty and her wonderful song, let's term this phenomenon of people achieving moderate success, and then disappearing from public life, as the Johnny Joker syndrome. (We could also call it the Nikhil Bhagat syndrome, but then not many of you would know about him. Not that many of you would know who Shweta Shetty is, but then we like her song).
The Johnny Joker syndrome does not work in just case of people who achieve moderate success, it is also valid for issues that were once hot, but have now disappeared from public attention, given that the attention is limited and there is so much happening in the world around i.e. the noise that we like to pay attention to.
Take the case of demonetisation. These days no one talks about it. Now that is scandalous given that the bad decision put India's economic growth back by at least 18 months. In 2017-2018, India grew by 6.7%, which was the slowest in four years. The private consumption growth in 2017-2018 was the slowest in five years.
--- Advertisement ---


It's Completely Legal...and Extremely Lucrative!

What if you could find out the best opportunities from the stocks that they are buying now?

And what if you did not have to pay even a single rupee to them in fee?

Yes, it is possible. And it's completely legal!

So, if you're interested in investing like India's Top Investing Gurus...

Just Click here...
------------------------------
Given these factors, it is a shame that demonetisation does not attract enough public attention, anymore.
One of the motives of demonetisation, as we were told, was to encourage cashless transactions. The currency in circulation (a measure of the total amount of cash in the system) has constantly been rising. As of June 8, 2018, it was at Rs 19.48 lakh crore. This is 8.4% more than the currency in circulation as on November 4, 2016, before demonetisation happened.
Of course, the economy has also grown in the meantime. Hence, it is not fair to just look at the currency in circulation in isolation. It needs to be looked at as a size of the overall economy.
In the years before demonetisation, the currency in circulation as a percentage of GDP varied between 11-12%. As of March 31, 2017, it had fallen to 8.75% of the GDP. This happened because the currency in circulation which fell dramatically after demonetisation, had not been fully replaced.
As of March 31, 2018, it had risen to 10.91% of the GDP. There was a jump of 216 basis points in a period of one year. One basis point is one hundredth of a percentage. This tells us clearly that the cash transactions are well and truly back in the system. Despite this jump, there was a huge cash shortage in large parts of the country, earlier this year.
GDP data is released only four times a year. Hence, we can't calculate the latest currency in circulation to GDP ratio, for data as of May-June 2018. Nevertheless, what can be done is that we can look at currency in circulation as a proportion of total money going around in the financial system.
There are several measures for the total amount of money in the financial system. We will look at the broadest form, which is technically referred to as M4. Before we go any further we need to understand what is M4.
M1 = currency with public + deposit money with public.
Currency with public is what remains once we subtract cash with banks from currency in circulation. As far as deposit money with public is concerned it contains demand deposits with banks and other deposits with the Reserve Bank.
M3 = M1 + time deposits with banks.
A time deposit with a bank is an interest-bearing deposit which has a specific date of maturity.
M4 = M3 + total post office deposits.
Now we understand what M4 means. Hence, we can calculate the currency in circulation as a percentage of M4 and plot it over a period of time. Take a look at Figure 1.
Figure 1: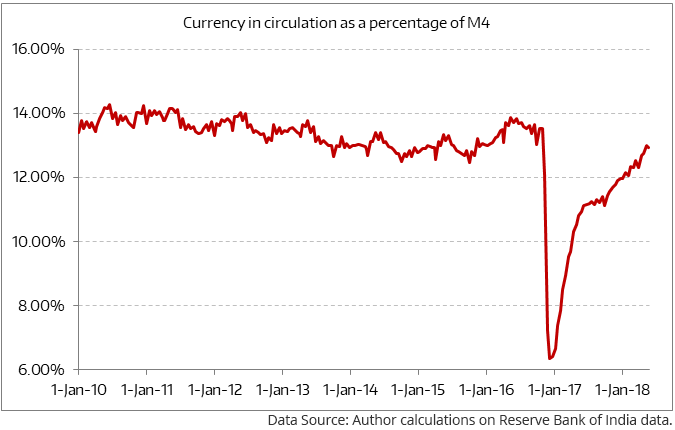 Figure 1 plots the currency in circulation to M4 ratio for a period of more than eight years. This ratio basically measures the proportion of cash (represented by currency in circulation) in the financial system. If this ratio comes down, it signals that habits are changing, and that people are using lesser cash.
Typically, the ratio has varied between 13-14% over the years, though sometimes it has dipped below 13% as well. In end May 2018, the ratio of currency in circulation to M4 stood at 12.95%. This is well within the normal range, over the longish time frame under consideration in Figure 1.
Within a few weeks, this ratio shall cross 13% and should be well in line to cross the ratio of 13.52% before demonetisation. As the ratio moves upwards, it will basically keep indicating that more and more cash is being used in the system.
In fact, this will work well for the economy, because it will address any cash shortages that still prevail.
Of course, all this makes us wonder, how did demonetisation help in the first place? In fact, as more data comes out in the years to come, it will make demonetisation look like a terrible decision.
Nevertheless, one did not have to wait for this data to make this judgement. When 86% of the currency in circulation is made useless overnight, there are bound to be negative repercussions for the economy, irrespective of who you support politically.
The sad part is people have already forgotten about all this. The Johnny Joker syndrome is at work.
Meanwhile, we are still tripping on Shweta Shetty singing Johnny Joker and we suggest, dear reader, you might as well do that.
For us, happy days are here again! How about you, dear reader?
Regards,



Vivek Kaul
Editor, Vivek Kaul's Diary
PS: What are India's best investors doing with their portfolios in such a volatile market? Kunal Thanvi is on a mission to reveal their top picks to you. You can follow India's top 40 super investors here.
Vivek Kaul is the Editor of the Diary. He is the author of the Easy Money trilogy. The books were bestsellers on Amazon. His latest book is India's Big Government - The Intrusive State and How It is Hurting Us.
Disclaimer:
The views mentioned above are of the author only. Data and charts, if used, in the article have been sourced from available information and have not been authenticated by any statutory authority. The author and Equitymaster do not claim it to be accurate nor accept any responsibility for the same. The views constitute only the opinions and do not constitute any guidelines or recommendation on any course of action to be followed by the reader. Please read the detailed
Terms of Use
of the web site.
Recent Articles