Brexit, Schmexit
Jun 22, 2016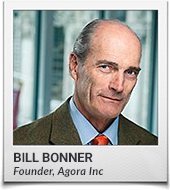 BALTIMORE - Brexit, Brexit, Brexit!
Last week, the Dow fell 1%. The news media blamed nervousness over the upcoming referendum in Britain on whether to leave or stay in the European Union (EU).
On Thursday, British voters will decide whether to invoke Article 50 in one of the treaties that forms the constitutional basis of the union, the 2007 Lisbon Treaty.
Article 50 provides a vague roadmap for how a member state wishing to leave the EU might rescind its membership.
It has never before been exercised...and apparently was never intended to be used by anyone.
Young Fogey
Yesterday, the Dow rose 129 points. The press claimed investors were buoyed by recent polls showing voters were now leaning back toward the Remain camp...after last week's surge in the polls for the Leave camp.
'Investors hate uncertainty,' or so they say. After Germany, Britain is the second largest economy in the EU. If it ends its 43-year-old membership, no one knows how bumpy the departure could be.
No nation has ever left the EU. Like a divorce, it could be completely smooth, amicable, and better for everyone.
Or not...
We caught a glimpse of British Conservative Party politician Jacob Rees-Mogg on the TV. We don't know Jacob very well. But he is the son of our old friend and colleague Lord William Rees-Mogg, now deceased.
(After a career as a newspaperman, Lord Rees-Mogg became a regular contributor to our Strategic Investment newsletter advisory. His old writing partner James Dale Davidson continues to publish it today.)
But we remember when Jacob was a boy...when he started his career in the financial industry...and when he ran for parliament.
We recall that he was once featured in TIME magazine as one of the 'young fogeys' who were leading London's 20-somethings in a new direction.
Now, he is one of the most outspoken and articulate proponents of Brexit, attempting to lead the entire country away from the EU.
Jacob believes Britain would be better off independent from the EU.
He thinks the Remain crowd - chief among them Prime Minister David Cameron - are just trying to make voters fearful, so they will be afraid to back the Leave campaign.
Would Britain be better off outside of the EU?
We don't know. But we admire Jacob's smooth and confident handling of the press. Like his father, Jacob is intelligent, sensible, and dignified - almost the exact opposite of both of America's presumptive presidential nominees.
A Different Kind of Elite
Lord Rees-Mogg's mother was an Irish-American actress. And there was always something a little theatrical about William, too.
He was not merely English; he played the role of a particular kind of Englishman...and played it well.
He always dressed in a dark blue suit, padded out by a cardigan sweater in wintertime. From time to time, we met for lunch at the Garrick Club.
The Garrick is in an old building near Covent Garden in London's West End. You go into the front door and address yourself to the liveried doorman.
'I'm Bill Bonner. I'm here to see Lord Rees-Mogg.'
'Oh, yes... His Lordship is in the reading room. He's expecting you.'
And there he was, invariably squinting at the newspaper he once edited. He had been the top man at the Times of London from 1967 to 1980. And he later became a member of the Board of Governors of Britain's public service broadcaster, the BBC.
It was he who - in a 1967 op-ed in the Times, titled 'Who Breaks a Butterfly on a Wheel?' - helped keep Mick Jagger and Keith Richards out of jail after they were arrested on a minor drug charge.
It was he who helped us understand the proper role of government in an orderly, just society. ('Less is more.')
And it was he, too, who understood his duty, as one of the well-educated elite, to not plunder his countrymen by using the machinery of government to get favours, privileges, and handouts. Instead, he believed, it was his duty to serve his country in public life, offering advice and leadership, simply because it was the right thing to do.
He sought no power. He expected no money. He had no vain impulse to assert his own will and force others to do his bidding.
He was no politician. But he was deeply concerned with the politics and policies.
Advertisement
EXPOSED: The Crony
Socialism of Narendra Modi...

While crony capitalism has taken a beating under Narendra Modi, crony socialism is alive and kicking.

Yes, the public sector is back and so are the HUGE losses!

And in case you thought that this is a problem which we've always had...well, you are in for a surprise. The public sector is burning money at probably the fastest pace ever.

And Vivek Kaul reveals it all in his latest Special Report - "The Crony Socialism of Narendra Modi".

A must read for everyone who is interested in the present state of the country and where it is headed...Plus, it's Absolutely Free!

So, don't delay...Click here to download this Special Report right away!
Historic Enemies
The Garrick was, and still is, wonderfully old fashioned.
Founded in 1831, it was the club of the literary set, and the stage for a famous feud between Britain's top Victorian literary stars, Dickens and Thackeray.
On the walls are paintings of British actors, notably the great David Garrick, whom the club was named after. As you go up the broad, sweeping staircase, you find the leading lights of the British stage.
In the dining room, the menu could be as old as the club itself. Lord Rees-Mogg stuck to the basics - roast beef, spinach, and a glass of claret, followed, this time of the year, by the summer pudding.
'What do you think of the EU?' we asked him once, after a particularly galling story had appeared in the press.
British gas stations were being required to switch to the metric system. Henceforth, the EU had ordered, thou shalt not sell gasoline by the imperial gallon; it shall be dispensed in litres and nothing else.
'Well,' Lord Rees-Mogg began, with a little preparatory stuttering and a playful smile, 'we have more than enough silly rules coming from our own bureaucrats; we hardly need more from the French. They are our historic enemies, you know.'
He saw the EU as a Gallic subterfuge. Napoleon had been able to hold Europe together for only a few years...and never brought Britain to heel. Today, under cover of the EU - with its headquarters not far from the site where Wellington and Blücher teamed up to beat Bonaparte - the French hold sway over most of the continent...from the west coast of Spain to the eastern border of modern-day Poland.
It must have been Lord Rees-Mogg whom French president Charles de Gaulle had in mind when he first blackballed Britain, in 1963, from membership in what was then the European Economic Community (a precursor of today's EU).
'l'Angleterre, ce n'est plus grand chose (England is not much anymore),' de Gaulle said at the time.
Besides, the British, he claimed, had a 'deep-seated hostility toward European construction.' Or as TV talk show host John Oliver put it: The English have an 'innate desire to tell Europe to go F themselves.'
De Gaulle was probably right about that. On Thursday, we will see how deep-seated that hostility still is.
Regards,


Bill
PS: Lord Rees-Mogg's prestige, wisdom, and friendship helped us on a number of occasions. He once convinced a former CIA director to advise us, for example. It didn't end well. Stay tuned...
Bill Bonner is the President & Founder of Agora Inc, an international publisher of financial and special interest books and newsletters.
Disclaimer:
The views mentioned above are of the author only. Data and charts, if used, in the article have been sourced from available information and have not been authenticated by any statutory authority. The author and Equitymaster do not claim it to be accurate nor accept any responsibility for the same. The views constitute only the opinions and do not constitute any guidelines or recommendation on any course of action to be followed by the reader. Please read the detailed
Terms of Use
of the web site.
Recent Articles