India, Iran, US, Federal Reserve, Oil, Rupee and Dollar
Jul 2, 2018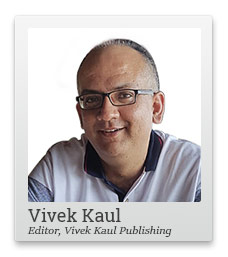 Come November, among other things, the United States led by Donald Trump, wants countries to stop importing oil from Iran. Iran currently pumps 5% of the global oil supply.
Oil is bought and sold internationally in US dollars. Over the years, India has bought oil from Iran by paying in euros and rupees. In the process, India has managed to avoid paying in dollars. A PTI newsreport points out that the payment was made in the ratio of 55:45 of euros and rupees. Also, from February 6, 2018, payments in euro had been stopped.
Now there is pressure on India to gradually stop buying oil from Iran. The oil minister Dharmendra Pradhan said that the government "will go by the national interest," on the issue. What does this mean? What is in India's national interest in this case? Let's try and understand that.
1) In an ideal world, the United States shouldn't be meddling around in the affairs of India. Hence, India should continue buying oil from Iran in rupees. Iran is ready to be paid in rupees. But we don't live in an ideal world and Uncle Sam remains the biggest bully in the world (Now with President Trump, it bullies on Twitter).
2) Also, in 2017-2018, India ran a trade surplus of $21.9 billion with the United States, when it came to goods, which basically means our exports to the United States were much more than our imports. Hence, our trade with the United States helps earn dollars which we can use to pay for our imports (including oil).
3) In 2017-2018, India ran a trade deficit of $8.46 billion with Iran, when it came to goods. This basically means that our imports from Iran were much more than our exports. Hence, if we choose to continue buying oil from Iran, the United States will create problems for us, in all that we export to them. Is this what we want? The government needs to take a call on that.
4) Political analysts have also talked about the strategic importance of the Chabahar Port located in Iran, for India. Given these factors, it's not so straightforward to define what is in India's best interest when it comes to continuing to import oil from Iran.
--- Advertisement ---


This Email Contains Time Sensitive Information

Today, you have the chance to join an elite group of people and get access to cherry picked investment ideas from 8 of our most premium services (normally cost Rs 314,000 per year for full access) …

For JUST Rs 950 per month…

Now I know some will find this difficult to believe…and as a result they may miss out this opportunity of a lifetime.

But if you are serious, you must act fast because this opportunity won't be available for too long.

So, just click here for full details…
------------------------------
The question is which way is India likely to do? A Reuters newsreport quotes a source as saying: "[India] has asked refiners to be prepared for any eventuality, since the situation is still evolving. There could be drastic reduction or there could be no import at all."
This situation will play out over the next few months. Let's try and understand how it is going to impact India.
1) From the looks of it, India will have to cut down its oil imports from Iran. There is no way it can be totally brazen and ask the United States to buzz off. That is not going to work.
In Figure 1, let's take a look at the share of India's oil imports from Iran as a proportion of the overall Indian oil imports.
Figure 1: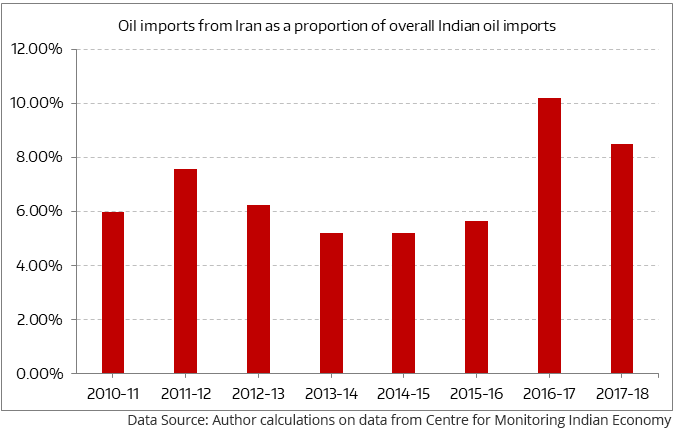 As can be seen from Figure 1, India's oil imports from Iran, have gone up in the recent years. If we stop importing from Iran, we will have to import oil from other countries which have an oil surplus. This is going to add to world demand and push oil prices up further. Also, it is worth remembering here that irrespective of what India does, other countries will stop buying oil from Iran and that will push oil prices up, anyway.
2) The oil that India buys from Iran does not require to be paid for in US dollars. But with India moving away purchases from Iran, it will need dollars to buy oil. This will push up the demand for dollars, and ensure that the rupee will continue to remain weak against the dollar, like it currently is.
3) Typically, when oil prices rose beyond a point in the past, Saudi Arabia would start up its reserve production capacity and produce more oil. This was done so as to ensure that oil does not become so expensive that other forms of fuel, become viable.
This time around Saudi Arabia is unlikely to produce much more than it currently is, simply because Saudi Aramco, the largest oil company in the world, has an initial public offering scheduled. In this scenario, it is highly unlikely that the Saudis will up the production to bring down oil prices. The higher the oil price, the better the valuation that Saudi Aramco, is going to get.
4) Another point that needs to be made here on the rupee dollar front is how the Federal Reserve of the United States, behaves, in the months to come. If it continues to raise interest rates in the United States, a lot of money will continue leaving the Indian stock and bond markets, and that will ensure that the value of the rupee against the dollar continues to remain weak.
5) A weaker rupee will push up petrol and diesel prices, among other things. And that cannot be good news for the Modi government, given that many state assembly elections and the next Lok Sabha elections are scheduled over the next one year.
Regards,



Vivek Kaul
Editor, Vivek Kaul's Diary
PS: For someone who sifts stocks through multiple filters before cherry-picking the absolute best for his subscribers, follow Ankit Shah, the Equitymaster Insider, by subscribing here.
Vivek Kaul is the Editor of the Diary. He is the author of the Easy Money trilogy. The books were bestsellers on Amazon. His latest book is India's Big Government - The Intrusive State and How It is Hurting Us.
Disclaimer:
The views mentioned above are of the author only. Data and charts, if used, in the article have been sourced from available information and have not been authenticated by any statutory authority. The author and Equitymaster do not claim it to be accurate nor accept any responsibility for the same. The views constitute only the opinions and do not constitute any guidelines or recommendation on any course of action to be followed by the reader. Please read the detailed
Terms of Use
of the web site.
Recent Articles