Packed Planes, Busy Airports and Overbooked Hotels... This is the Travel Boom in India
Jul 9, 2018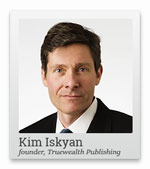 When I first visited India, in 1993, I was desperately eager to see as much of the country as possible.
I had two weeks of vacation and a long itinerary that would have taken me throughout the country... from the Taj Mahal to bustling Bombay (it wasn't called Mumbai then), to the up-and-coming "Silicon Valley of India" of Bangalore (also since renamed) down south.
But there was one big problem with that: Getting around in the country.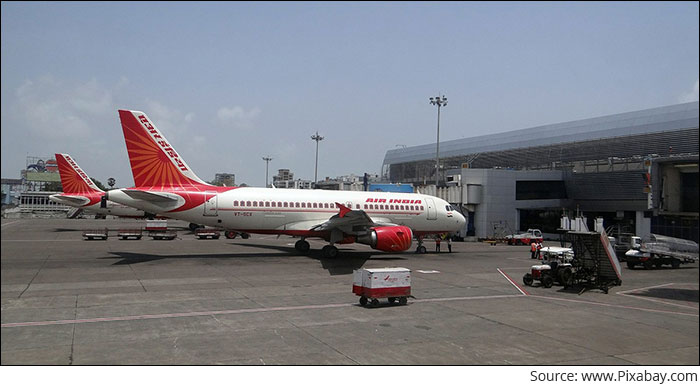 You see, at the time, getting around India wasn't easy. You could travel by uncomfortable chickens-in-the-aisle bus. Or you could travel by a nicer bus where there were no chickens, but which still had to negotiate snail-pace traffic on small roads peppered with cows, three-wheelers, motorcycles, food vendors and millions (literally) of random people wandering about. Or, you could try to figure out the train system - but chicken buses were limousine luxury by comparison.
The obvious question: Why not fly? Air travel wasn't a feasible option back then. Private airlines had been re-introduced just a few years before. The creaky state carrier was unreliable and flights were infrequent - so much so that often, the chicken bus was actually faster.
(As it happened... I fell ill shortly after arriving, so I barely made it out of my hotel room in Delhi for the next ten days. I made up for it the next year, though.)
But things have changed a lot since then...
--- Advertisement ---


Rs 250 a month in subscription fee could change your life…

You probably spend more than Rs 250 on meaningless stuff every month.

But for less than Rs 250 per month, you can now obtain a subscription to our Hidden Treasure service and get information on high-potential small caps delivered to your email inbox every month.

Yes! Small caps with the potential to give substantial returns in the long run. So don't let this opportuntiy go.

Click here for full details now…
------------------------------
India's economy has exploded
Today, India has one of the world's fastest-growing economies. Its gross domestic product (GDP) - or total economic output - grew a remarkable 7.1 percent in 2016. That's compared to 6.7 percent for China and just 1.6 percent for the U.S.
And since 2003, India's total stock market capitalisation has grown an incredible 639 percent - more than all but one (China) of the rest of the 10 largest stock markets in the world.
This growth is slowly trickling down to the masses in India. According to a PricewaterhouseCoopers report, real wages in India could quadruple between 2013 and 2030.
And disposable income - the amount of income a household has after income taxes - has been steadily growing. According to Euromonitor International, the number of middle-class households with an annual disposable income of more than US$10,000 rose from 2.5 million in 1990 to around 50 million in 2015. And the growth is continuing at an incredible rate.
So India is changing... fast. It is catching up with big global economies like the U.S. and China. And its citizens are earning more and more money. And they're spending it, too.
According to the Boston Consulting Group, consumption in India is set to triple to US$4 trillion by 2025. That means India will be the third-largest consumer market in the world by 2025 - just behind the U.S. and China.
Indians are spending their new-found money on travel
So what do people do when they suddenly get more money?
They spend more on leisure, healthcare and looking good. But one of the biggest things they spend on is travel...
So it's no surprise that consumer spending on travel in India is outpacing the country's big GDP growth.
India's travel and tourism sector is the second-fastest growing sector in the world, according to RBSA advisors. And air travel in India is predicted to be the world's third-largest market in 2032.
As you can see in the chart below, India's air travel bookings have been steadily increasing for years.
Indian Air Travel Gross Bookings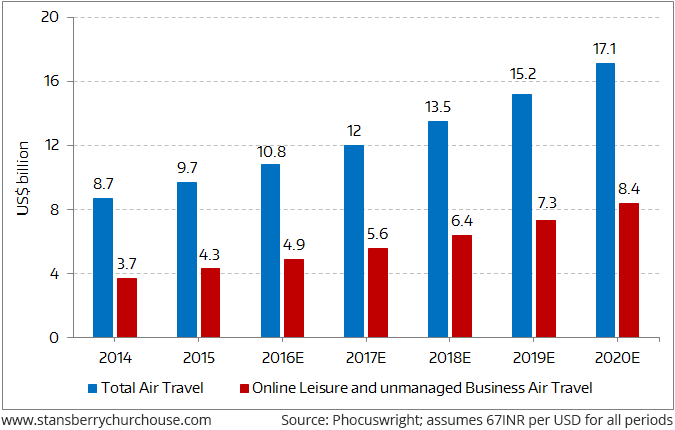 The total number of air passengers in India has grown six-fold over the past ten years. In 2017, passenger count rose by more than 10 percent to more than 300 million trips. By 2025, it's expected that India will overtake the UK as the world's third-largest aviation market.
As a result, India's airports are bursting at the seams.
"India airports struggling to cope with travel boom," warned the headline of a recent article by AFP. Within the next few years, most of India's airports will be operating well above capacity... and even with planned expansions, it's a question of time - and not long - before India's airports will be bursting at the seams, again.
And more Indians traveling has pushed airlines to buy to a lot more planes. The total commercial aviation fleet in India today includes 542 planes. But another 1,023 are on order. So the total number of planes flying eager Indian passengers is going to nearly triple in coming years.
India's airplanes aren't as packed as its trains... yet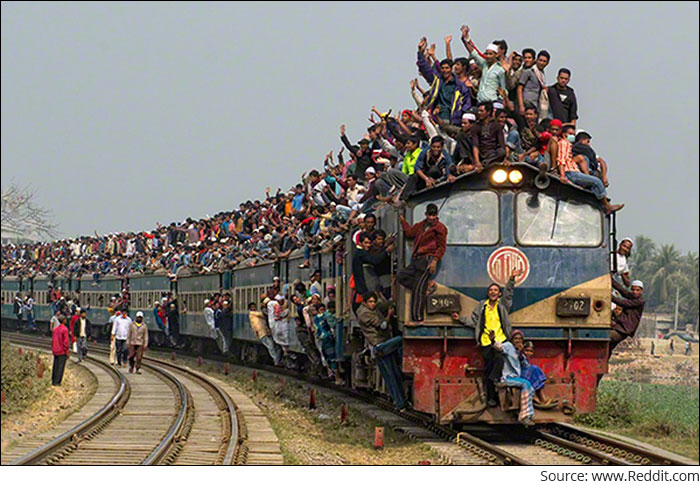 But it's not just airlines booming... because all of those people traveling need to stay somewhere.
Hotel bookings in India are expected to increase from US$6.6 billion in 2015 to US$10.9 billion in 2020.
Indian Lodging Market Continues to Grow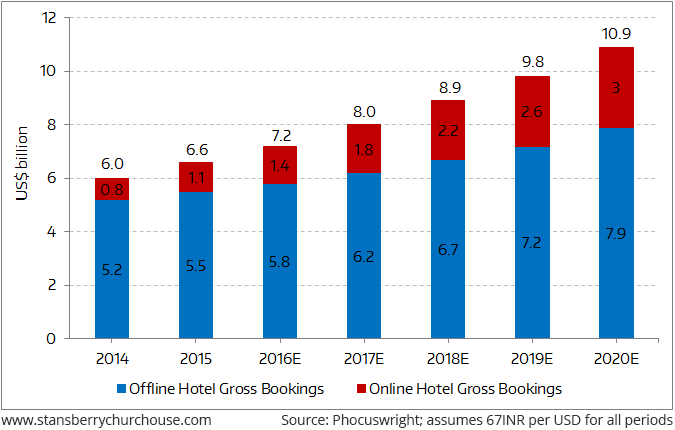 Together, gross hotel and air travel bookings are predicted to almost double between 2014 and 2020 - from US$14.7 billion to US$28 billion.
So the Indian travel boom is just getting started.
Packed planes, busy airports and booked hotels is not a good problem if you're a traveler in India. But it's a welcome problem if you're an investor in India's travel market.
So the market is worth putting on your radar today.
Good investing,

Kim Iskyan, Truewealth Publishing
Vivek Kaul's Diary
PS: For over 16 years, our Safe Stocks recommendation service, StockSelect, has guided its subscribers towards financially sound futures. Today, you have the chance to get access to its proven research and recommendations that generated double, even triple digit returns. Click here to begin your journey towards a wealthier life...
Please note: This article was first published in stansberrychurchouse.com on 8 July 2018.
Kim Iskyan is the founder of Singapore-based Truewealth Publishing. He has spent most of the past 25 years exploring and analyzing global markets. He has been a stock analyst and research director for a big emerging market investment bank, managed a hedge fund, and sold mutual funds to private bankers. He has advised Fortune 50 companies on political risk and helped build stock exchanges from scratch in countries that few people could find on a map. He has lived and worked in ten countries, from Spain to Russia to Sri Lanka to the United States.
Disclaimer:
The views mentioned above are of the author only. Data and charts, if used, in the article have been sourced from available information and have not been authenticated by any statutory authority. The author and Equitymaster do not claim it to be accurate nor accept any responsibility for the same. The views constitute only the opinions and do not constitute any guidelines or recommendation on any course of action to be followed by the reader. Please read the detailed
Terms of Use
of the web site.
Recent Articles