A Sense of Melancholy
Jul 18, 2018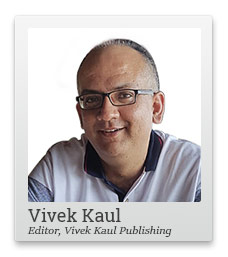 I have been trying to write this piece for close to an hour now and haven't managed to get going. It's one of those days.
A dull and a dark morning in Mumbai has turned into a dull and dark afternoon, and I am yet to get going.
A couple of cups of coffee haven't helped. Neither has a cup of kahwa, which happens to be the only Kashmiri thing in my regular daily life, despite my Kashmiri name.
There is a sense of melancholy that has hit me badly, and I just can't get rid of it. The fact that I am listening to the film songs sung by Jagjit Singh, while writing this, isn't exactly helping. (Melancholy is bad for work and the idea of making money for daily wage earners).
Scrolling through my Twitter feed today, a small news item caught my eye: "Rita Bhaduri dead". For those who know their Hindi cinema well, would know that Bhaduri was a character actor who acted in movies (and later TV serials) for more than four decades.
She first became famous for her role in the 1975 release Julie, where she played the role of the heroine's best friend. And appeared in many roles since then.
Dear Reader, you must be wondering by now, why I am reminiscing a veteran actor who wasn't really a star in any sense of the term, in a Diary, which is dedicated to writing on finance and economics, on most days.
Allow me to explain.
--- Advertisement ---


Almost 3X Sensex...And The Best Is Yet To Come! (Claim Your Spot Today)

Our premium small cap recommendation service has actually generated almost 3X the returns, vis a vis Sensex, since inception.

And today, you have an opportunity to join the service through an exceptional offer...

PLUS, get Instant Access to 3 Junior Blue Chips that you could consider buying today.

So, don't delay...

Click here to go through full details.
------------------------------
A memory that remains etched in my mind is that of a film-poster I saw, sometime in the mid-1980s, on my way to school. This poster featured Rita Bhaduri, who died yesterday. I saw it in front of the Women's College (Science Block) in Ranchi, the city that I grew up in.
For some odd reason, this memory has stayed with me since then and I find myself thinking about it, now and then, particularly on rainy nights, which one gets dime a dozen in the city that I currently live in.
Perhaps it reminds me of life, as it used to be. Simple and straight. No decisions to make. No worries about whether one's earning enough.
Or whether the landlord will renew the contract this year.
Or whether, this publication that I desperately want to write for, will let me write for them. It reminds me of a life which had no insecurities.
Life was simple. One got up in the morning. Got ready. Went to school. Pretended to be in class, while dreaming about different things. Got caught talking and was made to stand up on the bench a few times (as my friend Adarsh loves to recall every time we meet).
Waiting for the games period at the end of it. Playing quizzes in the bus back home. Playing cricket with my colony friends, once I was back home.
Coming back home. Pretending to study for an hour, which was followed by dinner in front of the television with one TV channel. And one was in bed by 10pm.
Things were rather straightforward back then.
(The other crazy thing that I remember over and over again, is that of the cricketer Venkatesh Prasad, bowling a slow leg cutter).
Getting back to Rita Bhaduri and the poster that I saw. As I remember it, the poster was for a film called Daku Rani Himmat Waali, in which Bhaduri played the role of a dacoit. It turns out that Bhaduri never acted in a film of that name.
Is my memory playing tricks here? I don't know. Perhaps it is. We all remember some version of what happened, and not necessarily what happened. The same seems to be happening to me right now as I write this. (If you are the kind who loves to read literature, do try reading The Sense of an Ending by Julian Barnes, which basically deals with this concept).
But Bhaduri did act in a film called Phoolan Devi (in Bangla), which as Wikipedia tells me, released in 1985. It was also released in Hindi with the title Kahani Phoolwati Ki. On the other hand Daku Rani Himmat Waali, was a film that released in 1984. Perhaps, I am mixing up things here. But that is really not the point.
As we live and grow old, there is a world that gets created around us. Or a world that we create around us. A world of books, cinema, music, poetry, people, friends, relatives, parents, siblings, events and so on. And gradually as time passes, this world that we get used to living in, gradually gets destroyed, as we continue to live in it. We forget the books we read.
The cinema we liked gets outdated, doesn't fit the present context (try watching the Amitabh Bachchan hits from the eighties, films like Coolie, Mard, Inquilab). The same stands true for a lot of music we grow up hearing. Some of the music I loved in the eighties and the nineties, right from songs like Jumma Chumma De De to the music of movies like Dance Dance and Kasam Paida Karne Waale Ki, I am truly ashamed of now.
But I guess that is a journey one has to take. One cannot start appreciating Akhtari Bai Faizabadi (Begum Akhtar) or Pandit Bhimsen Joshi, from day one. One has to listen to a lot of rubbish before one comes to appreciate their music.
Events that happened become irrelevant (wonder how many of us remember the one day when Shivlings across the country drank milk). Friends move on. Siblings get a life of their own.
And people die, all the time. Our idols die. Our parents die. Our relatives die. And people who gave our lives a sense of life and perhaps even a sense of some meaning, also die. But we carry on living, moving towards the only truth in life.
The world that we live and create around us, is also gradually destroyed around us. This includes the memories of actors, singers, writers, etc., who one has liked and/or remembered over the years. Every time, one of them dies, a part of us is destroyed.
But that's how things are. Time waits for no one. Things change and things will keep changing. There are no constants in life, even though time and again we are tricked into thinking that this time is different. The trouble is, it never is.
The poet Shahryar put it best when he said: "har mulakat ka anjam judai kyon hai, ab to har waqt yahi baat satati hai hamen."
Regards,

Vivek Kaul
Editor, Vivek Kaul's Diary
PS: For everyone who was expecting yet another column on economics and finance filled with data, my apologies. We will get back to all that and much more, in the next issue of the Diary.
PPS: When the markets nosedive, that's the best time to put wealth building in motion. Small caps are crashing - that only means there is more opportunity than ever to buy them up - get our market-beating small caps recommendations here.
Vivek Kaul is the Editor of the Diary. He is the author of the Easy Money trilogy. The books were bestsellers on Amazon. His latest book is India's Big Government - The Intrusive State and How It is Hurting Us.
Disclaimer:
The views mentioned above are of the author only. Data and charts, if used, in the article have been sourced from available information and have not been authenticated by any statutory authority. The author and Equitymaster do not claim it to be accurate nor accept any responsibility for the same. The views constitute only the opinions and do not constitute any guidelines or recommendation on any course of action to be followed by the reader. Please read the detailed
Terms of Use
of the web site.
Recent Articles