How to Build Affordable Homes in India
Jul 19, 2018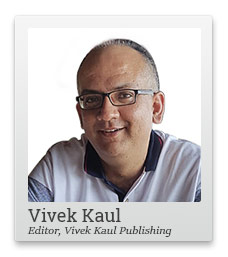 One of the success stories of Indian banks has been the total amount of home loans they have given over the years. At least, that's how it feels on the face of it.
Let's take a look at Figure 1.
Figure 1: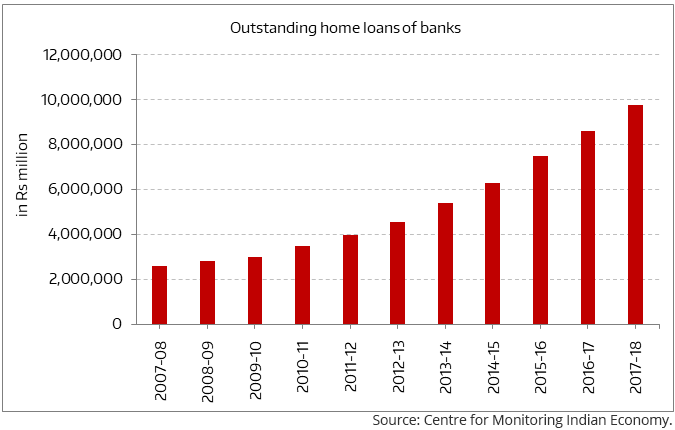 The total outstanding home loans of banks have grown at a very healthy rate of 14.1% per year, over the last decade. The rate of default of home loans remains at just 1% (Source: http://ficci.in/spdocument/20989/FIBAC-2017-Productivity.pdf). In comparison, the rate of default on lending to industry is greater than 22%.
Given this, home loans seem to have been a genuine success story for Indian banks. Having said that, when one looks at home loans outstanding as a percentage of the gross domestic product (or a measure of economic size of the country) of India, it tells us a completely different story.
--- Advertisement ---


ALERT: This Stock Market Revelation Happens Only FOUR Times a Year…

Four times a year, a unique but extremely lucrative document is released…

A document that discloses exactly which stocks look 'marked' to boom in the months or years to come.

Now, please understand that this document is available to everyone…

But it can be downloaded only from a specific site and very few investors know how to do this.

Click here to find out how you could download this document yourself.
------------------------------
In 2007-2008 bank home loans outstanding as a percentage of the Indian GDP was 5.32%. By 2017-2018, this had moved to 5.81% of the GDP. The improvement is just about marginal.
Of course, banks aren't the only financial institutions giving out home loans. Home finance companies are in the same business as well. How do things look when we add home loans given out by home finance companies to the home loans given by banks?
Take a look at Figure 2.
Figure 2: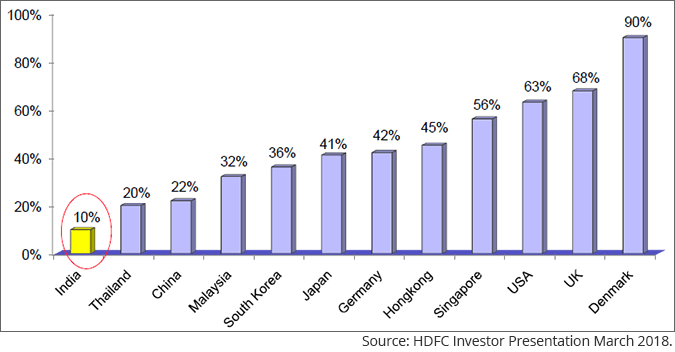 What does Figure 2 tell us? It tells us that if we include home loans given out by home finance companies as well, the total home loans outstanding to the gross domestic product of India, comes to around 10% in the Indian case.
This is an improvement in comparison to how things stood in March 2013 (the oldest investor presentation of HDFC that I could find online). The total home loans outstanding to the gross domestic product ratio was at 8% at that point of time. Hence, there clearly has been an improvement over the last five years.
The ratio has improved from 8% to 10%, over half a decade. During the same period, China has moved from 15% of the GDP to 22% of the GDP.
The question is why does India have such a low ratio? One reason obviously is the state of economic development. As the Indian economy keeps doing better, this ratio is bound to improve (Or why it makes sense to own shares of good housing finance companies. They have barely scratched the surface when it comes to giving out home loans). Nevertheless, there is more to it than just that.
In the organised sector, most flats being built by the real estate companies cater to the upper segment of the market, making them unaffordable for the large section of the population. This has limited the growth of the home loan market in a big way.
In a recent interview to the Business Today magazine, Rajiv Talwar, CEO of DLF, said: "The bulk of the market is between 300 sq.ft. and 600 sq.ft. The average cost of construction is Rs1,500-2,000 per sq.ft. So, the cost is anywhere from Rs 6-7 lakh to Rs12 lakh."
But for reasons best understood by real estate companies, this market goes completely unaddressed, forcing people to live in slums and other seedy accommodation, across cities, all over the country.
Of course, the cost of construction is not the only cost in building an apartment. The cost of land is a big expense. One reason why real estate companies cater only to the rich is because land is expensive and given the price, it makes sense to make only bigger and more expensive apartments.
How do we deal with this? As Talwar puts it: "You have excess land with the government, whether it is departments at Centre or state. You have land with Central and state PSUs. Houses here, because of the stage of development in our country, were only single-storeyed. There are no tall buildings on railway land. It is a ready-made thing - you have already recovered the price of land over there. The government, usually, follows an auction model. If you start auctioning, the price will go up. A much better model is the renting model. The government rents or leases land out. De-freeze Floor Area Ratio (FAR) by allowing higher buildings - 10 or 20 floors."
While one may argue about whether the government should rent out excess land or simply sell it, the point about de-freezing the floor area ratio, makes tremendous sense.
Then there is the issue of Change in Land Usage (CLU). Agricultural land beyond a certain size cannot be owned, as per the land ceiling regulations. This limit varies from state to state. What this does is that it limits the way a company can go about buying land that it needs for a particular project.
A real estate company wanting to set up a project cannot buy land beyond a certain size. Furthermore, it is not possible to buy the land and then appeal to the state government for a change in land usage.
In order to get a change in land usage clearance (say, from agricultural to residential accommodation), a company needs to acquire land beforehand, and this is not possible given that agricultural land beyond a certain size cannot be owned.
So, this is a bit of a chicken-and-an-egg situation. This makes things tricky because most land on the edges of cities, on which apartments can be built as the boundaries of cities expand, tends to be agricultural land.
Change in land usage is a major source of corruption and money making, in the state governments.
The other big issue is that the government takes too much time to give all the clearances necessary to build an apartment building.
If the government can keep its end of the deal then housing for all at an affordable price can really become possible.
The trouble is, if building real estate becomes easy and it becomes a more legitimate business like many other businesses, then how will state level politicians make money. How will they fight elections?
Any genuine real estate reform in India can only happen after political finance is reformed. One cannot work without the other. Meanwhile, if the government listens to what Rajiv Talwar has had to say, it would be a good start on the dream of achieving housing for all by 2022.
Regards,

Vivek Kaul
Editor, Vivek Kaul's Diary
PS: When the markets nosedive, that's the best time to put wealth building in motion. Small caps are crashing - that only means there is more opportunity than ever to buy them up - get our market-beating small caps recommendations here.
Vivek Kaul is the Editor of the Diary. He is the author of the Easy Money trilogy. The books were bestsellers on Amazon. His latest book is India's Big Government - The Intrusive State and How It is Hurting Us.
Disclaimer:
The views mentioned above are of the author only. Data and charts, if used, in the article have been sourced from available information and have not been authenticated by any statutory authority. The author and Equitymaster do not claim it to be accurate nor accept any responsibility for the same. The views constitute only the opinions and do not constitute any guidelines or recommendation on any course of action to be followed by the reader. Please read the detailed
Terms of Use
of the web site.
Recent Articles