A Greedy Easy Money Love Story
Aug 21, 2018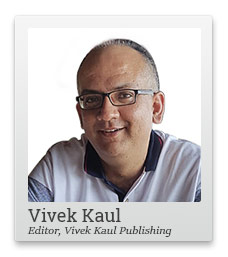 When in Delhi, I like to take the Delhi Metro (or Matro as people in Delhi like to call it).
It is comfortable. It is reasonably priced. It is very clean. Unlike other parts of Delhi, when on the Metro, people generally behave themselves.
And most importantly, there is a station right opposite where my parents live.
A few weeks back I had a luncheon meeting scheduled in Connaught Place and I decided to take the Metro. Officially, Connaught Place is Rajiv Chowk. But Connaught Place is what most people still call it.
Dear Reader, if I were to ask you to meet me on Netaji Subhash Chandra Bose Road in Mumbai, you would give me a very confused look. But the fact of the matter is, that is what Marine Drive is officially named.
But when was the last time you tried telling a Mumbai kaali peeli cabbie to drop you anywhere on the Netaji Subash Chandra Bose Road, so that you could see the beautiful sunset on the Arabian Sea. And that would be followed by admiring the beauty of the Mumbai skyline as the lights on the Malabar Hill came on, one by one.
Getting back to the Delhi Metro. It was around noon. The train was rather empty. I was seated in the eighth bogey. A young couple was seated right opposite me. Only the three of us happened to be there.
It took me a few minutes to realise that I had walked in on them. Before I came and sat right opposite them, the couple had perhaps managed to find their few minutes of intimacy.
--- Advertisement ---


Last 4 Days To Claim Your FREE Spot For
Rahul Shah's Accelerated Profits Summit…

At 5 PM, on 24th August, Rahul Shah is going to reveal his PROVEN "Accelerated Profits Strategy".

The strategy that has helped him identify 'almost unknown' stocks which went on to generated double and even triple digit returns…in a matter of months!

But the best part is that he has done that with an accuracy of almost 90% Success Rate since inception.

PLUS, overall, his strategy has actually generated Buffett-Beating Returns.

Sounds unbelievable?

Well, join him on the 24th and see the results for yourself…

And find out how you could Instant Access to 6 Immediately Actionable Accelerated Profits opportunities too!

Click Here To Reserve Your Spot…
------------------------------
The trouble is, the couples in Delhi do not have anything similar to the Marine Drive, the Worli Sea Face, the Bandstand, the Carter Road, the Juhu Beach, the Aksa Beach and so on, where they can to go to, and can find their few minutes of intimacy.
Looking at the couple immediately led to a few questions. Are they in love? Or is it just another case of the hormones taking over?
Before judging them any further, I moved myself to another seat and hopefully restored their privacy.
Even when what looks like love turns out to be just raging hormones, it's a great feeling of joy. And in a democracy, everyone should have access to that feeling of joy.
Of course, our population (or should I call it the demographic dividend) soon took over. A few stations later, the eighth bogey was more or less full. And the couple was now seated with an adequate distance between them-like they were siblings, or even classmates, who had run into each other.
After one glance at them, I got busy reading on my Kindle and when I looked up again, someone else was seated in their place.
Or so ended this love story I was a vicarious part of.
I got down at the Barakhamba Road station (the station after Rajiv Chowk) and started to make my way towards the restaurant for the meeting, only to realise that I was around twenty minutes early.
Luckily, the restaurant was near a bookshop, and I decided to kill time there. Like many other bookstores, this bookstore does not allow people to carry books inside. Hence, I had to leave my jholla of books outside the bookstore with the security guard.
While I rarely get around to reading the books I carry when I am travelling, carrying the books with me gives me some sort of mental comfort, which I really cannot explain.
As I collected my token, I saw that someone had deposited the first volume of Easy Money, with the security guard. It was lying on a table in front of me, with a yellow token on top of it.
As I entered the bookstore, I was hoping to run into the person who was carrying the book. Of course, there was no way I would recognise the individual carrying the book. The only chance was of him or her recognising me. And I was sincerely hoping something like that would happen, in the 15-17 minutes I had to kill in the bookstore.
Of course, I couldn't just stand around in the bookstore, waiting for that person to recognise me. So, I started browsing books in the Hindi section of the bookstore, only to realise that it was at one end of the store, and given that the chances that the person carrying the book, wouldn't run into me, were very high.
So, I strategically placed myself in the non-fiction section of the bookstore, hoping that the person carrying my book, was most likely to be there. For the 10 minutes I was there, no one approached me.
This is the trouble with life. First you write a book. Then you go find a publisher. Then you hope that the publisher publishes the book. Then you hope it sells at least a few thousand copies and people read it. And then you hope that people recognise you, if not at a bookstore, at least on an airport, and come and tell you, how much fun they had reading the book. This hope (or greed actually) never ends.
There I have said it.
This is the answer to why writers write books. Of course, there is something inside them which is bursting to come out and if it doesn't it would more or less kill them mentally. Well that is the answer most writers would give you, if you did ask them this question and if they chose to respond. I mean as an answer, it just sounds so sexy.
But along with this, the writers also want people to read what they write. And if the writing translates into some money along the way, that is the icing on the cake.
Any writer who claims that he doesn't care if readers read his work or not, is basically lying.
Now getting back to the bookstore. I had exhausted nearly 17 minutes, waiting to be identified and it hadn't happened. No one came forward and I meekly walked out of the bookstore.
As I collected by jholla from the security guard outside the bookstore, for a brief moment I was tempted to open the Easy Money book, which was still lying there, and leaving a message for the owner of the book-I was there, I wanted to say.
But somehow I couldn't get myself to do that.
Alas, all life stories do not get the closure that one is looking for.
Regards,



Vivek Kaul
Editor, Vivek Kaul's Diary
PS: Dear reader, in just a few days Rahul Shah, Equitymaster's co-head of research, will be holding an online summit about his Accelerated Profits strategy. You are invited to view the online summit free - all you need to do is reserve your spot now. Click here to claim your free spot at the Accelerated Profits Summit.
Vivek Kaul is the Editor of the Diary. He is the author of the Easy Money trilogy. The books were bestsellers on Amazon. His latest book is India's Big Government - The Intrusive State and How It is Hurting Us.
Disclaimer:
The views mentioned above are of the author only. Data and charts, if used, in the article have been sourced from available information and have not been authenticated by any statutory authority. The author and Equitymaster do not claim it to be accurate nor accept any responsibility for the same. The views constitute only the opinions and do not constitute any guidelines or recommendation on any course of action to be followed by the reader. Please read the detailed
Terms of Use
of the web site.
Recent Articles