How Politicians, Lawyers, Corporates, Journalists and Economists, Took Us for a Ride on Demonetisation
Sep 4, 2018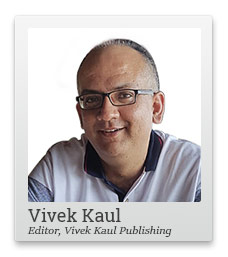 Dear Reader, if you have read be regularly over the past few years, you know what my stand on demonetisation has been from day one. Any move that makes 86% of the country's currency useless overnight, couldn't have been good for the country.
I have said this constantly from November 8, 2016, without wavering on it.
But everyone has not looked at demonetisation in the same way (and not surprisingly, if people looked at everything in the same way, the world would have been such a boring place).
Since November 8, 2016, scores of politicians, lawyers, corporates, journalists and economists, have come out in support of the move, putting all their common sense at bay.
One of the main aims of demonetisation, we were told over and over again, was the destruction of black money. The logic behind this was first explained by the finance minister, Arun Jaitley, in an interview on November 10, 2016, days after demonetisation.
Jaitley explained the logic: "Obviously people who have used cash for crime purposes are not foolhardy enough to try and risk and bring the cash back into the system because there will be questions asked."
Soon, after this people started coming up with estimates of the amount of black money that would be destroyed in this way. The then attorney general Mukul Rohatgi explained the logic in the following way: "There is roughly Rs 17 lakh crore rupees in circulation. Our estimate is that approximately Rs 11 to Rs 12 lakh crore will come back into the banking system through this scheme. Again, our assessment is that Rs 3 to Rs 4 lakh crore which doesn't return is prima facie is the black component of the currency in circulation."
--- Advertisement ---


Want big returns from small caps? Your strategy is what matters most…

A lot of people dream of making big returns from small caps.

But most of them don't have any strategy in place for achieving that, and just go by a friend's suggestion or their gut feeling while investing in small caps.

Wrong method!

After 10-plus years' experience of picking out high-potential small companies, Equitymaster has uncovered and finetuned a strategy to make big returns from small caps.

To know what that strategy is, just click here…
------------------------------
The total value of the demonetised Rs 500 and Rs 1,000 notes had stood at around Rs 15.42 lakh crore. Of this amount, Rohatgi expected Rs 3 lakh to Rs 4 lakh crore would not come back to the banks. The logic, as Jaitley had explained very convincingly, was that those who have black money would not deposit it into banks, for the fear of getting identified and questioned.
Of course, Rohatgi wasn't the only person who made this claim. It was made by many other people at that point of time. Here is what the economist Ajit Ranade wrote in a column: "This is a giant currency swap as a first step, a shock-and-awe treatment which destroyed perhaps Rs 2-3 lakh crore of black money stock with a possible adverse impact in the short run."
Economists Jagdish Bhagwati, Vivek Dehejia and Pravin Krishna, wrote: "Suppose we accept the estimate that one-third of the approximately Rs15 trillion [Rs 15 lakh crore] in demonetised notes is black money." These economists wanted us to believe that Rs 5 lakh crore of demonetised notes were basically black money held in the form of cash.
They didn't bother to explain where the assumption of one-third of demonetised notes being black money had come from. This is surprising given that Jagdish Bhagwati for many years was in contention for the Noble Prize in economics and one would expect him and his co-writers to explain the logic behind what they write.
Economist Bibek Debroy who was with the NITI Aayog at that point of time said: "People have made estimates that may be 10 per cent will not come back." 10% of demonetised notes amounted to around Rs 1.54 lakh crore.
Hence, in this way a lot of demonetised money was supposed to get destroyed.
Of course, nothing like this happened. Rs 15.31 lakh crore or 99.3% of demonetised notes were deposited into the banks. In the process, almost no black money was destroyed. Since this piece of information came out in the latest edition of the annual report of the Reserve Bank of India (RBI), we have been told that all the black money is now being put to some good use, instead of lying with people.
The trouble is, as I explained yesterday, this black money is now back with the people. And anyone who expects the income tax department to go after this black money should look at the search and seizure data of the income tax department. It will tell them very clearly, how limited the abilities of the income tax department are on this front.
Now let me get back to the topic I was trying to address in this piece. People did not stop at speculating the total amount of black money that would be destroyed. They also came up with a theory, as per which the government would get a Rs 3 lakh crore special dividend from the RBI.
How did this logic work? The outstanding currency notes are a liability for the central bank of any country. And this is true for the Reserve Bank of India (RBI) as well. If black money held in the form of cash of Rs 3 lakh crore did not come back into the banks, liabilities of the RBI would come down to that extent, we were told.
If the liabilities came down by Rs 3 lakh crore, the assets of the RBI's balance sheet would have to reduce by the same extent, for the balance sheet to balance. In the process, the government would get a special dividend of Rs 3 lakh crore. Or so were told.
As the senior journalist Swaminathan Aiyar put it: Modi can demand - and the RBI governor will surely agree - to hand over almost all the Rs 3 lakh crore to the government as a special dividend."
The special dividend story was also put forward by stock brokerages. The only trouble was that it had no legal basis. In the press conference following the monetary policy on December 7, 2016, the RBI governor Urjit Patel, put the special dividend theory to rest. He clarified that just because the notes don't come back to the RBI, it does not mean that the liability of the RBI will come to an end. As he said: "They still carry the RBI's liability as long as only the legal tender characteristic is withdrawn."
In fact, this is precisely how the RBI has acted on the currency that wasn't returned to banks. As the RBI annual report points out: "The total value of specified bank notes in circulation as on November 08, 2016, post verification and reconciliation, was Rs 15,417.93 billion [Rs 15.41793 lakh crore]. The total value of specified bank notes returned from circulation is Rs 15,310.73 billion [Rs 15.31073 lakh crore]."
This basically means that around Rs 0.11 lakh crore or around Rs 11,000 crore, has not come back into the banks. The RBI puts the exact value of the demonetised notes that did not come back into the banks at Rs 10,720 crore (Rs 107.20 billion) And this amount is showed under the head "other liabilities" under Schedule 3 of the balance sheet of RBI. No special dividend has been given to the government.
The larger point being that people came up with the special dividend theory despite knowing that it was not possible.
This is not where it ended. There was also spin around government collecting several lakh crore through taxes. As the then defence minister Manohar Parrikar put it: "A minimum of Rs 2 lakh to Rs 3 lakh crore in taxes will be collected and once this tax comes to the government, it will help fulfil the needs of the common people and the poor."
This was something that KV Kamath, chairman of BRICS Bank, and former bossman at ICICI Bank, also said: "as much as Rs 2.5 lakh crore might come into government coffers by way of taxes."
Too many people, who gain from being a part of the system and had to show their loyalty towards it, misled us on demonetisation. The trouble is that none of the so-called gains of demonetisation have materialised. And hence, it is important to call these people out.
(This piece would not have been possible without this series of tweets by Chirag Patnaik).
Regards,



Vivek Kaul
Editor, Vivek Kaul's Diary
PS: Senior research analyst, Richa Agarwal, has discovered a way to identify potentially winning small-cap stocks early. This strategy has delivered triple-digit returns within a few years. To know more, click here.
Vivek Kaul is the Editor of the Diary. He is the author of the Easy Money trilogy. The books were bestsellers on Amazon. His latest book is India's Big Government - The Intrusive State and How It is Hurting Us.
Disclaimer:
The views mentioned above are of the author only. Data and charts, if used, in the article have been sourced from available information and have not been authenticated by any statutory authority. The author and Equitymaster do not claim it to be accurate nor accept any responsibility for the same. The views constitute only the opinions and do not constitute any guidelines or recommendation on any course of action to be followed by the reader. Please read the detailed
Terms of Use
of the web site.
Recent Articles