Why Arun Jaitley's Demonetisation Defence Doesn't Add Up
Sep 5, 2018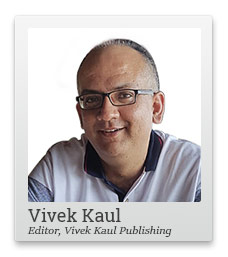 The finance minister Arun Jaitley has had a standard explanation for the success of demonetisation. He has time and again said that the number of tax returns being filed has gone up.
On other occasions he has pointed out that the total taxes being paid in have gone up in absolute terms. There are some basic issues with these points:
1) Just because more people are filing income tax returns, it does not mean a greater amount of tax is being collected, which is the ultimate motive after all. It can also mean that a greater number of people are filing returns and telling the government that they don't earn enough to be paying taxes.
2) The second and the more important point is that every year the government collects more taxes than the previous year. The reason for this is simple. As the economy grows, the government collects more taxes. Hence, just declaring that a greater amount of taxes have been collected without adjusting for the increase in the size of the Indian economy, does not really mean anything.
Given this, let's first take a look at the direct taxes to the gross domestic product (GDP) ratio, as it has been over the years. Figure 1 plots this. GDP is a measure of economic size. Direct tax includes personal income tax, corporation tax and wealth tax.
Figure 1: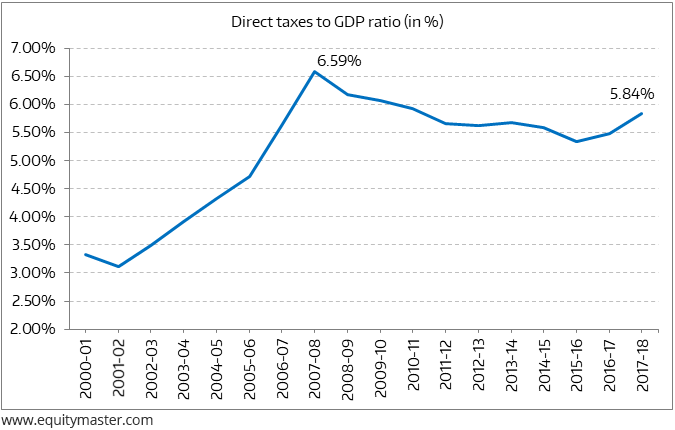 Source: Author calculations on data from www.incometaxindia.gov.in, Centre for Monitoring Indian Economy and Report of the Committee for Real Sector Statistics.
In 2017-2018, which was the last financial year, the direct taxes to GDP ratio stood at 5.84%. In 2016-2017, the ratio was at 5.48%. This means that over a period of one year the direct tax collection as a proportion of the GDP has gone up by 36 basis points. One basis point is one hundredth of a percentage.
For the amount of destruction that demonetisation caused, this is not even small change. Also, as can be seen in Figure 1, significantly higher direct tax collections have been achieved in the past, without resorting to demonetisation.
--- Advertisement ---


The Secret To Scoring Big With Small Caps Revealed...

Most people out there view small caps as a short-term thing.

In other words, they want to invest in small caps today, and get back huge returns in a few days to weeks.

But the best way to make triple- and probably even four-digit returns from small caps is to invest in solid small companies, and hold on to them for a fairly long time.

In fact, doing so has even given four-digit returns in the past.

To know how you can find solid small companies, just click here...
------------------------------
Let's look at this point wise.
1) Higher tax collections were achieved between 2007-2008 and 2010-2011. In 2007-2008, the direct taxes to GDP ratio was at 6.59% of the GDP, the highest ratio achieved in the data considered for this analysis. The larger point here is that higher tax collections have happened in the past without the government resorting hair brained schemes like demonetisation. If this could happen in the past, why not now.
2) How did this happen? The BSE Sensex was at around a level of 3,300 points towards the beginning of 2003. By early 2008, it had rallied to close to 21,000 points. This clearly meant that people would have paid more short term capital gains tax. At the same, an increase in general tax compliance would have also played a role.
3) The stock market has rallied quite a bit between 2016 and 2018, and an increase in direct tax collections of 36 basis points could to a large extent have happened because of individuals paying a higher short-term capital gains tax on the trading they carry out. The government needs to publish a breakdown of the different kind of income taxes collected, and only then can we check for it. But given the fact that the stock market has rallied over the last few years, this is a safe assumption to make.
Let's take a look at Figure 2, which basically plots the personal income tax collected by the government over the years, as a proportion of GDP.
Figure 2: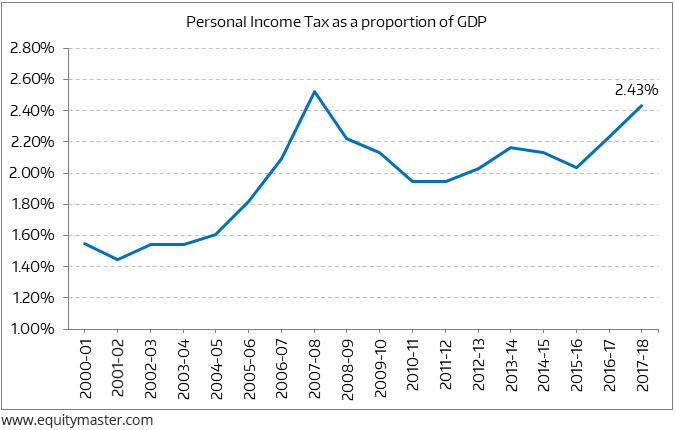 Source: Author calculations on data from www.incometaxindia.gov.in, Centre for Monitoring Indian Economy and Report of the Committee for Real Sector Statistics.
What does Figure 2 tell us? It tells us that personal income tax to GDP ratio in 2017-2018 was at 2.43% of the GDP, a jump of 20 basis points from 2016-2017. Even if attribute this entire jump to demonetisation, the question is why are we making such a song and dance about a jump of 20 basis points? And what about all the economic destruction that demonetisation caused? What is the point in the government earning more taxes, while the overall economic growth falls? In the period July to September 2016, the Indian economy grew by 7.62%. In April to June 2017, a few months after demonetisation the growth had fallen to 5.59%. This was a fall of more than 200 basis points. Why is no one discussing this point, when it comes to discussing the benefits of demonetisation?
These are questions that Jaitley or any other supporter of demonetisation has refused to answer.
Figure 2 clearly shows that there have been several occasions in the past, when the tax collections have grown by more than 20 basis points, without the government making the entire country stand in lines.
The analysis up until now was up to the last financial year. Now let's consider this financial year. The ministry of finance in a recent press release said: "There has been a marked improvement in the number of Income Tax Returns(ITRs) filed during FY 2018 (upto 31/08/2018, the extended due date of filing) compared to the corresponding period in the preceding year. The total number of ITRs e-filed upto 31/08/2018 was 5.42 crore as against 3.17 crore upto 31/08/2017, marking an increase of 70.86%. Almost 34.95 lakh returns were uploaded on 31/08/2018 itself, being the last date of the extended due date of filing of ITRs."
Basically, the number of tax returns filed up to August 31, 2018, went up by close to 71% to 5.42 crore. This is another piece of information that has been used to show the success of demonetisation. But people offering this information as an example of success of demonetisation, fail to mention that from this time around if income tax returns are not filed on time, a fine has to be paid for late filing.
Hence, anyone filing an income tax return after August 31, 2018, the extended date to tile returns across India (except Kerala), will have to pay a fine. It is but natural that there has been a surge in income tax returns filed. People were trying to avoid having to pay the fine.
The right way to judge the situation for the income tax collected in 2018-2019 will be to wait for the time till the entire data for the income tax (both corporation tax and personal income tax) collected during the year, becomes available.
But when it comes to claiming success, the Modi government is in a perpetual hurry. So, I guess patience is not the key word here.
Regards,



Vivek Kaul
Editor, Vivek Kaul's Diary
PS: Senior research analyst, Richa Agarwal, has discovered a way to identify potentially winning small-cap stocks early. This strategy has delivered triple-digit returns within a few years. To know more, click here.
Vivek Kaul is the Editor of the Diary. He is the author of the Easy Money trilogy. The books were bestsellers on Amazon. His latest book is India's Big Government - The Intrusive State and How It is Hurting Us.
Disclaimer:
The views mentioned above are of the author only. Data and charts, if used, in the article have been sourced from available information and have not been authenticated by any statutory authority. The author and Equitymaster do not claim it to be accurate nor accept any responsibility for the same. The views constitute only the opinions and do not constitute any guidelines or recommendation on any course of action to be followed by the reader. Please read the detailed
Terms of Use
of the web site.
Recent Articles