Hurricanes Threaten Oil Spike, but the Saudis are Selling...
Sep 6, 2018
Tropical storm Gordon is wreaking havoc in Florida.
It is also gaining strength.
By the time it hits the US Gulf Coast it could very well turn into a hurricane. The US states of Louisiana, Mississippi and Alabama are already in state of emergency.
Meanwhile, further north in New York, crude oil futures are trading higher.
You see, prices are increasing after two oil platforms in the Gulf of Mexico stopped production to be evacuated. The region is preparing for a hurricane to hit.
As you can see in the graph below, it could very well pass close to the Gulf´s offshore oil and natural gas platforms.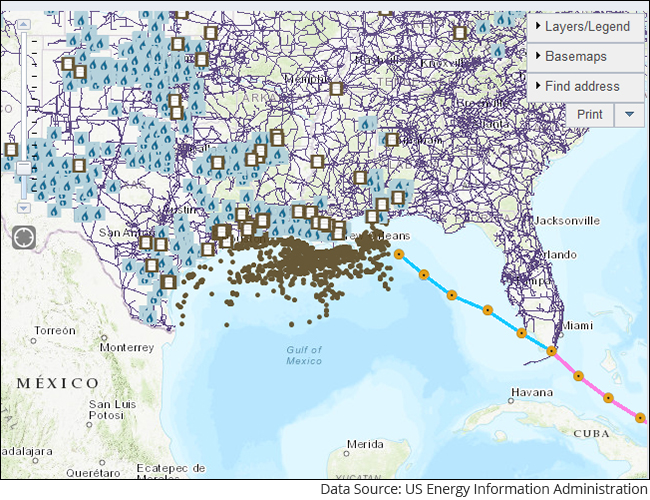 The Gulf of Mexico is one of the most important US regions for energy. According to the US Energy Information Administration (EIA) it produces 17% of total US crude oil and 5% of the US total dry production. The Gulf concentrates over 45% of total US petroleum refining capacity and 51% of gas processing.
In particular, the Louisiana Offshore Oil Port (LOOP) is a major oil link. It deals with 13% of the nation's foreign oil and connects through a pipeline system to 50% of the US refining capability.
At time of writing, the port is still open. Yet if Gordon hits and forces the port to close it could mean a spike in oil prices.
This comes at a time when there are worries that other disruptions in crude oil supply could affect prices.
--- Advertisement ---


Special Report Available For Instant Download!

Our special report titled, "3 Stocks To Grow Your Wealth", is available for instant download now.

If you're interested in growing your wealth through high-potential small caps that are leaders in their tiny niche, then we believe this report and the 3 stocks in it are a must-have.

To find out how you could claim your copy of the report, just click here...
------------------------------
A Withdrawal from the Joint Comprehensive Plan of Action
US President Donald Trump announced this year that the US will be withdrawing from the Iranian nuclear deal, or as it's also known, the Joint Comprehensive Plan of Action (JCPOA) agreement.
This was an agreement signed between China, France, Russia, the UK, the US, Germany and the EU. It was a way to stop Iran from enriching uranium and acquiring nuclear weapons capability.
Trump is looking to impose economic sanctions on Iran, which will put its oil partners in a delicate spot. Iran is one of the world's largest oil exporters. Oil exports make up about 75% of its economy, and they mainly go to Asia and Europe.
While the US won't impose sanctions until November, Iran is already losing customers. As you can see in the graph below, they have already decreased production.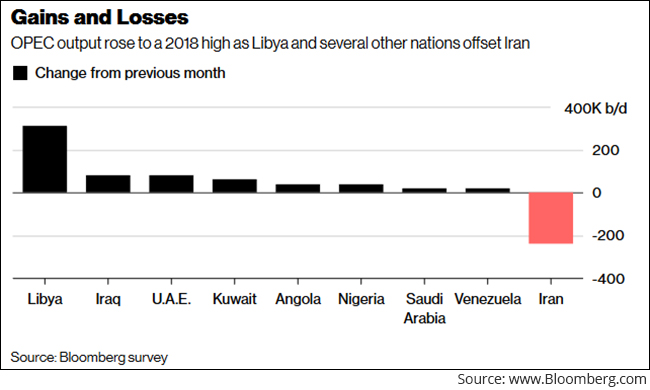 In preparation for the Iranian sanctions and to prevent a shortage, the Organization of Petroleum Exporting Countries (OPEC), increased production this year.  Libya was the largest contributor to the increase in output, followed by Iraq and United Arab Emirates.
Yet Libya´s production could run into problems as there are disturbances in the country.
Oil has been an interesting story to follow in the last couple of years.
Back in 2014 and 2015, Saudi Arabia pushed prices lower, targeting US shale oil producers. Yet this has backfired.
While US shale drillers were able to push production costs lower, Saudi Arabia lost a lot of money. So, by the end of 2016 they agreed to limit production to push oil prices back up.
Prices have since been rising and they are as high as they were in 2014, as you can see in the graph below.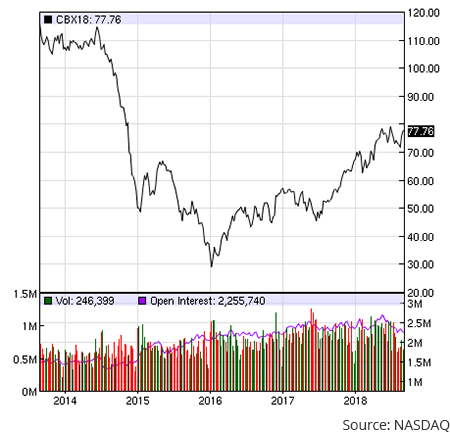 Yet rising tensions in the Middle East could see oil prices go even higher.
The truth is that there are clear signs that things are changing in the energy sector. You only need to look at Saudi Arabia.
The World's Largest Oil Exporter
Saudi Arabia is the world´s largest oil exporter. It is also the country with the second largest proven oil reserves in the world.
Yet Saudi Arabia is looking to privatise Saudi Aramco, the state-owned oil company. The fact that they are looking to sell the country's crown jewel and diversify their economy is a telltale sign that they don't expect a bright future for oil.
Then there is the rise of electric cars.
And of course there is China's war on pollution. This year China became the world's top oil importer. Yet the nation is looking for different, cleaner forms of energy.
Saudi Arabia is looking at decreasing their dependence on oil and diversifying. One way they plan to do this is by building a US$500 billion mega-city. One that could rival New York...
And, as editor Greg Canavan told us, another way they are looking to ease off their reliance on fossil fuels is by betting on 'Element U'.
What's Element U?
Well, it is a raw mineral that could supply all the electricity the planet needs for the next 230 years.
Greg believes Element U is the only viable option to replace oil and gas on a global scale. Saudi Arabia is looking to spend $80 billion for Element U projects over the next 25 years.
Yet much of Element U's energy story hinges on China and their war on pollution. If China starts to aggressively get into this energy source, we could see a big spike in its price.
To read the full story on Element U, click here.
Best,

Selva Freigedo,
Editor, Markets & Money
PS: Senior research analyst, Richa Agarwal, has discovered a way to identify potentially winning small-cap stocks early. This strategy has delivered triple-digit returns within a few years. To know more, click here.
Please note: This article was first published in Markets & Money on 5th September 2018.
Selva Freigedo is an analyst with a background in financial economics. Born and raised in Argentina, she has also lived in Brazil, the US and Spain. She has seen economic troubles firsthand, from economic booms to collapses and the ravaging effects of hyperinflation, high unemployment, deposit freezes and debt default. She is lead Editor at the daily e-letter Markets & Money.
Disclaimer:
The views mentioned above are of the author only. Data and charts, if used, in the article have been sourced from available information and have not been authenticated by any statutory authority. The author and Equitymaster do not claim it to be accurate nor accept any responsibility for the same. The views constitute only the opinions and do not constitute any guidelines or recommendation on any course of action to be followed by the reader. Please read the detailed
Terms of Use
of the web site.
Recent Articles