Some Problems Don't Have Solutions
Sep 7, 2016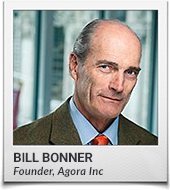 SALTA, Argentina - US markets were closed yesterday for Labor Day.
So today we'll give you our final report on our visit to the ranch.
Grace and Charm
It was 14°F (-10°C) yesterday morning. The water pipes had burst. A light snow fell.
We said goodbye to Marta, our cook, Gustavo, the ranch foreman, Gabriella, his wife, and the ranch hands, Pablo, Natalio, Jose, and Samuel.
Then we drove through the main gate and out across the dry riverbed.
After a few minutes, we noticed an attractive young woman, stoutly bundled up against the cold, walking along with two unsaddled horses behind her.
We stopped to say hello and discovered that it was Nicanora, Marta's sister. She smiled, as she always does, and greeted us with a kiss on the cheek.
'What are you doing?' we asked.
'I'm bringing the horses so Marta and I can ride back to papa's place.'
In the pickup, we had the heat turned up full blast. Our 22-year-old son, Edward, accompanied us on the trip.
'Imagine riding a horse for five hours in this glacial cold to reach an unheated house,' he said. 'It's unbelievable. I almost froze just getting out to open the gate.'
But Nicanora doesn't seem to notice; she wasn't even wearing gloves.
For her, it was routine...and she went about it with grace and charm.
Rock and Hard Place
Continuing on our way, up to the pass at the Cuesta del Obispo, we found a winter wonderland. You can see it in these photos we took.
The road to Salta
We would have felt better about leaving if we had left the ranch in good order.
But it was not.
As the week developed, so did our awareness of the problems we faced...and what little we could do to solve them.
'Some problems don't have solutions,' our old ranch foreman Jorge had told us.
The ranch is caught between two problems - one economic, the other political. Neither seems to have a solution.
On the one side is the 'rock': the ranch itself...so high, so dry, and so difficult to work that it can't pay for itself.
Each year, we take a loss, telling ourselves that the extra investment will bring us closer to breakeven. And each year, we get further from it.
The biggest cost is the workers' salaries. They earn little compared to Americans. But they are also much less productive.
As we left, for example, the crew was on its way to the vineyard to prune the grapevines. Pedro, one of our gauchos, explained how it worked...
'I get up at 4 am. I have to make a fire on the foguero [a raised hearth] to cook my breakfast. I get dressed and pack a lunch. It is still dark when I start walking to the sala [the ranch headquarters and our home here; he walks because there is no road from his house].
'It takes me an hour and a half of walking to get there. Then we get our tools together and fill up the truck so we're ready to head over to the vineyard at about 8 am. It takes about 45 minutes to drive there...and another 15 minutes to get ourselves sorted out. We start work at 9 am, trying to keep our fingers from stiffening up in the cold so we can still do the pruning.'
Pedro was not complaining. He was just illustrating what life at the ranch was like...and demonstrating why it is so hard to make any money there. The simplest task - changing a tire, checking the grapes, vaccinating the cattle - is complicated by distance and the harsh weather.
'You are always going to lose money on the ranch,' explained our lawyer in a final meeting before we headed off to Buenos Aires.
'But you don't have to lose so much. Just fire some of the workers.'
Advertisement
Claim Your Copy Of Hormegeddon At A Discount Of Almost 90%...
Claim your very own hardbound copy of Bill Bonner's latest book- Hormegeddon, at almost 90% off!

It is available on Amazon for Rs 1,810 but all you have to pay here is Rs 199 to cover shipping and handling...

This price is available only for a limited period...

So grab a copy before it is too late.

Click here to find out how to claim your copy...
Everyone's Loss
This brings us to the other of our two big problems: the 'hard place' of politics.
Even with all the advantages of capital, machinery, engineers, Google, the various experts advising us - not to mention our abundant experience in providing unwanted economic commentary - we can't come close to breakeven on this ranch.
But that doesn't stop the originarios - the local indigenous people who are claiming title to our land - from wanting to take it from us.
What benefit they will get from it has yet to be explained. But our lawyer shed more light on the situation:
'It's politics. It's not economics. You can't make the ranch profitable. Nobody can. And least of all, the originarios.
'They have no money. They have no expertise. Many of them can't even read. They have no machines. They don't know how to drive. All they could possibly do would be to live there in poverty, just as they do now.
'If you leave, it will be a loss for everyone. But the ringleaders don't care. They will score a victory. They hope to get more money from the government for their new 'Diaguita Community' [the name the originarios agitators have given themselves]. They don't care what happens to the people there. They don't even live there.
'But time is on your side. These movements are losing ground everywhere in South America. People are beginning to realise how disastrous they are. Land prices collapse. Nobody wants to invest. People with skills and capital leave. It's a nightmare.
'Probably the biggest nightmare is Venezuela. Do you know it has collected about $1 trillion in oil revenues over the last ten years? But despite all that money, the people have no food, no medicine, no nothing. And that guy who runs it, Maduro, is a total fruitcake. He says the former president, Hugo Chávez, who's been dead for three years, speaks to him through a bird.
'Up at your ranch, you have no oil. No rich farmland. No water. No sugarcane. No factories. You don't have anything. If these guys could make a mess of one of the richest countries in the world, imagine what they're going to do to your ranch.'
Regards,


Bill
Bill Bonner is the President & Founder of Agora Inc, an international publisher of financial and special interest books and newsletters.
Disclaimer:
The views mentioned above are of the author only. Data and charts, if used, in the article have been sourced from available information and have not been authenticated by any statutory authority. The author and Equitymaster do not claim it to be accurate nor accept any responsibility for the same. The views constitute only the opinions and do not constitute any guidelines or recommendation on any course of action to be followed by the reader. Please read the detailed
Terms of Use
of the web site.
Recent Articles