Are You Ready for the 2017 Recession?
Sep 17, 2016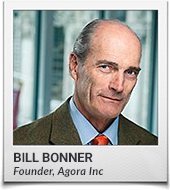 NORMANDY, FRANCE - We continue our work with the bomb squad.
Myth disposal is dangerous work: People love their myths more than they love life itself.
They may kill for money. But they die for their religions, their governments, their clans...and their ideas.
Great Cause
Some people think that even an idea as abstract as 'freedom of speech' is worth dying for.
It was Voltaire who said: 'I disapprove of what you say, but I will defend to the death your right to say it.'
Most people jump onboard the train of a Great Cause with enthusiasm and conviction. But many have the good sense to hop off quietly before their lives are in real danger.
We suspect that Mr Voltaire would have done the same.
That's why the deadliest myths are those that you can ride along with at no personal risk. Foreign wars, for example, are always a favourite.
When Pericles proclaimed that the honour of Athens was at stake, and that it must take up the imperial burden and continue its war with Sparta, he was not offering to invade Sicily himself.
Nor was George W Bush, in announcing his War on Terror, suggesting that he would personally march into Mosul.
But when you act on a myth, you are soon hostage to it; if you cannot win, you will lose.
As it happened, Pericles died in his bed; Athens was destroyed; its population was either killed or enslaved.
The War on Terror, meanwhile, has cost about $3.6 trillion so far (according to the latest estimates from Brown University), and has left more than 7,000 US soldiers dead.
But George Bush, Dick Cheney, Michael Ledeen, Elliott Abrams, Paul Wolfowitz, and John Bolton are still alive.
In fact, as far as we know, not a single one of those killed was a leading proponent of the war. Anywhere between 60,000 and 1.2 million people died on the other side (so many... and so difficult to verify...a whole industry has arisen trying to count them all).
Saddam Hussein, who had kept a lid on Islamic terrorism, was executed. Now there is a terrorist government in the area - ISIS - with US-made weapons and a US-trained head-of-state.
Advertisement
Claim Your Copy Of Hormegeddon At A Discount Of Almost 90%...
Claim your very own hardbound copy of Bill Bonner's latest book- Hormegeddon, at almost 90% off!

It is available on Amazon for Rs 1,810 but all you have to pay here is Rs 199 to cover shipping and handling...

This price is available only for a limited period...

So grab a copy before it is too late.

Click here to find out how to claim your copy...
Recession Warning
But today we turn back to the world of money (pausing only to wonder if $3.6 trillion would have been squandered so readily had it been real money).
Markets are rousing from their summer sleep. We need to pay attention.
Here's the situation:
The US economy is still growing. But barely. And the pattern is clear. Instead of gathering strength, it is weakening...with lower GDP growth, quarter after quarter.
'Nominal' GDP growth is now 2.4% - the lowest rate, outside of recession, since World War II.
To get 'real' GDP growth, you need to subtract inflation (the GDP deflator)...which, according to one official measurement, is 2.2%, not including food and energy. If those numbers were correct, it would mean the US economy is essentially stagnant. Dead in the water.
Most likely, official inflation is understated.
President Reagan's budget advisor, David Stockman, recalculates, taking out much of the statistical hocus-pocus from the feds' numbers. He figures the real rate of price increases that most Americans suffer - his 'Flyover CPI' - has been averaging 3.3% for this entire century.
Using that number, we see the real economy is now in recession, with a growth rate of MINUS 0.9%.
Most likely, the downward drift of output will continue. If so, you should expect an official recession before the end of 2017.
And most likely, that will sooner or later lead to a sudden sell-off in the stock market, when the myth of 'recovery' finally dies.
This will lead to more intervention - 'Drone Money' - from the feds...and to higher rates of consumer price inflation.
Inflation Threat
But wait... Inflation is already stalking the whole capital structure.
Bonds, for example, now depend on low rates of consumer price inflation...as far as the eye can see.
That's because bond prices fall when interest rates rise. And interest rates rise along with inflation.
At today's ultra-low yields, even a small uptick in interest rates will wallop bondholders.
That's why investors pay such close attention to the Fed's hints and teases. They know that today's elevated bond prices depend on the lowest rates in 5,000 years.
If the rate of annual CPI growth is 3.3%, as Stockman calculates, and you have put your money into US 10-year Treasuries yielding 1.5%, you are losing 1.8% a year in terms of purchasing power.
And if your money is in stocks paying a 2% dividend, you are losing 1.3% a year (more than that when you include taxes) in purchasing power.
Cockamamie Myth
In today's markets, with such low yields everywhere, almost everyone must be losing money!
Let consumer price inflation move up just a little, and you will see a mass flight from both stocks and bonds.
It may have already begun. Since the middle of July, US stocks have been bouncing up and down...with no clear trend, higher or lower.
But look at what has happened to the bond market. Ambrose Evans Pritchard, in the Telegraph:
Yields on 10-year Treasuries - the benchmark borrowing cost for international finance - have jumped 19 basis points to 1.7% since the middle of last week. [With bond yields rising, prices are falling.]
The amount of global government debt trading at rates below zero has suddenly fallen from $10 trillion to $8.3 trillion, with parallel effects for corporate bonds.
Investors, businesses, and households are now hostage to their debts. Their debts are hostage to interest rates. Interest rates are hostage to inflation. And the Fed is hostage to its cockamamie myth: that it can control and improve a market economy.
The Fed can mint new money to buy stocks and bonds...driving up asset prices. But the more money it creates, the closer the day approaches when consumer prices rise, too.
Then the whole shebang explodes.
Regards,


Bill
Bill Bonner is the President & Founder of Agora Inc, an international publisher of financial and special interest books and newsletters.
Disclaimer:
The views mentioned above are of the author only. Data and charts, if used, in the article have been sourced from available information and have not been authenticated by any statutory authority. The author and Equitymaster do not claim it to be accurate nor accept any responsibility for the same. The views constitute only the opinions and do not constitute any guidelines or recommendation on any course of action to be followed by the reader. Please read the detailed
Terms of Use
of the web site.
Recent Articles