Monetary Policy Has Failed... Here's What's Coming Next
Sep 29, 2016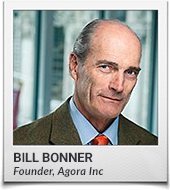 WATERFORD, Ireland - Stocks got a little tailwind push yesterday...with the wind coming from post-debate commentary.
It looked to many pundits that Hillary had prevailed. She belled the cat.
This was good news to the stock market. Hillary is 'business as usual'.
The Dow rose 133 points.
Grand Opening
We're in Ireland for the grand opening of our new international headquarters.
Like so many other things in life, this project didn't take us where we wanted to go, but it probably took us where we ought to be.
Operating from Ireland, we had hoped to get tax advantages.
Ireland has a low corporate tax rate - just 12.5%. But as it turned out, we are unable to shelter income here...because we have so little income to shelter.
Our new headquarters is mostly a cost center, not a profit center. We support our operations all over the world - with telephone and computer services, for example.
Still, Ireland is an agreeable place with friendly people. Almost everyone is ready to have a pint with you.
And you don't have to worry about air conditioning or watering the flowers.
Advertisement
[LIVE NOW]:
A Short Video On Vivek's Latest Views About "The Next Big Indian Crisis"
After sending you various emails about "The Next Big Indian Crisis" over the past few weeks...

Vivek Kaul decided that it is time for him to share with you, his latest views on the ugly turn this "crisis" has taken and the potential danger it put YOUR future in.

Join Vivek and us, as we discuss the severity of India's situation in an exclusive video made just for his readers...

Click HERE to watch...
Epic Fail
Meanwhile, we were shocked to see in the Financial Times - yes, the 'pink paper', no less! - a sensible article on current central bank policies.
Our heart raced. Our pulse sped up. A light sweat gathered on our forehead.
What is going on? we wondered.
The Financial Times is the mouthpiece of the international Deep State. It is solidly behind Hillary...NATO...the EU...QE...ZIRP...NIRP...the phony credit dollar...and just about every other cockamamie perversion of civilised life.
And yet...there it was...in Monday's edition. William White, head of the OECD's economic development review committee:
The monetary stimulus provided repeatedly over the past eight years has failed [...] Debt levels have risen [...] Consumers have had to save more, not less, to ensure adequate income in retirement.

At the same time, easy money threatens two sets of undesirable side effects. First, current policies foster financial instability...and many asset prices bid up to dangerously high levels. Second, current policies threaten future growth. Resources misallocated before the crisis have been locked in through zombie banks supporting zombie companies.

On the demand side, accumulating debt creates headwinds, leading to more monetary expansion and more debt [...] On the supply side, misallocations slow growth, which again leads to monetary easing, more misallocation and still less growth.
Regular Diary readers will recognise this analysis. It is more or less what we have been discussing in these pages for the last eight years (minus our pointing the finger of blame at the post-1971 dollar).
That this critique has moved from the back alleys of the Diary to the main street of the Financial Times is an important sign.
It is a sign of desperation.
The Establishment is in need of a new program. New magic. New hocus pocus that will keep this swindle working.
New Hustle
Not that the Establishment is ready to abandon its activist meddling or give up its racket.
It depends on the system now in place to move trillions of dollars of other people's money in its direction.
But monetary policy is clearly not doing the trick. And the insiders are now coming to terms with it. They need a new hustle.
What?
Fiscal stimulus!
They want the government to spend more money. Where will it get more money?
It will borrow it, of course.
This is what Larry Summers has been calling for. It is what Paul Krugman wants.
Our friend Richard Duncan at Macro Watch believes it is essential to avoid depression.
The Financial Times has been in favour of bigger government deficits (aka 'fiscal stimulus') since the crisis began.
But never before in the mainstream media have we seen it backed by a realistic understanding of how the Fed's policies have failed.
Regards,


Bill
Bill Bonner is the President & Founder of Agora Inc, an international publisher of financial and special interest books and newsletters.
Disclaimer:
The views mentioned above are of the author only. Data and charts, if used, in the article have been sourced from available information and have not been authenticated by any statutory authority. The author and Equitymaster do not claim it to be accurate nor accept any responsibility for the same. The views constitute only the opinions and do not constitute any guidelines or recommendation on any course of action to be followed by the reader. Please read the detailed
Terms of Use
of the web site.
Recent Articles