The Delusional Optimism of India's Real Estate Companies
Oct 16, 2017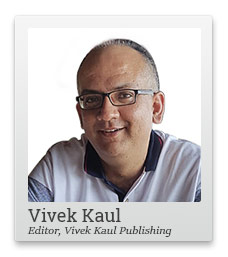 Daniel Kahneman, the Nobel Prize winning psychologist, in his brilliant book, Thinking, Fast and Slow, writes: "One of the benefits of an optimistic temperament is that it encourages persistence in the face of obstacles...[The] confidence [of the entrepreneurs] in their future success sustains a positive mood that helps them obtain resources from others, raise the morale of their employees, and enhance their prospects of prevailing. When action is needed, optimism, even of the mildly delusional variety, may be a good thing."
This optimism of an extreme delusional variety has been visible among India's real estate entrepreneurs. For the last five to six years, they have been saying that a recovery in the sector is just around the corner, and the fact that it hasn't happened yet is because the Reserve Bank of India (RBI) refuses to play ball by cutting interest rates, adequately.
Rajeev Talwar, the Chief Executive of DLF, recently told the Business Standard: "We are in a new economic cycle... When demand picks up, it will take everybody by surprise." Niranjan Hiranandani, chairman of Hiranandani group, told the same newspaper: "Any depression will not last long."
Isn't a period of five to six years a long enough time?
A report by Crisil Research points out that the absorption of new homes (i.e. sales) in in top 10 cities (Ahmedabad, Bengaluru, Chandigarh, Chennai, Hyderabad, Kochi, Kolkata, Mumbai Metropolitan Region (MMR), National Capital Region (NCR) and Pune) has fallen by 8 per cent per year on an average in the last six years.
What does this mean? It means that if real estate builders sold 100 new homes in India's top 10 cities in 2010, in 2016, they managed to sell only 63. In absolute terms, this is a fall of 37 per cent. And Mr Hiranandani is talking about any depression not lasting long. I guess six years is a long enough time.
In fact, things haven't looked good even in the last three months. As per real estate research firm, PropEquity, housing sales stood at 22,699 units during the period July to September 2017, in eight key cities. The sales had stood at 34,809 units during the period April to June 2017. This means a collapse of close to 35 per cent in a period of just three months.
The eight key cities are Gurgaon, Noida, Mumbai, Kolkata, Pune, Hyderabad, Bengaluru and Chennai.
What are the reasons for this collapse? As I have been saying over and over again, real estate prices in India, are beyond what most people can afford and unless this anomaly is corrected, sales will continue to remain sluggish.
Over and above this, real estate companies have really worked hard to break whatever little trust the prospective buyers had in them, by not delivering homes on time.
Further, investors are no longer the driving force in the market, given the sluggish returns in the sector. For a real estate investment to be a viable proposition, after taking in the costs and the risk involved, it should be generating a return of at least 10 per cent per year. And this hasn't happened for a while.
The overall economy continues to remain sluggish. Take a look at Figure 1, which plots the growth of the non-government part of the GDP, which forms around 90 per cent of the Indian economy.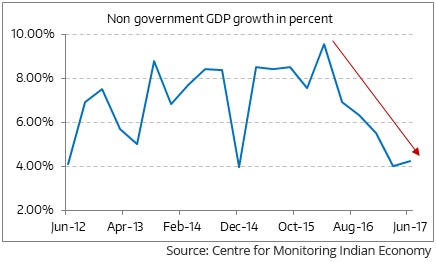 The growth of the non-government part of the economy has fallen from well over 9 per cent to a little over 4 per cent in a period of 18 months between January 2016 and June 2017. This also means that incomes are not going up at the same pace as they were in the past. And given this, it is but natural people are going slow on buying a new home, which is the biggest financial commitment that they make in their lives. During a time when the rental yield (annual rent divided by market price of a home) is around 2 per cent, this makes immense financial sense.
The fear of job losses in the IT industry has also had an impact. The state of the IT industry has a major impact on real estate sales in cities like Pune, Hyderabad and Bengaluru.
In this scenario, the real estate builders have been offering discounts in order to get prospective buyers interested. As Crisil Research points out: "Pressure on residential real estate prices across top 10 cities was clearly visible during H1 2017 [January to June 2017]. While several developers offered upfront per square feet discounts, a few large developers bundled financing schemes and reduced interest schemes to offer 'all inclusive house prices'. Home buyers, in many cases, were also offered indirect benefits such as reduced floor charges or premium location charges. Taking into account these aspects, the effective price correction was 5-10%."
But even this 5-10 per cent correction isn't enough to pull buyers in. This basically means that home prices continue to remain expensive. As I have often said in the past, home sales will revive as and when home prices become affordable, which is currently not the case. For home prices to become affordable builders need to cut prices from current levels. Given that a majority of them are in no mood to do so, it basically means that home sales will remain sluggish in the years to come.
Crisil Research expects that "in the next 12-18 months, prices are likely to remain stable at current levels on account of weak demand and moderation in new supply additions." This basically means that instead of a price correction, the real estate sector in India is seeing a time correction. If prices remain stable over the years, they lose value once adjusted for inflation and in the process, they might become affordable.
Keep watching this space.
Vivek Kaul is the Editor of the Diary. He is the author of the Easy Money trilogy. The books were bestsellers on Amazon. His latest book is India's Big Government - The Intrusive State and How It is Hurting Us.
Disclaimer:
The views mentioned above are of the author only. Data and charts, if used, in the article have been sourced from available information and have not been authenticated by any statutory authority. The author and Equitymaster do not claim it to be accurate nor accept any responsibility for the same. The views constitute only the opinions and do not constitute any guidelines or recommendation on any course of action to be followed by the reader. Please read the detailed
Terms of Use
of the web site.
Recent Articles