Get 'India's Big Government' at Just Rs 199 Now
Oct 18, 2017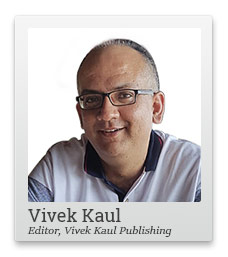 Dear Reader,
First and foremost, here is wishing you and your family a very Happy Diwali.
One of the questions that I keep getting asked about my new book India's Big Government-The Intrusive State and How It is Hurting Us: "Why did you have to write an 800-page book?" (Well, it isn't exactly 800 pages, but a few pages lesser than that, but then you get the drift, Dear Reader). The insinuation is that who has the time to read so much in this day and age. The insinuation at other times is why couldn't you have written a shorter book, or even something that kind of summarised the issues discussed in the book, in bullet points.
I don't blame the people who tell me such things. We live in an era of WhatsApp and Twitter, where issues are broken down into simple points and in the process, everyone can easily read and comprehend what is at stake. Or, at least they end up feeling that way.
But then there is a price to pay for the short attention spans that we tend to have these days. There is a difference between making things simple and making them simplistic.
What WhatsApp and Twitter do is essentially make things simplistic. In the process, the nuance gets lost. If you live by WhatsApp, you die by it as well.
And when one is writing about what one thinks the future of India is going to be, one can't make things simplistic. That would not be doing one's job properly. That would be misleading people who read the book. That would be doing what the mainstream media does all the time. I spent a lot of time, writing, what I think is probably the most important book I will ever write. (I am 40, and if I live long enough, I am sure I will write a few books more). Yes, it's a long book. But then India is a big country and has its share of fairly complicated problems and these complicated problems do not always have straightforward solutions. To explain all of this, in detail, and in a lucid way, takes a lot of pages.
Given this, if you want to figure out how the future of India is going to pan out, if we keep doing things the way we are currently doing, you need to read India's Big Government.
I spent a lot of time writing the book, you need to spend some time reading it, and protecting your own future.
The good news is that there is a 50 per cent discount on the paperback version of the book. It is now going at an unbeatable price of Rs 499. And if you are the kind who prefers reading electronically, the kindle version of the book is going for Rs 199, at a discount of 73 per cent.
This is a limited period Diwali offer, for unlimited gyan on India. So, please make good of this offer and go ahead and buy the book and gift it as well.
In the end, here is wishing continued prosperity and awareness for the future.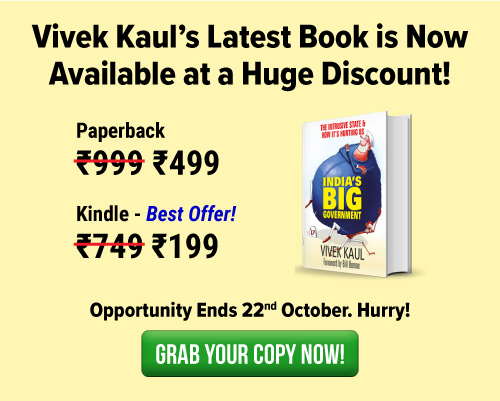 Vivek Kaul is the Editor of the Diary. He is the author of the Easy Money trilogy. The books were bestsellers on Amazon. His latest book is India's Big Government - The Intrusive State and How It is Hurting Us.
Disclaimer:
The views mentioned above are of the author only. Data and charts, if used, in the article have been sourced from available information and have not been authenticated by any statutory authority. The author and Equitymaster do not claim it to be accurate nor accept any responsibility for the same. The views constitute only the opinions and do not constitute any guidelines or recommendation on any course of action to be followed by the reader. Please read the detailed
Terms of Use
of the web site.
Recent Articles