Is Italy the Next Greece?
Oct 8, 2018
If you have visited Europe this winter, you may have noticed that you are getting crushed on the exchange rate.
Since last year, the AUD to euro exchange rate has dropped by almost 7%.
Yet the euro could be in for a bumpy ride in the near future.
You see, Italy is knocking heads against the European Union (EU).
Why?
It all has to do with the Italian budget.
Let me give you a quick recap.
Italy held general elections last March, and the result was a stale mate.
In June, the two Euro-sceptic parties formed a coalition to form a new government. These were Luigi di Maio from Five Star Movement and Matteo Salvini from Lega.
Last Friday, Italy's stock market dropped. Italian banks were also down.
The reason was that the new government agreed to set their first budget deficit a bit higher than last year's 2.3%, at 2.4% of GDP.
--- Advertisement ---


IMPORTANT: Do Not Buy This from Amazon...

Equitymaster's Secrets is our most popular book ever - with over 20,000 copies in circulation.

It is a book we believe every serious investor should have a copy of.

And even though this book is available on Amazon for Rs 1,450...as an Equitymaster reader, we don't want you to have to pay for the book.

Instead, we'll send you the latest edition - virtually free - wherever you want (within India).

Just cover postage and handling charges - a minimal Rs 199, and your hardbound, limited-edition book will be in the mail the very next day! Click here to claim this book.
------------------------------
As Reuters explained:
'The budget crisis can be traced back to March's general election. Both Five Star and the League ran on platforms based on anti-austerity policies, high levels of spending on infrastructure and social welfare, and tax cuts for lower-income Italians.

'Both parties railed against Italy's established political parties and their perceived failure to deliver on promises over the years. Now, after success in the election. both Five Star and the League, must deliver on their manifesto pledges if they want to avoid claims massive hypocrisy.

'Big infrastructure and welfare spending obviously requires lots of money. That, in turn, means government borrowing. Italy already has a national debt bigger than its GDP, at around 130% of GDP, and major spending would likely push that even higher.'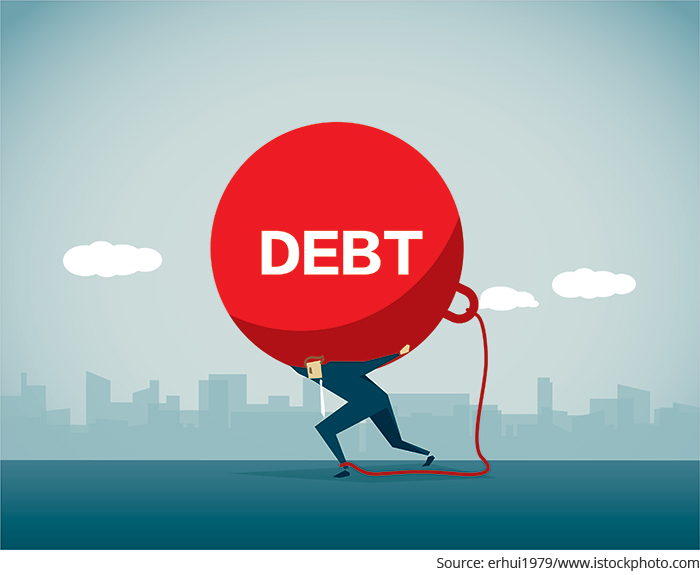 What's the problem with Italy's economy?
Well, Italy owes a lot of money. At around 130%, Italy's government debt to GDP is one of the highest in the world.
And, as we have written before, they owe a lot of money to Europe, in the form of Target 2. As you can see below, the deficit has been getting wider in recent years.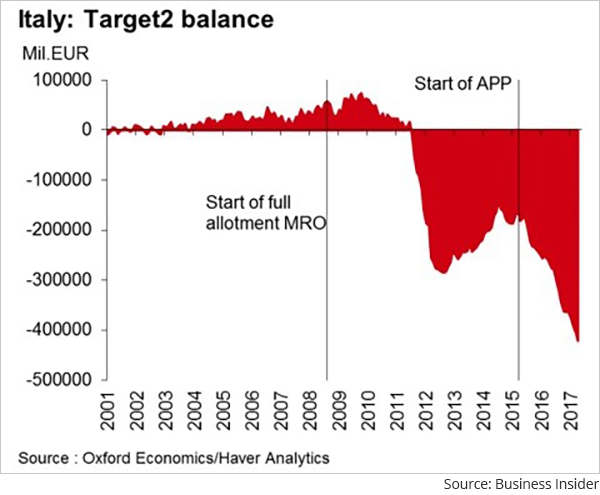 This year's budget deficit at 2.4% is in line with the 3% EU limit and a bit smaller than in previous years, as you can see below. Yet it is setting Italy on a collision course against the EU.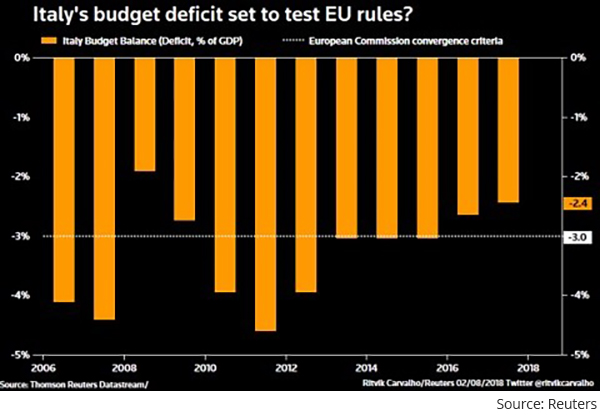 As The Guardian reported:
'While a headline deficit of 2.4% would be within the 3% European Union limit, its emphasis on reducing the effects of austerity means its structural - or underlying - deficit would rise along with the headline figure, which runs contrary to EU rules.

'[Jean Claude] Juncker [President of the European Commission] said at the weekend that he was concerned about plans to push up Italy's public debt pile, proportionally the second highest in the EU after Greece's.

'He said: "Italy is distancing itself from the budgetary targets we have jointly agreed at EU level. I would not wish that, after having really been able to cope with the Greek crisis, we'll end up in the same crisis in Italy."

'Salvini said in response: "No one in Italy is taken in by Juncker's threats." He added that the government's priority was to respond to the basic needs of its citizens and that the criticism of its budget "will not stop us".'
Rhetoric is heating up now as Salvini said he may sue Juncker as he thinks his comments linking Italy to Greece are increasing Italy's borrowing costs.  As The Guardian continued:
'Salvini added: "The words and threats of Juncker and other European bureaucrats continue to make the spread rise, with the aim of attacking the government and the Italian economy. We are ready to ask damages from those who wish Italy ill."

'Juncker said the European commission would need to be firm with Italy's budget bill "or else the euro ends".'
Is Italy becoming the next Greece?
Italy's high debt and increasing borrowing costs could very well mean that Italy asks for a rescue from the European Troika (the International Monetary Fund, the EU and the European Central Bank), same as Greece did.
A rescue for Italy, much like it did for Greece, would come with strings attached. It would come with harsh economic policies, the same ones Italians were looking to get away from when they voted for the two Euro sceptic parties.
The thing is, Italy hasn't recovered from the 2008 crisis.
Italy has been racking up massive debt but it hasn't given the country much of a result. Italy's unemployment rate is at almost 10% and youth unemployment rate is at a whopping 31%. Savings rate has been low and annual growth rate is close to 1%.
More austere economic policies could bring Italians closer to wanting to leave the EU, at a time when Brexit is happening.
Yet Italy is one of the EU's founding members and one of its largest economies.
Them leaving the EU could spell the end of it.
Best,
Selva Freigedo,
Editor, Markets & Money
Please note: This article was first published in Markets & Money on 03 October 2018.
Selva Freigedo is an analyst with a background in financial economics. Born and raised in Argentina, she has also lived in Brazil, the US and Spain. She has seen economic troubles firsthand, from economic booms to collapses and the ravaging effects of hyperinflation, high unemployment, deposit freezes and debt default. She is lead Editor at the daily e-letter Markets & Money.
Disclaimer:
The views mentioned above are of the author only. Data and charts, if used, in the article have been sourced from available information and have not been authenticated by any statutory authority. The author and Equitymaster do not claim it to be accurate nor accept any responsibility for the same. The views constitute only the opinions and do not constitute any guidelines or recommendation on any course of action to be followed by the reader. Please read the detailed
Terms of Use
of the web site.
Recent Articles