Of Falling Real Estate Prices, Dr Arvind Panagariya and the Art of Continuing to Suck Up
Nov 13, 2017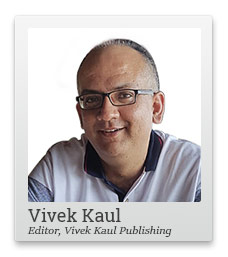 Dr Arvind Panagariya, the former vice-chairman of the Niti Aayog, today in a column titled Demonetisation: Evaluating the Critics, in the Business Standard, writes: "The second avenue through which demonetisation has directly expunged unaccounted wealth is real estate...Unsurprisingly, an attack on unaccounted cash struck at the heart of this black wealth by cutting real estate prices by a quarter."
There are multiple questions that this statement raises:
1) What is the source for this data? This isn't exactly a conversation between two property dealers, or two prospective real estate buyers, who can quote any offhand numbers, while having a conversation. This is a statement being made by someone who was at the top of an economic institution run by the Indian government. This is a statement by an economist working in a top university in the United States.
Also, if real estate prices have fallen by 25 per cent after demonetisation, why isn't this visible in official data sources. Take the case of Reserve Bank of India's All India House Price Index, which has been plotted as Figure 1.
Figure 1: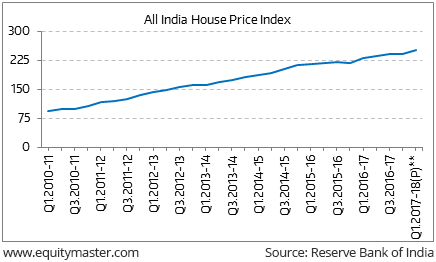 Figure 1 clearly shows that housing prices across the country have been on their way up. There has "clearly" been no dip, as Dr Panagariya claims. How do things look if we plot one-year return instead of index values? Let's take a look at Figure 2, which does that.
Figure 2: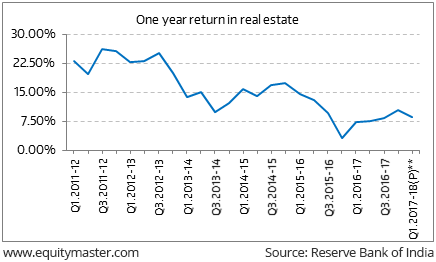 Figure 2 tells us clearly that the one-year return in real estate has been falling over the last six and a half years. This trend started much before demonetisation took place. Also, how have the returns been post demonetisation? Between the end of December 2016 and June 2017 (the latest data available), real estate prices as per the All India House Price Index have gone up by 4.3 per cent. The returns between September 2016 and June 2017, have been 6.9 per cent.
Other than RBI's All India House Price Index, there is NHB's Residex. As of now this index has data only up to March 2017. And the one year median return between March 2016 and March 2017, as per this index, across 49 cities, was 2.8 per cent. This is very low. But where is the 25 per cent fall that Dr Panagariya has written about?
2) For a moment let's assume that Dr Panagariya is right and real estate prices have fallen by 25 per cent. If real estate price all across the country have fallen by 25 per cent on an average, then there will be cities/town/localities where the price has fallen by more than 25 per cent. Which are these places? Can Dr Panagariya provide us with a list? This would make for a super investment right now.
Let's say there is this town where real estate prices have fallen by 50 per cent post demonetisation. It is worth remembering that a 50 per cent loss wipes off a 100 per gain. (If the price of an asset moves from Rs 50 to Rs 100 that makes for a 100 per cent gain. When it falls back to Rs 50 that is a 50 per cent loss). If there exists such a town, it would make for a great real estate investment right now. Can Dr Panagariya provide us with names of a few such places?
3) Also, if prices have fallen by 25 per cent, why are real estate transactions not happening? Why has the total number of unsold homes of real estate companies, only continued to grow? It is worth remembering here that a 25 per cent fall within a time period of a year, is a huge fall. Falls like these in case of real estate, only happen once in a few decades. And if something like this has happened, as Dr Panagariya claims, then why aren't people buying? Interest rates on home loans have also fallen post demonetisation.
Take a look at Figure 3. It plots the growth in home loans outstanding with banks.
Figure 3: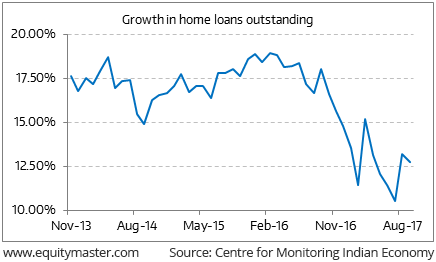 Figure 3 clearly shows that the growth in home loans outstanding has fallen post demonetisation. What this means is that people are not buying as many homes as they were in the past. If prices have fallen by 25 per cent post demonetisation, people would have bought homes and the curve in Figure 3 would slope upwards i.e. people would take on more and more home loans to buy homes.
4) Further, if real estate prices have fallen by 25 per cent, as claimed by Dr Panagariya, it is time that the state governments cut the ready reckoner rates on which stamp duty needs to be paid, by a similar proportion. This should be fairly easy given that BJP governments govern most of the big states across India and a direction from the PMO should be suffice to get them to do the needful. But nothing of that sort has happened. Why hasn't this been done till date, is a question that only Dr Panagariya can answer.
5) To conclude, it is safe to say that Dr Panagariya has just made up this data, in order to justify demonetisation. It's a sad day today, when an Indian economist, working in one of the best American universities has had to fudge data in order to please his former political bosses.
The irony is that Dr Panagariya is no longer a part of the government. And he doesn't really need to say things which do not hold up against data, unless, he is looking for another stint with the Modi government. That changes things.
Vivek Kaul is the Editor of the Diary. He is the author of the Easy Money trilogy. The books were bestsellers on Amazon. His latest book is India's Big Government - The Intrusive State and How It is Hurting Us.
Disclaimer:
The views mentioned above are of the author only. Data and charts, if used, in the article have been sourced from available information and have not been authenticated by any statutory authority. The author and Equitymaster do not claim it to be accurate nor accept any responsibility for the same. The views constitute only the opinions and do not constitute any guidelines or recommendation on any course of action to be followed by the reader. Please read the detailed
Terms of Use
of the web site.
Recent Articles