Too Early for "Inflation" Bets?
Nov 17, 2016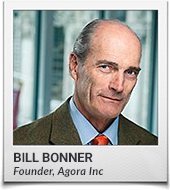 After 35 years of waiting... so many false signals... so often deceived... so often disappointed... bond bears gathered on rooftops as though awaiting the Second Coming.
Many times, investors have said to themselves, "This is it! This is the end of the Great Bull Market in Bonds!"
And then, at the appointed hour, expecting the rapture... they took the leap of faith... only to come crashing down on the rocks below.
The Trump Trade
In 2008, in 2012, in 2014... Each time, the market made fools of them.
Now, weary... wary... and nearly broke... they make their bets as though they were setting an explosive charge at a federal building.
"Bond rout accelerates as Trump stimulus vow spurs inflation bets," reports the Financial Times.
More than $1 trillion has been clipped from global bond values in the last week.
Meanwhile, the Dow continues to move up... closing in on 19,000... and a new all-time high.
This is the "Trump trade" - the bet that the incoming administration will be good for stock prices and bad for bonds.
It will be good for stocks, they believe, because "The Donald" proposes to lower corporate taxes, remove regulation that stifles certain sectors, and reward other sectors - infrastructure and the military - with more money.
It will be bad for bonds because all this new spending will have to come from somewhere.
Where?
The federal government's budget deficit is already running at 3% (of GDP). You can see where that leads. The economy is growing at only a 1% rate. That means it is adding three times as much debt as output.
Hmmm...
The Trump plan calls for increased spending... while cutting taxes. Let's see... Lower taxes plus even higher spending... hmmm. We're getting a deja-vu feeling all over again.
As colleague Chris Lowe points out to readers of our global "big trends" advisory, Inner Circle, estimates for the U.S. government spending under a Trump presidency call for an increase in the national debt over the next decade of $5.3 trillion.
Advertisement
Modi Wins Fight Against Black Money.
But Will He Win This NEXT BIG ONE?
The fight against black money has been dealt a solid blow.

And Congrats to Modi and his Government for that.

But even as we grapple with the short-term implications of this 'strike', there's something extremely worrying that needs to be addressed.

You see, India is facing a crisis, potentially of massive proportions. It involves a long-term trend that started years ago...and it is developing as solidly as ever:

33,000 per day...

1,000,000 per month...

12,000,000 per year...

Yes, that's the pace at which this trend is growing...

To know more about exactly what this trend is all about and how you can prepare yourself for it, please click here...
Blithering Nonsense?
Those are the dots that we're looking at. And what we see are higher rates of inflation.
We're not so sure about high stock prices, though. We suspect that the stock market is going to take a tumble in the not-too-distant future.
As to bonds, however, the "Trump Trade" looks to us like a sure winner.
But wait. It can't be that easy. Even the newspapers, major investment advisers, and cockamamie, Nobel prize-winning economists see the same thing. They're all recommending the "Trump Trade."
And when everyone sees the same thing, we must all be going blind.
One of the objections to the "more inflation" hypothesis comes from our friend and colleague David Stockman, who served as President Reagan's chief budget adviser.
He believes the "reflation trade" (that is, betting that more phony "stimulus" will continue to boost the market) is for chumps.
Why?
Because the fiscal stimulus program won't happen. It will run headlong into the black hole of U.S. government finances... and disappear.
He has a point. Just because "The Donald" calls for more spending, it doesn't mean Congress will go along. Here's David:
Folks, the whole Trump reflation trade is based on blithering nonsense. Uncle Sam will be stimulating exactly nothing in the years ahead because he is dead broke.

Moreover, even before President Obama ambles out of the White House, suitcase in hand, the Trump-Ryan-regulars-Tea Party gang will soon be lined up in circular fashion firing vehemently.

But it won't be at the ballyhooed stimulus; it will be at each other as the looming expiration (March 15) of the nation's $20 trillion public debt ceiling crashes upon the smoldering ruins of the Beltway Establishment.

Even without an assumed recession, the updated Congressional Budget Office deficit projections will soar past $1 trillion annually by the later years of Trump's (only) term.
Yes, the feds are broke. And yes, Republicans did block previous efforts at fiscal stimulus. But we wouldn't give up on the "reflation trade" completely.
This may or may not turn out to be the best time to refinance your mortgage and jump off...
But it is time to look for the ladder... More tomorrow.
Regards,


Bill
Bill Bonner is the President & Founder of Agora Inc, an international publisher of financial and special interest books and newsletters.
Disclaimer:
The views mentioned above are of the author only. Data and charts, if used, in the article have been sourced from available information and have not been authenticated by any statutory authority. The author and Equitymaster do not claim it to be accurate nor accept any responsibility for the same. The views constitute only the opinions and do not constitute any guidelines or recommendation on any course of action to be followed by the reader. Please read the detailed
Terms of Use
of the web site.
Recent Articles