How Do You Destroy a Business? Steven Mnuchin Knows...
Dec 9, 2016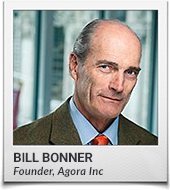 BALTIMORE - We are looking ahead. And coming together is not only a clearer picture of how Trump's reflation might turn out...but also a better understanding of what has gone wrong with the whole economy.
Over the next three days, we'll look at a few of Trump's money men. Then, we'll conclude the series with a guess about what will happen when these fellows get to Washington.
Running Out of Time and Money
When we were growing up, we shopped for nearly everything at Sears stores. If it wasn't in the stores, we ordered it from Sears' big catalog. The latter was a marvel, where we saw all the things America's Main Street had on offer at the time. That's where we did our Christmas shopping.
But looking at a chart of Sears' stock over the last eight years is like looking at a photo from Aleppo. From nearly $200 a share, it now trades for just over 10 bucks.
What happened?
How could such a great company - owner of Kmart as well as its own Sears' stores - anchoring malls all over the country with title to some of the choicest commercial space in the nation and owner of the brands we grew up with - including Kenmore appliances and Craftsman tools... How could such a company suddenly put itself into what looks like a death spiral?
Business Insider reports:
According to a recent report by The Wall Street Journal, toy maker Jakks Pacific Inc. recently suspended sales of its products to Kmart, which is owned by Sears Holdings, due to worries about the company's financial health...

Fitch Ratings in October identified Sears as one of seven major retailers at risk of going bankrupt in the next 12 to 24 months and eventually liquidating.

In September, Moody's analysts downgraded Sears' liquidity rating, saying Sears and Kmart don't have enough money - or access to money - to stay in business.

The Moody's analysts said Sears is bleeding cash and will have to continue to rely on outside funding or the sale of assets, such as real estate, to sustain operations. Kmart in particular is at risk of shutting down, the analysts said.
The company is running out of time and money. It had $1.8 billion in the till a year ago. Now it has only $238 million. And $3 billion in debt.
How does a company do that? How does it destroy itself...wiping out 130 years of accumulated wealth and knowledge?
The answer is to be found in fake money and the financial insiders who use it to strip out value from Main Street and move it to Wall Street.
Advertisement
The Fight Against BLACK MONEY
Here's What It Means For YOU And YOUR Money...
Modi's move to scrap the Rs 500 and Rs 1,000 note could impact YOU more significantly than you think.

We are talking impact on...

YOUR Investments. YOUR Property. Effectively, YOUR Wealth

It's absolutely critical for you to understand completely, and accurately, how this impacts you.

And that's why, we are releasing this special report, which you can claim for FREE. No strings attached.

Go ahead, grab your copy now...And be among the first to know what Modi's fight against black money really means for you...



Download This Special Report Now. It's Free.


As soon as you sign up, You will start recieving Vivek Kaul's Diary,
a Free-for-life newsletter from Equitymaster


NO-SPAM PLEDGE - We will NEVER rent, sell, or give away your e-mail address to anyone for any reason. You can unsubscribe from Vivek Kaul's Diary with a few clicks. Please read our Privacy Policy & Terms Of Use.
Debt and Duplicity
First, as described here many times, fake money weakened the middle class, which shopped at Sears. The rich went to more upmarket retailers such as Neiman Marcus and Nordstrom. The poor went down to dollar stores and Walmart. Sears was left in the middle.
But the more interesting story concerns a Mr Steven Mnuchin...
Mr Mnuchin was on the board of Sears for the past eleven years, throughout its devastating decline. He is resigning now, letting the ship go down without him. Besides, he has already stolen the silver.
How do you destroy a business?
It's not that hard. Rather than invest in new people and new methods, you take the money for yourself.
It is even more attractive if you can borrow a lot of fake money at ultra-low rates against the company's credit...pay it out to yourself and other financiers...and then jump ship, leaving the company, its employees, and its creditors to drown in your debt.
That is what Mnuchin did. Here's David Stockman:
...during the last 11 years [Sears] spent $7 billion on stock buybacks or nearly double the amounts it reinvested in maintaining and renewing its store base, which at one time numbered more than 4,000 Sears, Kmart, and other specialty store units.
In terms of sales, Sears spent less than a third as much as rival Walmart on capital improvements. Instead, insiders pumped the money into their own pockets, mainly with buybacks.
Classmates and Cronies
Then, either seeing the handwriting on the wall...or putting it there themselves...they pulled a fast one, evidently with Mr Mnuchin's cooperation.
Two hedge funds swooped in with a plan: They would use cheap financing to transform valuable Main Street real estate into a Wall Street asset. They set up a real estate investment trust (REIT), took the property out of the company, and put it in the REIT.
[Note: A REIT is similar to a mutual fund, except that it is composed of property instead of stock.]
Sears can go broke; they will still have the company's most valuable assets. And now they can sell the REIT to investors.
And by the way, one of the two funds involved is run by a former college classmate and Goldman Sachs crony of Mnuchin's, Eddie Lampert.
Stockman continues:
...the whole deal was a backdoor financing to get assets out of SHLD [Sears] prior to its impending bankruptcy. The hedge fund insiders will now have a secured senior claim through the newly created REIT, which they substantially own, rather than worthless SHLD common stock.
At least Steve Mnuchin can do Sears no more harm. Donald Trump picked him as his Treasury secretary.
Regards,


Bill
Bill Bonner is the President & Founder of Agora Inc, an international publisher of financial and special interest books and newsletters.
Disclaimer:
The views mentioned above are of the author only. Data and charts, if used, in the article have been sourced from available information and have not been authenticated by any statutory authority. The author and Equitymaster do not claim it to be accurate nor accept any responsibility for the same. The views constitute only the opinions and do not constitute any guidelines or recommendation on any course of action to be followed by the reader. Please read the detailed
Terms of Use
of the web site.
Recent Articles