What Have We Gotten Ourselves Into...?
2 AUGUST 2016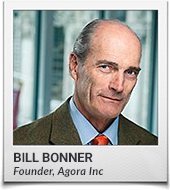 OUZILLY, France - Rarely have we seen unanimity among our readers.
On Friday, we wrote that Muslims - and even radical Islam - probably did not pose a serious threat, neither to the governments of the West nor to Western Civilisation.
But reader opinion was almost unanimous: Muslims are up to no good.
But let us turn to the here...the now.
Let us open our eyes and ears...
Les Vacances
This month, life slows down here in France.
Call a plumber? See a doctor? Set up a meeting with a business colleague? Good luck with that!
No matter what you want to do, you are likely to make little headway.
This is August. Shops close. Businesses take the phone off the hook. It is time for les vacances.
It is summertime. The sun is shining. The air is warm, but not hot. The flowers are in bloom. The birds sing.
Our mission at the Diary is to connect the dots. And the dots that most need to be connected here now are breakfast, lunch, and dinner.
They follow the arc of the sun. In the morning, the table is set where the sun rising over the old stable falls on the cafe au lait and marmalade.
At midday, the table is moved under the shade of the linden tree, and in the evening, we move to the porch on the west side of the house to catch sunset.
More Fake Money
'Yes, it is great for the Parisians, who come here on vacation,' said our neighbour at breakfast this morning.
'For us farmers, it is horrible. We had a lot of rain in the spring. But not enough sun. It was too wet. The plants rotted. Now, it's too dry. My harvest was only half what it was last year. And I'm lucky. Some farmers to the north only got 10% as much grain as last year.
'And there's no point in complaining to the government. We used to get a little help when we had bad harvests. Not anymore. The government doesn't have any money.'
Our neighbour may not be fully up to speed on negative-rate financing, courtesy of the world's central banks. Or maybe there are just too few farmers to attract the feds' attention.
But when banks fail and Wall Street prices are cut in half, we are sure there will be money made available.
Fake money, of course.
But we'll come back to that too...
Desperate Panic
We arrived in the French countryside on Friday. The old house - parts of which date back to the 17th century - had been closed up all year.
It is the house we bought when we first came to France, in 1994. At the time, it was barely liveable - a grand, ruined house with a leaky roof...little plumbing or electricity...and no heating.
Advertisement
EXPOSED: The Crony
Socialism of Narendra Modi...

While crony capitalism has taken a beating under Narendra Modi, crony socialism is alive and kicking.

Yes, the public sector is back and so are the HUGE losses!

And in case you thought that this is a problem which we've always had...well, you are in for a surprise. The public sector is burning money at probably the fastest pace ever.

And Vivek Kaul reveals it all in his latest Special Report - "The Crony Socialism of Narendra Modi".

A must read for everyone who is interested in the present state of the country and where it is headed...Plus, it's Absolutely Free!

So, don't delay...Click here to download this Special Report right away!
We remember the feeling of desperate panic that came over us.
We had been in the house for about two weeks - long enough to take the measure of the project. We had come down with severe bronchitis - caused by the mould and fungus that had been growing undisturbed in walls and woodwork for hundreds of years.
In bed with a fever, we questioned aloud: 'What have we gotten ourselves into...?'
But we were still young and vigorous. We soon recovered from our illness, marshalled our forces, planned our strategy...and were ready to put the house in order, with the help of our six children, and an alcoholic gardener with a mental problem.
Twenty-two years later, the world has turned... Now, your editor's joints creak and his vents wheeze...but the house is in fairly good shape!
Now, like many of the houses in the area, whose owners live and work in Paris, it is closed in the autumn, and reopened again in the spring.
Another Summer Campaign
On Friday, the shutters were thrown open. Cobwebs swept away. Water turned back on.
Then we took inventory. A broken pipe had damaged a ceiling and a wall. The wallpaper curled down; a piece lay on the floor. The shutters on the library need to be repainted. The front door frame has come loose from the wall.
Out in the garage, the Citroën 2CV - a little car that is so typically French - wouldn't start.
Yesterday, we spent the whole day moving furniture, suitcases, books, and boxes. There were even some cookbooks, still soaking wet from the flood in the hall. They had been left piled up. When we arrived, they sat in the living room, reproaching us like an unmade bed.
And now...day by day...the family gathers. From California. From Virginia. From Florida. Six children. One son-in-law. One fiancee. Two girlfriends. Three grandchildren.
Friends are coming too - from Germany...from Australia.
But we're ready for them. We got out the paint brushes. We found our tools. We'll put them to work...
Yes, it's time for another summer campaign!
First, we'll attack the hall ceiling.
Then, we'll charge the library shutters; a simple coat of white paint should do it.
Finally, we'll mount a raid on the wallpaper...scraping the wall underneath, sealing it with some type of stabiliser, and then regluing on the wallpaper.
It won't be perfect. But that is thing about an old house: Like an old person, it can't hide its age; it can only try to preserve its dignity, as best it can.
Muslim Threat?
Meanwhile, there is a world of dots in front of us. They need to be connected, one with another. Even during vacation season.
As for the threat of Muslim terrorism, dear readers must be looking at different dots.
In their letters, they note that even though Muslims have no serious armies, they are nevertheless invading Europe. They are few in number at first, but they have more children.
When there are enough of them, the hypothesis goes, they will impose their own government, their own religion, and their own culture.
Maybe so...
But then, we have no experience with it.
We've known a few Muslims; as far as we know, they harboured no malevolent intentions.
Regards,


Bill
Disclaimer:
The views mentioned above are of the author only. Data and charts, if used, in the article have been sourced from available information and has not been authenticated by any statutory authority. The author and Equitymaster, do not claim it to be accurate nor accept any responsibility for the same. Please read the detailed Terms of Use of the web site.
© Equitymaster Agora Research Private Limited