There was a loud crack. The crowd gasped...
11 SEPTEMBER 2018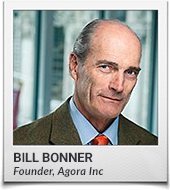 CHERBOURG, FRANCE - Yesterday, on our way to the Cherbourg ferry, we stopped in at a local farm fair in Normandy.
On display were the best cows in the region, along with a demonstration of old farming equipment.
A batteuse is a threshing machine. Invented by a Scotsman in the 18th century, and improved and widely employed in the 19th, it was one of the many mechanical advances that reduced the need for farm labor.
The local farmers show off the 19th century batteuse, a threshing machine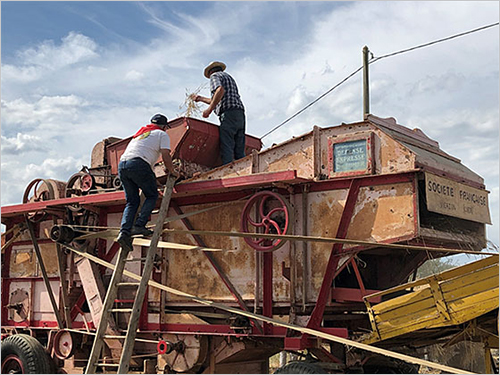 These innovations were so successful that the whole world of work was turned upside down. At the beginning of the 19th century, almost everyone was a farmer. By the end of the 20th century, almost no one was.
In the space of 200 years, almost the entire labor force was retrained and redirected.
Swing Riots
Harvesting was heavy, hard, communal work up until a few years ago. It took many hands to separate the wheat from the chaff.
You had to beat the dried plant with flails; that is, you had to give it a good thrashing to shake loose the wheat from the straw. Then, along came the mechanical thresher (the batteuse here in France) to make the process easier.
But it didn't look very easy yesterday. A group of local hobbyists keeps the old machines in service. The machines still work, but the old farmers who know how to use them are failing.
Labor is our subject today. When mechanical threshers first appeared in southeast England, they threatened farmers' jobs.
The locals decided not to wait to find out how the Industrial Revolution played out. Instead, on August 28, 1830, they attacked a threshing machine.
Over the next few weeks, they destroyed about 100 of them in what was called the Swing Riots.
Like everything else, labor is subject to innovations, trends, and price swings. No one knows what an hour of someone's time is worth.
Instead, it is discovered in the markets. Prices go up, generally, when labor is scarce (such as during wartime... or after a plague). They go down when there are a lot of people competing for a few jobs.
Generally, too, people are happy with market-discovered wages when they are on the rise; when wages go down, they go on the rampage.
Friday's figures from the Bureau of Labor Statistics delighted most observers. CNBC reports:
August's surprise jump in wages could be a sign of more wage growth ahead - good news for workers and a green light for the Fed when it comes to interest rate hikes.

The workforce expanded by 201,000 in August, 10,000 more than expected, but the big surprise was in the 0.4 percent increase in average hourly wages, double what was expected on a monthly basis. Helped by revisions in June and July data, wages grew at a 2.9 percent annual pace last month. [...]

The unemployment rate remained at 3.9 percent, while economists had expected it to decline by a tenth of a point. While more jobs were added in August than expected, there was a 50,000 downward revision in June and July jobs, bringing the three month average down to 185,000. The participation rate was also disappointing, dropping 0.2 to 62.7 percent, the lowest level in 15 months, possibly due to retiring workers.
"Beyond Full Employment"
Reading only the headlines, you might think that the economy is chugging along nicely. "Wage Growth Hits 9-Year High," was the headline in Investor's Business Daily.
But it takes just a few seconds to see that the whole picture is false. While wages grew at a 2.9% pace last month, so did prices. Net, the wage earner is no better off. This has been the story for the last 40 years.
And those hoping for real wage growth now are likely to be disappointed. Since the beginning of this century, some 16 million workers have disappeared from the labor force.
They are lying low because they have not been able to find decent jobs. Today, we're supposed to be "beyond full employment," implying a "labor shortage."
But if real jobs paying good wages appeared, the gap would be quickly filled by people coming back into the labor pool.
And if unemployed Americans don't want to work, there are still 500 million people in India and China - and an infinite number of robots and computers - willing to work for less than $5 a day.
A Bloomberg article last week, for example, tells us that computer algorithms are replacing sales reps:
Software companies have been reducing their reliance on field salespeople for a few years as they sell more cloud-based software. Now, big distribution companies like US Foods Holding Corp. and W.W. Grainger Inc. are trimming their field sales and showroom staffs. In some cases, field reps will see bigger paychecks as they're freed up to go after more lucrative clients. Many others, though, will see their compensation inevitably fall, e-commerce consultants say.
What is really happening is the fake-money system is faking out the labor market, too. Labor-saving devices should improve capital and labor productivity (output/cost).
Prices should fall, so that even with stagnant wages, workers should be better off.
Instead, the feds inflated the money supply with fake money and raised prices, especially for financial assets like stocks and bonds. This made asset holders (the rich) much better off.
Yet it left workers with nothing to show for the improved output. Millions of jobs were lost when the machines started to sweat in the fields.
But real wages still rose... until about 1980. Since then, they have gone more or less nowhere.
What happened? Stay tuned!
Huffed and Puffed
In the meantime, back in Normandy, we watched as a giant, ancient tractor huffed and puffed, turning over so slowly we expected it to stop at any minute.
Bill examines the old French tractors
Then, one of the old-timers hooked it up to a long belt, which was attached to the thresher. The machine was about the size of a mobile home, outfitted with belts, pulleys, wheels, chains, cranks, pistons, and all manner of mechanical wonders.
It took a crew of a dozen men to operate it. But first, the tractor had to get the wheels turning.
The crowd looked on as the old man put the tractor into gear... adjusted some knobs... and pulled a lever. Then, the big, black machine belched smoke and moved back a few inches.
With more tension on the belt, the wheels began to turn... slowly... then faster... And then, the whole machine was chugging, spinning, up and down, back and forth, round and round.
The crowd all breathed at once... It was as if a miracle had happened.
"Look at that..." they said to one another, just as their ancestors must have marveled when the first machine appeared in Normandy a century or more ago.
"I remember using a machine like that," said an old man with cheeks criss-crossed with fissures and the bright-red color of a man who spent his life outdoors.
"It was very hard work. And you had to keep all those belts adjusted. Something was always breaking, so you needed someone on the job who knew what he was doing. But it was a great time... the harvest, you know... and we all worked together to get it done. Sunup to sundown.
"Not like today. Some lonely fellow sits in an air-conditioned cab and does more in one day than our whole village could have done in a month. And then, he goes home and watches TV. It's much more efficient today, of course, but not nearly as much fun."
Loud Crack
The crowd watched as a thin man at the bottom of a conveyor loaded on sheaves of wheat. The conveyor took the wheat up to the top of the thresher, where another man with blue overalls fed it into the machine's maw.
The wheels turned. The pulleys and belts went round and round. The screens jiggled and shook. Clouds of dust flew up. Out one end came the grains of wheat, flowing into a big, burlap bag. When the bag was full, one of the men hoisted it onto his shoulders and staggered over to a waiting wagon.
"We used to fill up bags so they weighed more than 200 pounds," said our informant. "Can you imagine? Today, nobody can carry that much, so we only fill them to about 60 pounds."
On the other end, a giant mechanical arm forced the straw down into a baling chute. Two men, who looked like twins, fed wire through the compressed straw and tied up the bales by hand.
Then, the straw bales were pushed out to where a young man (none of the old men were up to the challenge) picked them up and carried them over to another wagon.
Everything was going well. The crowd was celebrating this huge increase in labor efficiency wrought by mechanical engineering when suddenly, there was a loud crack.
The main belt that connected the threshing machine to its power source snapped and flew into the air. It was as if an acrobat had missed his swing or the lion tamer had been chased from the ring.
"Ohhhh..." went the crowd, deflated. It took a few seconds for the momentum of the many moving parts to dissipate; then, the dust settled and the machine was still and quiet. All we heard was the bloop... bloop... bloop of the deep-throated tractor, now released from its labors.
One of the old farmers hopped up and eased off on the throttle. And then, a group formed around the broken belt and went to work on it. Within a few minutes, the belt was repaired... and the work began again.
The bloops came faster. The wheels spun. The pulley and belts swung into action... the noise grew louder... the dust swirled... and the demonstration went on.
Regards,



Bill Bonner, Bonner & Partners
Vivek Kaul Publishing
Disclaimer:
The views mentioned above are of the author only. Data and charts, if used, in the article have been sourced from available information and has not been authenticated by any statutory authority. The author and Equitymaster, do not claim it to be accurate nor accept any responsibility for the same. Please read the detailed Terms of Use of the web site.
© Equitymaster Agora Research Private Limited