Equitymaster Insider
Equitymaster Insider is Ankit Shah's daily premium newsletter who cherry-picks the best investing Ideas from across the Equitymaster research network.
Every day the markets are open, Ankit Shah - one of our lead research analysts at Equitymaster - carefully observes what's going on in the markets and in the world news.
At the same time, he keeps a tab on almost all the ideas we publish here at Equitymaster...
He is at full liberty to access all the research available from 12* of our premium publications. Then, he cherry picks one idea from one of our 12 premium publications... the idea he considers to be the BEST investing opportunity, given the current market conditions...
This one idea is then sent to an exclusive group of readers on Ankit's "insider" list...
It can be a small cap idea, or a big blue chip that has caught one of our research analysts' attention...it can be micro cap stock from our system-based strategies...it can be an idea from one of our trading services...and it also be an analysis of the latest IPO hitting the Indian stock markets. The possibilities are endless...
As Charlie Munger, Warren Buffett's right-hand man, rightly said:
All intelligent investing is value investing.
With Equitymaster Insider, Ankit's goal is to give you at least 1 solid, actionable idea every week.
Of course, he will write to you 5 days a week. But with one stock or trade recommendation a week too... that's around 48 actionable ideas a year!
There could be weeks where he could have several ideas...and others where he would still discuss great ideas but they may not actionable. He won't ever force anything if the opportunity isn't right.
But the important thing is this...
He will write to you about what is going on in the markets every working day of the week…and his aim will be to share ONE best investment ideas from Equitymaster's research every week.
Now, of course, he will not be giving you everything we publish. That's not the idea here - and that's why you get to save massively.
If you're already overwhelmed with trying to keep up with ALL the news that could move markets these days, Ankit's notes and ideas in Equitymaster Insider will be a huge relief. Just a short, write-up on what we think is the very best idea in the market, given the current market condition.
Combine that with actionable recommendations from our premium services, you could have the opportunity to live a wealthier life, simply by putting in Just 5 minutes a day, 5 days a week.
Note:
*The number of premium publications that this service covers could change. Most likely, we expect the number to grow over time.
---
What is Equitymaster Insider?
Equitymaster Insider is a premium daily newsletter that offers cherry-picked investing ideas and macro insights from our entire network of Equitymaster analysts and big-picture experts.
Ankit Shah (Research Analyst), the editor of Equitymaster Insider, has access to a wealth of investing ideas and insights from his entire team of research analysts at Equitymaster as well as his network of big-picture experts in India and overseas. This covers 10 of Equitymaster's premium services including some of the best long-term investing approaches, trading strategies, alternative investments, and big-picture insights.
Through Equitymaster Insider Ankit is going to scour the wealth of investing ideas across a dozen recommendation services. And he's going to cherry-pick the best investing ideas for his readers.
---
Why should I sign up for Equitymaster Insider?
Equitymaster Insider gives you the unique opportunity to traverse the entire Equitymaster research network.
You can get the best, cherry-picked investing and trading ideas from 10 of Equitymaster's premium publications at a fraction of what others would pay for full access under all to these 10 services...
You will have the chance to explore a range of investing strategies and trading techniques on a single platform without having to pay individually for each of those premium services.
---
Which premium services does Equitymaster Insider has access to?
Equitymaster Insider will have access to investing ideas from a dozen premium services from across the entire Equitymaster network, which include:
#1 Profit Velocity - Rahul Shah's first-ever momentum-based investment strategy
#2 Peak Profit Alert - Apurva Sheth's premium stock recommendation service based on his proprietary SCOREFASTTM system that identifies stocks on the cusp of long-term reversal.
#3 Microcap Millionaires - Rahul Shah's Graham-style, system-based micro cap recommendation service
#4 Profit Hunter Pro - Apurva Sheth's premium newsletter that identifies high potential trading opportunities based on a combination of fundamental and technical analysis.
#5 ValuePro - Tanushree Banerjee's Warren Buffett-style stock recommendation service
#6 StockSelect - Tanushree Banerjee's safe, bluechip stock recommendation service
#7 Smart Money Secrets - Kunal Thanvi's stock-picking approach that takes advantage of the moves of India's top investment gurus
#8 Hidden Treasure - Richa Agrawal's high potential small cap stock recommendation service
#9 The India Letter - Tanushree Banerjee's megatrend-based stock recommendation service
#10 The Vivek Kaul Letter - Vivek Kaul's unique India focused newsletter that deals with the burning economic and financial issues facing India and the world, in a lucid and simple way
The editor of Equitymaster Insider will cherry-pick investing and trading ideas he considers to be the best given the prevailing market conditions.
Do note that Equitymaster Insider does NOT have access to our premium service Phase One Alert.
---
Who is the editor of Equitymaster Insider?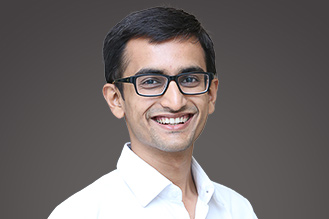 Ankit Shah is the editor for Equitymaster Insider.
A journalism graduate turned Research Analyst, Ankit joined Equitymaster when he was just 23 years old, right after getting his MBA from NMIMS, Mumbai.
Having been an avid reader of Equitymaster's research through his college years, Ankit knew he would fit right in!
In his seven years with Equitymsater, Ankit rose quickly, leaving his mark on almost everything...
From travelling thousands of miles to find the next small cap stock, as part of the Hidden Treasure team...
Designing Equitymaster's Secrets, an online value investing course based on the company's 20-year journey...
Bringing global investing ideas to Indian readers through Vivek Kaul's Inner Circle...
Right to launching his brand-new service, Equitymaster Insider.
Ankit is a firm believer in Charlie Munger's multidisciplinary approach on juggling between various disciplines...
He is not just a research analyst, but also a voracious reader and an avid traveler...
Born and brought up in Mumbai, he now prefers to keep away from the noisy megapolis as much as possible. In any given month, you could find him exploring the ancient ruins of South America, the beaches of South East Asia, or the organic cafes of Pondicherry.