More of Your Queries Answered! Keep them Coming in...
Jan 1, 2020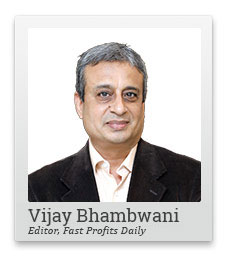 Happy New Year to all viewers of the Fast Profits Daily!
I'm starting 2020 as I ended 2019, by answering more of your queries. Please keep them coming in. I am happy to answer them for you.
In today's video...
What is MWPL and where can you find it?
My advice to new traders.
A query on the US presidential cycle.
Where I see the markets over the next decade and longer?
Enjoy the video and keep your queries coming in.
Hi, this is Vijay again and I'm back with you to answer your queries and please do keep more and more queries coming.
But do remember, I cannot, due to regulatory and compliance issues, answer individual stock, commodity, or foreign currency trade related queries. You can keep them, general. You can keep asking me about behavioural aspects of trading, technical analysis, and broader topics. I will be more than happy to take your queries for you.
So here goes.
Mr V.V. Rao is asking us, where do you get the MWPL?
The MWPL stands for market wide position limits. Now, Mr Rao, you do go to nseindia.com and on the home page itself, when you keep your mouse cursor on products, you will see a dropdown menu.
Click on equity derivatives and go to view all reports.
On the view all reports, you will see a CSV, a comma-separated value file, which is called NSE open interest. It will be in a zipped format. Please download that file.
With a little bit of knowledge of programming in Microsoft Excel, you simply do a division function and find out what is the market wide position limit of each individual security and then a sum total telling you what is the market wide position limit of all futures in the market in the F&O list.
This will basically tell you as to what is the risk appetite prevalent in the market at any given point in time. Please do note however, that a few days before expiry, the MWPL starts to lighten down because people tend to square up their trades.
The MWPL, logically, is the lowest on expiry day and starts to build up in the first 3 to 5 sessions of the new derivative cycle. In case you are still unclear, remain assured that are more videos on this topic in the future. All the best.
Mr Puneet Kumar Garodia is asking for advice to beginning traders who want to start trading.
I am very glad that you're interested in starting trading for a living. Please door refer to my past videos and I do assure you, there are more videos and even tutorials coming in, six tutorials coming in on equitymaster.com, as to how to trade for a living. Please do stay tuned. There are more stuff coming in your way.
Mr Vijay Samrani is asking about the presidential cycle, the US election presidential cycle.
You have a query, Mr Samrani, about the election cycle of the year 2000 and 2008 which were actually bearish for the markets, whereas I have advocated in my past videos that the US presidential election cycle witnesses the US markets and the US dollar being bullish.
I completely agree with you that the year 2000 and 2008 and eight were actually outliers or something out of the ordinary. Now let's get into the details of why.
If you do remember, the markets peaked out on eighth of January year 2000 and then started falling. This was basically that dot com bust and the overall international markets picked out by March 16th 2000 and then what followed was a big collapse. So, this is not a routine year for you and therefore, the US presidential election cycle did not really work out.
The year 2008 again, in January, the markets peaked out and you had the Lehman Brothers and the global financial crisis, which was out in full bloom. By July 2008, you were actually seeing hedge funds promoted by Bear Sterns and Lehman Brothers, actually starting to both belly up or implode and the presidential elections, as usual, were in November. So in the backdrop of all these problems occurring before the presidential cycle, obviously there was gloom and doom in the year 2008 which is why it will appear to you as if the US presidential cycle failed you.
That's all right. No system can be laser precise and which is why I advocate a 360-degree worldview wherein you basically take into account all corollary factors before you start to bet your money. In case of doubt, you may please keep visiting this YouTube channel and watch these videos wherein I share my thoughts, trading strategies, and more and more trade enhancement techniques, so that you can do better in the markets.
Mridul Bhattacharjee, where do you see the indices 10, 15, or 20 years down the line?
Now, this is not really a very difficult question to answer. The reason being that over a period of time and long-term, like 10, 15, and 20 years, equities do tend to outperform other asset classes and the very fact that inflation, which cannot be zero unless you are in Japan and in a deflationary scenario, as long as there is positive inflation, companies' net sales will keep going up because the cost of goods and services keeps rising with inflation and the sales turnover, which is also known as top line, keeps growing.
And as long as top line keeps growing and inflation is in positive, the purchasing power of the rupee or any other currency where you are a resident of, will erode. So it takes you more and more rupees to buy the same stuff. For example, if a bottle of Coca Cola costed Rs 25, 10 years ago and it is costing Rs 40 now, the same amount of money cannot buy you a bottle of Coke.
So is the same amount of money being unable to buy every rupee of earning per share, which is why, over a period of time, inflation determines that your value of currency erodes and the value of the stock rises. More rupees are required to buy each and every PE multiple.
So, 10, 15, 20 years down the line, I am very hopeful when the markets will be significantly higher from here.
Now, what percentage return should you actually take? I would be conservative and say in a good quality portfolio, 12% to 15% growth per annum should not be very difficult to obtain and over a 10, 15, 20-year timeframe, you should be substantially richer than what you are today.
So if you have any more queries, I am eagerly looking forward to answering these for you. Do remember, if you're watching this video on YouTube, please do not forget to click on the like button. Subscribe to my YouTube channel. Please feel free to share this video with your family and friends and in the comments section, do keep your queries is coming.
Till I see you again next time. Vijay Bhambwani signing off for today.
Thank you.
I'll be back again tomorrow.
Have a profitable start to 2020!

Vijay L Bhambwani
Editor, Fast Profits Daily
Equitymaster Agora Research Private Limited (Research Analyst)
Recent Articles