The Best Sector for 2021
Jan 1, 2021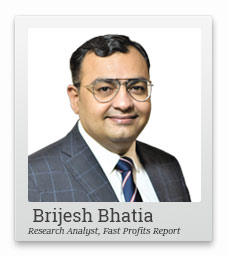 2020 was a horrible year for many people around the world. I hope 2021 bring you joy, hope, and prosperity.
In the markets, becoming prosperous means only one thing: betting on the right stock.
In 2020, it was pharma and IT stocks. That was understandable but what about 2021?
Will we see a new sector taking the lead?
I believe so. In thin video, you will find out which one it could be.
Watch the video and let me know your thoughts in the comments section.
Happy New Year to all the viewers and we hope that 2021 brings lots of happiness. 2020 was likely disastrous and many have lost their lives. So I hope that 2021 brings lots of happiness for you all.
Coming into the markets, I'm Brijesh Bhatia, research analyst at Equitymaster. I would like to throw some light on how the decade has gone for equity markets, especially the Nifty.
So a couple of milestones for 2020. First is, for the first time in the history of Nifty, we have seen eight consecutive weeks where markets hit all-time highs, new all-time highs, and this is the first time we are witnessing this happening.
I'm sure that most of the global indices, which have a history of more than a century, might not have seen such kind of historic move but Nifty, I think has done it but I'm not sure about the global markets, but I'm guessing that this is the first time Nifty has seen it.
FREE REPLAY: Discover What Richa Revealed in Her Smallcaps Summit
Second, importantly, after a decade in Q4 2020 we have seen maximum or highest returns on a quarterly basis, with Nifty gaining more than on 24% and last time we have seen more than 24% was in Q2 2009. So in this decade, it's the best quarter to end the decade, to end the dramatic year of 2020.
So such is the way 2020 has played out, a historical move and if, in terms of volatility, we haven't seen such kind of year from all-time time high then down and back to new all-time high and I think those who were trading options were the most beneficial.
Coming on the sector which has played this decade. Any guesses? From a defending sector turning out to be the highest return is FMCG with nearly 3X returns, is first.
Second is really surprising, financial services gaining around 270% and third and final, I'm just taking the top three, IT sector gaining around 225% in this decade.
So this was the decade and his most of them would be with thinking of that I would say defending sectors like FMCG turning out to be the biggest gainers.
For 2020, it's no brainer with the covid-19, pharma stands out to be a best performing sector, more than 50%. So it's around 60% followed by IT. Work from home, which is going into our blood now, it has nearly gained around 55% followed by consumption which is 19%.
So this other three sectors which have really formed in 2020. In 2021 pharma, what do you think? Can it still outperform? Can we have a vaccine? Still it's a debate. Trials are going on. All that is still going on.
What do we think 2021? Which sector do we think could be the best? One sector we think if you look at the historical move based on the technicals and I'm just taking the time cycle over here, Metals is one sector where we think 2021 could see a huge uptick. Why?
First, I'm going to explain this chart on your screen. First look at 2012-13. Nearly 78 weeks. Second fall, from January 2014 to 2016 it took around 88 weeks. If you look right from 2018 highs to the March of 2020 lows it is precisely 113 weeks. What a confidence. If we look at the study into the details, such kind of moves give you amazing level.
We have seen in March 2020 to end the year for the metal index it's a V-shaped recovery and if you look at coordination with the metals, and if, in case you haven't seen the correlation by Vijay Bhambwani, go onto our YouTube channel, search for the inter-market analysis by Vijay Bhambwani
If you look at the metal prices, they are going positive, positive, positive, positive for 2020 and we think that metal would be the one sector by 2021 would be on the name of metals, and we think that it could see a huge uptick.
From in current level of 3400-3500 the previous high was something around 4250 which might see higher level in 2021. This could be the one sector you should keep a watch on.
So signing off again Happy New Year to you all. Thank you. In case you haven't subscribed to our YouTube channel, do click the subscribe button and do not forget to comment our videos so that in case we find some interesting comment from you and in case you want me to cover some of the videos in our upcoming videos, we will definitely look to cover such kind of videos.
Thank you. Have a great year.
Warm regards,

Brijesh Bhatia
Research Analyst, Fast Profit Report
Equitymaster Agora Research Private Limited (Research Analyst)
Recent Articles