Four Important Trading Behaviours You Need to Know
Jan 2, 2020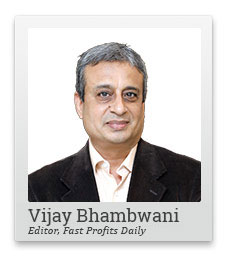 Hi, this is Vijay Bhambwani in the Fast Profits Daily.
Today, I would like to talk to you about the habits of successful traders and how you can imbibe these habits into your trading day.
Specifically, in today's video we'll find out...
How to be make more money by being less emotional.
How to automate your trade alerts.
How to visualise profits and losses and why it's important.
How to maintain equanimity while trading.
Hi, this is Vijay Bhambwani.
I'm back again with you to take the topic of behavioural aspects of trading even further.
Let me draw your attention to a previous video in which I talked about Charles Faulkner study about Southeast Asians going for a movie and losing the Rs 100 note versus losing the Rs 100 ticket. Why do we buy shares that we ride all the way down in a bear market and then panic and sell out at a loss?
I remind you that we traders of brain warriors and we make money, we fight wars in financial markets with our ideas. I will now teach you how to reprogram your mind the Michael Phelps way.
Yes, Michael Phelps, the Olympic swimming champion, known all over the world to have collected the largest tally of gold medals ever.
We all know that our personalities are determined between the age of 8 to 10 years. We learn from our parents, from our teachers, from our friends, and society around us. Up to 30 years ago, it was believed that a person's attitudes, personalities, and characteristics were hard wired or formed by the age of 8 to 10.
So if you were timid as a child, you would be timid as an adult. If you were aggressive and mischievous as a child, chances are you would be a risk taking, high adrenaline, aggressive trader in your later years.
Neuro linguistic programming, which I talked about having pioneered by Charles Faulkner and others, tells us that this is not so. It is still possible to reprogram the mind.
In this video, I take this conversation forward and tell you how a trader can basically reprogram his or her mental process, so that if you're a timid trader who gets scared easily out of a mark-to-market loss, you can basically become a lot more calmer.
If you are an excessively risk-taking person, how you can sober down and basically become a lot more calmer so that you're taking a lot more sanguine and judicious decisions with your money.
Remember that the human brain is divided into two parts, the left brain, which is mathematical and logical and the right brain, which is emotional and therefore illogical. Nature and God has made our bodies in such a manner that two conflicting and sometimes two corollary parts of our bodies don't work simultaneously. If you ever cared to notice your bladder and your bowels cannot work at the same time. Same is the case of our brain. If the left-hand side or the logical brain is working, it basically puts to sleep the right-hand side or the emotional aspect of the brain.
Try not to get emotionally upset before trading session. Try to think logically, rationally, and mathematically. Use a lot of statistical tools like Microsoft Excel. Do a lot of screen reading on the snap quote window, which I told you can be brought up by highlighting the security's name and clicking on F5 on your training terminal.
As long as you depend more on numbers than on verbal instructions of people, chances are you're going to be a lot more mathematical.
Automate as far as possible. Your trading terminal is a very versatile instrument. If you want to be alerted about a certain price level being hit, you can set trade alerts. In most training terminals, it is by highlighting a security and clicking on CTRL+A. Different terminals, different syntax, but trading alerts are possible.
The third aspect is visualisation. Now this is where Michael Phelps has actually beaten the world. His trainer noticed that Michael was a very accomplished swimmer but many a times, just like most of us, his brain would get tired faster than his body and he would start to make errors.
You know what Michael Phelps trainer did? He put him through all kinds of circumstances all kind of mishaps, all kinds of accidents, in the training swimming pool and Michael credits his trainer with many office gold medals because all the accidents that were visualised and undergone in the training swimming pool, actually occurred to Michael in the Olympic races.
For example, Michael's trainer would cut out Michael's drawstring or the nada in his swimming trunks. So as soon as Michael jumped into the swimming pool, his shorts will come off. It actually happened in an Olympic race.
The idea was to set Michael's brain prepared for any eventuality so that if it occurred in the swimming pool, in an Olympic event, Michael's body did not stop. Michael's trainer would cut his swimming goggles strapped to a fine point, where as soon as Michael dived into the pool, the swimming goggles would snap. Here again, Michael's body did not flinch for a second. His arms and legs continued to propel his body forward and Michael would win the race.
Lights were put off in the training swimming pool so that Michael would go off track and his arms would get entangled into the dividing ropes. Yes, that happened in the Olympic race also but Michael's body did not stop.
How can you do this as a trader?
Before you enter into a trade, visualise in your mind, what would happen if the trade went wrong? Supposing you were to see in your visualisation zone, a mark to market loss of 5,000.
Take three deep breaths and learn to cope with it during your visualisation training session. When it actually occurs during the trading hours, your mind and body will not panic.
Reprogram your mind by putting layers and layers of positive habits. What is a personality? A Personality is nothing but force of habit, built over a period of time. The best habit to imbibe in a trader is preparation.
Believe me, when I've my charts for at least three hours a day before a trading session begins, my mind and my body knows that am thoroughly prepared. My confidence level in that trading session is superb.
If I had to go out for a wedding last night, or I went out partying with my friends, and I am not adequately prepared for the trading session on the next day, believe me, I am extremely nervous and jumpy. I tried to get in and get out of trades too fast. It results in paying too many execution costs, commissions, and taxes, and very little profits for myself.
The other aspect is, you must learn to understand the link between the mind and the body. A thoroughly relaxed body can be the only thing that houses a thoroughly relaxed mind.
Learn to deep breathe while you're trading. Drink ample amounts of water every 90 minutes because the more water you drink, the more oxygen your blood can carry to the brain. Do not starve yourself or thirst yourself rather, for water. Keep feeding yourself ample amount of carbohydrates, proteins, and a little bit of fats every three hours. Remember commodity trading spans for 15 hours a day. If your body is running down and lacking energy, believe me, your mind will tire out much, much more faster.
Where positive habits are concerned, being clued on to what's happening in the global and the domestic markets, is also a good habit. This is known as equanimity.
Equanimity is being aware of the circumstances and being at peace with what's happening in the scenario around you. So if you know that the US dollar is jumping in a particular direction and it will impact commodity prices in a certain manner, when it actually occurs during the trading session, your mind is well prepared.
Like I said in my earlier video, John Rambo said, The mind is the best weapon. Keep your mind sharp at all times. Be prepared. Be calm and earn even better profits.
Tomorrow my friend Apurva, will talk to you about other aspects of the market in his video.
Before I bid goodbye, let me remind you, to click like on this video. Subscribe to my YouTube channel. Please do not forget to share this video with your friends and family and in the comments section, do let me know what you think of this video and what other topics you would want me to cover in mind next videos.
Till then, take very good care of your mind, you're trades, and your investments. This is Vijay Bhambwani signing off for now, till we meet again.
Thank you.
Believe me, I've been a trader since 1986 and I will completely vouch for these four behaviours.
Let me know what you think of this video in the comments section below. I love to hear from you.
Tomorrow morning, my good friend and charting guru, Apurva Sheth, with will talk to you about picking the best stocks for trading in 2020. Don't miss it!
I'll be back again on Monday morning with another video.
Until then, have a profitable trading day and a great weekend ahead!
Warm regards,

Vijay L Bhambwani
Editor, Fast Profits Daily
Equitymaster Agora Research Private Limited (Research Analyst)
Recent Articles