What Should You Trade? Stocks or Indices?
Jan 4, 2021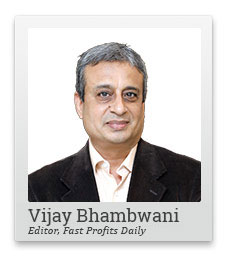 This video is about a topic which has been requested for by viewers of the Fast Profits Daily.
What is the better option, trading indices via ETFs or trading individual stocks? What are the pros and cons of each?
Well, in this video, I'll answer this question.
Also, watch out for my upcoming video on my top index ETFs. It's one you've requested as well.
Keep sending me your video requests. I love hearing from you.
Hi, this is Vijay Bhambwani. I hope you're enjoying your trades in the market, and you're noticing how the volatility is stepping up as we approach the budget.
This is something that I have been talking about and writing about on my Equitymaster's Telegram Channel, which, if you haven't already joined, you must join with the handle Equitymaster Official, wherein I put up end of the day updates based on statistical data that's available from the exchanges which help you take informed decisions.
Now, friends in this video I want to touch upon a topic that has been a burning question with some of my viewers who asked me either via comments are connected with me on social media on my social media pages and asked me as to weather a trader, now, please understand we are talking about trading and not investing, so we need to keep that in mind before you fire of any comments.
Discover Now: One Stock for Potentially Life-changing Gains
So whether a trader is better off trading the indices, which is the nifty of the bank nifty or trading individual stocks. Now, there is no easy answer. So I am gonna take a 360 degree approach and take a rational view from the point of view of statistical data available to us and take a rounded, informed decision as to what suits you.
You see, the indices are nothing but comprised of those constituent stocks. So the BSE 30 as the name suggests, is an index of 30 stocks with various weightages and as the stock prices move, so does the index.
The Nifty 50 is a much broader index. It comprises of 50 stocks. The bank nifty comprises of 12 stocks, two of which weightage is so small that they are in significant. So in a practical sense of the world, the bank nifty is actually an index of 10 stocks.
Now, the way the indices are compiled in India, they use the free float method, which means the number of shares which are available free float and the MWPL, or the market wide position limits allowed by the Securities and Exchange Board of India is a percentage of the free float number of shares.
Now I have recorded the various videos on the market wide position limits and how to check out the open interest data and take informed decisions accordingly. You can scroll down in this playlist and check out those videos for yourself.
But for now, we are going to focus on the topic. Is an index on an individual stock better for trade?
Now because the indices are comprised and compiled on the free float method, what really happens is that stocks, which are constituents of the index if the price goes up their weightage also tends to go up. If the price falls, their weightage tends to fall.
So what really happens is that the skew or the bias is towards the upside. The idea as if the stocks are falling, let their weightage fall, so the index falls less, and when the prices are rising, the weight age rises. Therefore, the index gains momentum on the upside.
Now, I'm not here to argue whether this is fair, unfair, right, or wrong, whatever but this is the way the indices move. Which is why in my videos, whenever I have recorded videos and tried to project when a correction will come in, remember, I'm talking of a correction, not a reversal. The markets don't seem to be appearing to head for a reversal just yet as I record this video on Monday, the fourth of January 2021.
So all we are talking about is corrections and that too, I frequently use the word probability and not certainty. It evokes a lot of amusing comments from sceptical viewers who say why. Why can't you use the word certainty and why probability? Now you see in this video when you see what's happening, you really you realise why I used the word probability.
Now take for example, the most heavily weighted counters in the nifty 50. I'm talking about the top five or six waited counters. In July, Reliance was still rising and it was waited at 14%. Weightage in December, Reliance is going sideways and is under pressure. It's way of the recent highs, and the weight is now 10.66%.
HDFC Bank in July was 9.56%. In December, it is 10.37%. Infosys was 7.56% in July. In December, it is 7.6%. HDFC Limited was 6.59%. It's now 7.61%. TCS, which was 5.12% in July, is now 4.99% in December.
Now what really happens is that the index weightages are therefore telescopic. You know, in the olden days you used to have transistor radios, which had antennas which could be pulled out and collapsed right in. Those are called telescopic antennas. They can be elongated and compressed, just like your telescope used to fold in. So the indexes or the indices rather, are telescopic, telescopically weighted.
Therefore, the probability of the index rising is far more than an individual stock. If you are looking at trading based purely without this weightage factor pulling and pushing on a security because an individual stock will either go up or down, an index, on the other hand, will go where the top five or top six weighted counters, which comprise more than 50% of the weightage, will go.
If you think the bank nifty is doing any better, let me just run you through a couple of numbers and let me tell you where I'm getting at. Let's now take the top five weighted banks in the bank nifty space. Axis Bank in December is 15.35%. In September, it was weighted at 14.36. In June, it was 14.58. HDFC Bank is now waited 26.8. In September, it was 28.83. June it was 27.70. No surprises there because HDFC Bank of late has been plateauing.
ICICI Bank in December is 20.5. In September, 19.61. In June 18.66. Similarly, Kotak in December is 15.88, September 14.89, and June 16.33. State Bank of India, the largest bank in India by deposits and loan book etc, is 10.54% in December 10.44% in September, and 10.87% in June. So as you can see the weightage is not really static. It is dynamic.
Who basically gains the most out of the nifty rising? It is the ETFs, the exchange traded funds which invest in the index. Now, this is another request that I have received from our viewers of my videos in the Fast Profits Daily. Why don't you make a video on ETFs? Just as we made a video on gold ETFs, why don't you make videos on Nifty and Bank Nifty ETFs? Your request is under consideration. I've forwarded a request to the editorial team. Hopefully, we should be doing a video on this soon.
So it is the index ETFs which happen to gain a lot from keeping the index rising and therefore the net asset value of the ETF going higher progressively.
Before you stand to worry or wonder as to why this is happening, let me run you through how much money the ETFS are handling. Remember my video of Napoleon taking generals to war? He took those generals with him for crusades to conquer other nations who were known to be plunderers and corrupt, who pocketed a lot of wealth on the side.
But Napoleon said, as long as they know they're want to enrich themselves, they are going to fight harder for me and ensure that I will over many nations. So vested interest in financial markets is the biggest thing that drives the market's up or down.
Five years ago, the nifty and the bank nifty ETFs handled 7000 crores as assets under management or AUM. Today, the ETFs are handling more than two lakh crores. That's right. Two lakh crores from 7000 crores. That's like a many fold rise and off which more than one lakh crore is in the asset under management in the nifty ETFs. Bank Nifty ETFs handle approximately 40 to 50,000 crores.
Now who are the biggest holders of these ETFs? 92% of the corpus of this one lakh crore in the nifty ETFs held by the EPFO or the Employees Provident Fund Organisation, which handles the Provident Fund of Central and State government employees and also private citizens but mostly it is the central and state government employees.
Then you have pension funds, private and public sector, and some institutional holding. Merely 8% of these steps are held by retail investors.
So you see it is big money, which is invested in the nifty ETF, which tells you why the markets are on a tear, why the markets refused to correct, irrespective of many estimates being put out or the nifty will correct from XYZ level or the nifty will correct from ABC level.
Therefore, the indexes are so skewed in favour of going up all the time because of their telescopic weightage that you will never really get a true picture of what's happening. So if you're a trader who wants to trade in an instrument which happens to go up and down both, stick to individual stocks rather than the indices.
However, there are some system based traders who believe in delta neutral strategies, going long on something and going short on something else so that the exposure is balanced and therefore there is not too much of a damage to the net profit and loss account. If you're looking out for delta neutral strategies maybe the index offers you ample amount of cushion and comfort because that would be the place where you can hide in a cave during times of adversity.
I hope this video clarified a lot of doubts that you have as to why the markets and not correcting and whether you should be trading the indices or individual stocks. There is big money at play here, so you need to know where you are vis-a-vis the broader markets. Who are you fighting against? Who are you fighting with?
On this note, I bid goodbye to you in this video not before reminding you I will be back in my next. If you like this video, if you're watching it on YouTube, click like on this video. Subscribe to my YouTube channel if you haven't already done so. Click on the bell icon to receive alerts about fresh videos being uploaded here. In the comments section, do let me know what you think of this video and what you would want me to record in my next.
Help me reach out to fellow like-minded traders who are looking out for knowledge based investments and trades by recommending my video to your family and friends. Have a very, very profitable day ahead.
Take good care of your health, your family, your friends, investments, and trades. Vijay Bhambwani signing off now Thank you for watching.
Warm regards,

Vijay L Bhambwani
Editor, Fast Profits Daily
Equitymaster Agora Research Private Limited (Research Analyst)
Recent Articles