The Markets Could Get Nervous
Jan 6, 2021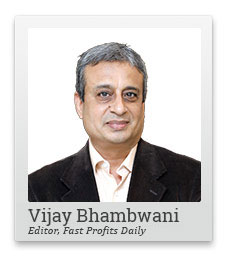 In this video, I'm going to share my opinion on an event which most equity traders would not have paid much attention to.
I'm talking about the recently concluded OPEC plus meeting which ended inconclusively.
This will have an impact on the stock market as well as the commodity market and I believe, you should be on your guard.
Watch the video to know how this event will impact you and let me know your thoughts in the comments section. I would love to hear from you.
Hi, this is Vijay Bhambwani. I hope you're enjoying my videos and they're adding value to your journey as a trader and it's helping you become better traders, earn higher profits from the markets, and decipher the signals of the market better than before.
Now in this video, I want to tackle a topic which should concern both commodity and equity traders alike.
You see OPEC+ which is OPEC, oil exporting countries and certain non OPEC members like Russia being the largest one are now called OPEC+. So a collection of OPEC and non OPEC countries have met for the second day today on Tuesday, which is the fifth of January 2021 have had and inconclusive meeting.
Mega Webinar on Jan 29th: Will 2021 be a boom or bust?
At the crux of the matter is the difference of opinion between OPEC on one hand and Deputy Prime Minister of Russia Alexander Novak on the other hand, as OPEC plus, which is a non OPEC temporary member of this cartel, the difference of opinion being weather oil output, production output should be hiked again in February.
If you remember, OPEC was supposed to have hiked the output of oil by five lakh or half a million barrels per day in January itself, which it did. Now, the meeting was whether the output hike should be stepped up by another 500,000 barrels a day on first of February and onwards.
The Russian deputy prime minister, Alexander Novak, was pushing for further output hike because Russia desperately needs the oil revenues and it's facing its own economic slowdown. Let's not forget, Russia is not as integrated into Europe as certain other European nations are. So, the coming few quarters are likely to be harsher for Russia as compared to its other Western countries.
So the Russians want an output hike. The Saudis, led by the oil minister, Prince Abdul-Aziz bin Salman, are opposing the output hike. The Arab countries do not want an output hike for the simple reason that covid's resurgence with certain other mutant variants of the virus which are seen across Europe, are threatening to basically result in fresh lockdowns in Europe and therefore compression in oil prices at the pump and basically lack of demand.
Now demand erosion, is a nightmare that the Saudis have been grappling with since 2014. If you read the OPEC statements, I have, they are basically cutting output not to raise prices, but they are basically trying to stop the decline.
Now that's a big difference. Not wanting the price to fall and wanting to rise are actually two different things. So the OPEC has been basically clamouring to stop the price from falling, which is a very defensive act.
How does it matter to an average Indian? The matter is absolutely simple. With oil output not being hiked, oil prices will jump, which it already has on the MCX.
I'm seeing at the time of recording this video late evening on Tuesday, the fifth of January oil is up more than Rs 150 per barrel on the multi commodity exchange in India and since the last couple of weeks, the Indian government has been resisting the pressure to hike prices at the fuel pumps in order to not trigger any stepping up of consumer price inflation, CPI, which is a retail inflation.
As we all know, oil is a multiplier commodity. If you raise the price of oil at the fuel pump, everything from your fruits, vegetables, milk, eggs, grains, pulses, everything basically becomes more expensive and we do not want higher inflation at this point in time when CPI or the consumer price inflation is already rising.
So as and when the government resists the temptation to raise prices, the oil marketing companies are suffering losses, which would mean that the PSU stocks, now remember, I have been talking a lot about PSU shares in my recent videos, the PSU stocks, especially the oil marketing companies, will tend to feel the heat if their cash flows are basically compressed.
Now, if it all oil prices continue to rise because OPEC+ decides not to raise the output at some point in time, the government will have no choice but to raise prices. So if they raise prices, maybe the share prices might revise but life on the whole for us will become a little more difficult because we will be buying our essentials and food and other perishables and higher prices and if the price is kept constant at the pump, PSU shares will fall.
So what has happened in this inconclusive meeting with OPEC will impact you and me whether you are a commodity trader or an equity trader, all of us and if inflation were to go up, even the banking stocks will take the heat.
It might even slow down the recovery post covid if oil prices were to shoot up. I'm going to keep my ears to the ground and monitor this extremely critical situation on your behalf and I assure you I am watching the scene unfold as it does in real time. Does it mean that this will have a rub off on gas prices? Yes. Definitely. Gas prices are rising because of this unusual decision not to hike output in February.
Do remember that this is the winter period when cyclically, as I have spoken in many of my previous videos, when cyclically gas prices do tend to be high only to taper off and fall after the vernal equinox, which is the onset of summer.
So this is going to be a winter of discontent for many countries. Take the example of Japan, which is basically cutting the production of electricity due to a shortage of fuel. There has also been problems in Delhi, as we have seen in India, where people are spending a hard time in these shelters due to lack of electricity, etc. Now this is a problem which will need watching. Whether you're connected with the stock market or disconnected from the stock market as a lay Investor, a lay citizen of this country, oil prices will impact all of us.
As I said, I am going to be watching the situation at the ground level, and I promise to bring you updates as and when available.
On the sombre note, I bid goodbye to you in this video not before assuring you that I will be back again in my next, bringing you some more market related information. If you're watching this video on YouTube, please don't forget to click like on this video, if you liked what you saw. Subscribe to my YouTube channel and click on the bell icon to get instant alerts about fresh videos whenever they are uploaded. In the comments section, do let me know what you think about this video and what you would want me to record next.
Also help me reach out to fellow like-minded investors and traders who prefer a 360 degree worldview and knowledge based investments and trades by sharing this video with your family and friends. Do take very good care of your health, your family, your friends, your investments, and trades.
Have a very, very profitable day ahead. This is Vijay Bhambwani signing off for now. Thank you for watching me. Take care. Bye.
Warm regards,

Vijay L Bhambwani
Editor, Fast Profits Daily
Equitymaster Agora Research Private Limited (Research Analyst)
Recent Articles