Why Does Technical Analysis Work?
Jan 7, 2020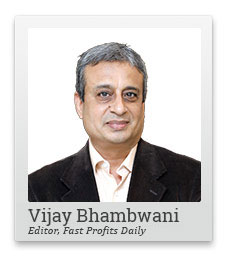 Hi, I'm Vijay and this is the Fast Profits Daily.
Today, I would like to share with you the reason why charting i.e. technical analysis, is so useful for traders to make money in the markets.
You may have varying opinions about technical analysis and that's okay.
All I ask is that you keep your mind open while watching this video.
I trust you will find today's video informative and useful.
In the comments, do share your feedback about the video and your opinion about technical analysis.
Hi, this is Vijay Bhambwani and today I'm gonna talk to you about a very interesting topic: Why does technical analysis work?
I've been in this market for 34 years now and what a ride it's been!
I do remember some very humorous situations wherein I've learned a lot from the market, some I've simply brushed aside, and some were tremendously memorable.
So there was this broking firm I had gone to open an account and in those days, the BOLT or BSE online trading terminal system, had just been commissioned, wherein you could basically take a terminal from a broker, log into the exchange servers with a dial up modem, and start training from a laptop or a desktop from your residence or whichever place you choose to be and you need not go to the broker's office.
So while I was talking to this broker and he was asking me, why would I need a training terminal, I told him I had a substantial amount of trades that I needed to enter into every day, and he was cursorily asking me as to what was my system of trading.
I told him, I was a technical analyst. In those days, the brokers called us chartists.
So the minute he heard I was a chartist, he kind of smiled wryly, and he asked me, 'Tu kidhar rehta hai?'
Now 'tu' in Hindi is a term which we normally use to somebody who's our junior and when I told him I stayed at Breach Candy, he kind of sat up in his chair and said, Okay, 'aap ko'... 'aap' now is a more respectable way of addressing somebody, somebody who's senior. 'App ko trading terminal chahiye?' 'Yes, we will give you a trading terminal.'
And then, after a while, when I asked him how and why did I graduate from 'tu' to 'aap', he told me, you know, chartists normally stay in the far north-eastern suburbs, whereas fundamental analysts do tend to stay closer to the stock market.
Now this was the kind of bias that I have faced as a technical analyst over the years. Do remember, that Peter Lynch, the best-selling author of One Up On Wall Street, and the fund manager of Magellan Fund, in those days the largest mutual fund in the world, also derided technical analysts in his book, called One Up On Wall Street.
He said, I noticed my technical analyst working for the Fidelity Fund, used to wear old shirts with worn out collars and cuffs, and almost always ate sandwiches for lunch.
Now this is the kind of discrimination and bias that technical analysts have faced over the years. Why does it actually work?
Do remember, that people like Galileo were punished for putting out theories like the Earth is round. In those days, it was believed that the Earth is flat, and if you went to the corner of the Earth, you would actually fall off into the unknown. Galileo was one of the first people to come out and say that the Earth is round and nobody needs to fall off. You'll basically keep going around and come back to the starting point all over again. He was actually imprisoned.
It's taken a while, but technical analysts are now respected and they are taken as mainstream. To the extent that SEBI and NISM certification exams also include technical analysis.
So why does technical analysis work?
You know, I'm on WhatsApp. Every morning, I receive so many good morning messages, most of them giving you a lot of gyan and I tend to delete most of them without reading but sometimes, there are some pearls of wisdom in those WhatsApp messages. One of them, which keeps coming back ever so often, is 'Don't tell me what you feel about me. I would rather watch your actions towards me.'
Now, this is why technical analysis works.
Technical analysts look at what people are doing rather than what they are saying because hey, talk is cheap. To the extent that talk is actually free. I can tweet. I can put up whatever I want on Facebook. I can WhatsApp you whatever the hell I want.
But if you know what I was doing or what I was not doing that is more relevant to you. I'm I right?
So technical analysts look at the price, volume, and if it is in the F&O, the security's open interest.
These three factors tell me where the money is actually flowing. So if I see money going into a security, I would like to go long in that stock, commodity, or currency, or if I see money flowing out of that security, I would like to short sell that security.
To that extent, technical analysis, as a study, is based on action rather than words, perceptions, or expectations. It's more real-world, grounded, and to do, rather than what I think should happen.
If you were to add a few ancillary studies like screen reading, which by the way, is an art form and I assure you there are more videos coming your way on how to read your computer trading terminal screens, so that you can become a better day trader. They are coming to you in the near future.
So if you were to add screen reading, if you were to add a little bit of charting, and some statistical analysis, like I talked about in my earlier query video, called MWPL, market wide position limits, you can actually, raise your probability of success manifold.
And trading is nothing but trying to improve the odds of success, which is why technical analysis is the de facto leader as a technical tool or a trading tool, for a real-world trader.
It actually looks at the action that is taking place in the market and going with the flow. If at all, you try to become a successful investor or a trader, believe me, technical analysis is the place to be.
If you were to add behavioural studies to technical analysis and you are then a behavioural technical analyst, believe me, there is very little that can dislodge you from your path to success.
More from me on this subject. Keep watching out my videos on YouTube. Do not forget to click like on my video. Do share it with your family and friends and subscribe to my YouTube channel. In the comments section, do let me know what you think of this video and what other topics you would want me to cover in my future videos.
Till then, please do take very good care of your trades and investments. This is Vijay Bhambwani signing off for now.
Have a profitable trading day!
Warm regards,

Vijay L Bhambwani
Editor, Fast Profits Daily
Equitymaster Agora Research Private Limited (Research Analyst)
Recent Articles