The Untold Truth About Silver
Jan 7, 2021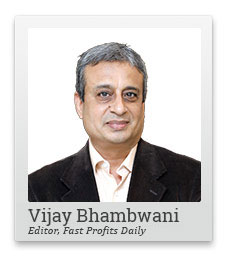 This is a video that I think is very important.
Regular viewers of the Fast Profits Daily would be aware that I am bullish on gold and silver.
I've already recorded multiple videos on gold explain my rationale. In this video, I want to cover silver in detail.
I will tell you exactly why I'm more bullish on silver than I am on gold and also, why I believe it's one of the best investments for 2021 and beyond.
Watch the video and share your thoughts in the comments. I love to hear from you.
Hi, I'm Vijay Bhambwani and I welcome you to this video where we're going to talk about the markets. I fondly hope that my videos are helping you become very traders and you're able to navigate through the volatility of the markets fairly well after basically going through my videos in this playlist.
If I were to give this video a title, I would basically call it The Untold Truth About Silver. Why I don't talk as much about silver as I do about gold. I have been a gold bull since time immemorial and since the time Equitymaster's YouTube Channel started featuring my videos, the initial videos itself I started out with video on the bull market in gold if I remember, a video in probably September 2019, wherein I said, gold is probably a very good investment, but silver is likely to be shinier than gold.
Guess what? In the year 2020, I'm talking of calendar year 2020 gold returned 28% odd return from 1st of January 2020 to 31st December 2020. I'm talking of the MCX prices in India in Indian rupees. As far as silver is concerned, it outperformed gold by a huge margin and appreciated more than 45%. That's right, 45%.
New Research: Our #1 Stock Pick Right Now
If you said that elephants don't fly or elephants don't dance, look at what silver did from the low of March 2020 when everything, everything was sent to the butchers. Equity, currency, commodities, bonds, everything witnessed money being pulled out of them and things kind of tanked.
Silver more than doubled in five months. It actually went past Rs 75,000 a kilo on the MCX and it was all the way down to sub 40,000 in March itself. It was sub 38,000 in March itself. So when a price of silver doubles, it makes you sit up and notice. What is with silver? What do you expect in 2021? Why you must have silver in your portfolio?
Firstly, silver was currency in itself out about a century or two ago. You had silver coins if you ask your grandparents, even in India, there was silver rupees. Overseas, silver was used in coinage from many, many centuries. It was in the great depression in 1929 that changed the things around for silver.
Somewhere around that time, the US government decided that an average citizen should not be holding physical bullying and they started confiscating silver. After that, currency has mostly been paper, which is why it is called fiat currency. Of course, there are a few odd coins here and there, but they are not precious or semi-precious metals. They're more of industrial metals. They're using copper. They're using steel. They're using alloys but no silver.
Now, why is silver likely to outperform gold the way it did in calendar year 2020? I have a very simple reason.
You know, 5G technology is not possible without using silver in many of its components. Typically, MEMS. Now the printed circuit boards, the MEMS, the Internet of Things are impossible without using silver.
So if you are keenly looking forward to 5G technology, remember, Jio has promised 5G in the second half of the calendar year 2021. You're not too far away from there, believe me. You're just six months of maybe nine months away from there.
The other thing the lockdowns basically invigorated the ESG, the environment and social and corporate governance responsibility. Activists actually got a steroid shot and they started pressurising the governments to go for cleaner energy cut down on hydrocarbon or fossil fuels, which is natural gas and crude oil and therefore, use more and more renewable energy.
Renewable energy also means wind and solar power. Can you actually make a photovoltaic cell with which solar energy is converted to electricity without using silver? It's not possible.
Now, as the world goes more and more towards solar power, silver usage will go up in tonnes, in tonnes. You need millions of troy ounces to build mega solar farms of the types that India has announced recently to be built in Gujarat. World over Europe, America, Southeast Asia, Asia Pacific is now switching to renewable energy, and that means a huge demand spike in silver.
Unlike gold, which is a store of value and a pure precious metal, silver is an industrial metal also. It's an electrically critical element without which many electrical components cannot be made and when you need super conductivity of electricity, what can be better than silver? It's far above copper in conductivity. So electronic items especially like I said, Internet of things, 5G technology, will depend very heavily on silver.
Why is silver not as favoured as gold? The reasons are not very far to see.
I have talked about relative strength comparative in an earlier video in this playlist, wherein you benchmark one stock against the Nifty 50 and see whether the stock performs better, which is rises more in a bull market and falls less in a bear market. Now this is called relative outperformance.
Silver definitely relatively outperforms gold in terms of both returns when it is rising, and beta, which is the volatility. Unfortunately, it is the beta that puts off many investors and traders.
Now beta does not mean that the rise and fall of silver on a day on the basis, on a closing basis, is higher. Beta very simply means that the intraday volatility. You could have the closing of any traded commodity, security, index, or currency unchanged. Absolutely, the change could be zero, but the intraday trashing about of up and down is called the intraday beta or the statistical beta.
Unfortunately for investors and traders, the statistical beta of silver happens to be as high as depending on which currency and which exchange your monitoring, it can be as high as 30% higher than gold. So if gold fluctuates by 1%, silver fluctuates by 1.3 or 1.33% to be more precise and that kind of wile movement actually can result in your stop loss getting hit faster than your target profit can be reached.
Which is why silver is basically treated as a poor cousin of gold, which it should not be but if you want to avoid this volatility, the simplest way is to sit on silver long-term holdings. Unfortunately, in India, there are no silver ETFs. Therefore, buying an electronic form is basically not an option. You should be buying silver bars of 99.5%.
If you scroll down the playlists you will see that approximately 15 months ago, I have recorded a video titled Do Not Buy Silver Before Watching This Video. I've given you examples and basically hints using physical bars of silver, as to how you should be evaluating the silver, how it is stamped, where you should get it authenticated in spite of the fact that silver is hallmarked. how to get it electronically tested for fraud, because the top one centimetre of the brick or the bar that you're buying of silver could be silver but the heart inside could be stone or steel or corporate of whatever.
Yes, these things do happen once in a while, so I have recorded that video on how to evaluate silver and then buy the purest silver that money can buy for you and that too cheaper than what would be available in a bank.
So if you want to barely surpass the returns in gold, I think you should basically spread out your money away from gold. Definitely, you could keep gold in your bullion portfolio. Now, what should be the mix between gold and silver?
If you are a conservative senior citizen, kind of an investor with low risk appetite, maybe you should have 30% silver and 70% gold in your bullion portfolio. I favour physical investment, physical delivery over electronic format, but hey, that's just me. You can agree to disagree and feel free to buy and whatever format that you feel light.
If you are on the other and a little more aggressive. You have a better appetite for risk. You are somewhat younger or even senior citizens with a better appetite for risk, I would suggest you can even go for 60% gold and 40% silver.
If you're even more aggressive, maybe 50-50 but no more. So silver is likely to give you excitement, plus possibly significantly higher returns than gold. What is the downside? In life there is no such thing as a free lunch. What is the downside?
It will keep you on the edge. It might even worry you some days and keep you awake at night because the volatility might be a little too much for you.
But at the end of the stress would be worth it because I expect silver to do extremely well, not just in 2021 but I think silver should be outperforming till 2025.
On this bullish note, I say goodbye to you in this video. I'll be back again recording more videos for youth. If you're watching this video on YouTube, please let me know what you think of this video and in the comments section what else you want me to record in my next your request for Nifty ETF video or Bank Nifty videos and more videos on the budget are noted, and they are in the pipeline. Remain assured they will be recorded and uploaded soon.
Do not forget to click like on this video if you agree with what I said and subscribe to my YouTube channel. Click on the bell icon to receive alerts for fresh videos being uploaded out there and help me reach out to fellow like-minded investors and traders who believe in research based, knowledge based, 360 degree world view of the financial markets by referring my video to your family and friends.
Friends do take very good care of your health, your investments, your family, your friends. Have a very, very profitable day ahead. Vijay Bhambwani signing off for now. Thank you for watching. Bye.
Warm regards,

Vijay L Bhambwani
Editor, Fast Profits Daily
Equitymaster Agora Research Private Limited (Research Analyst)
Recent Articles